Maryland vs Michigan Betting Preview, Harbaugh Has Blue on Early Roll
Powerful Michigan Facing a Struggling Terps Defense, Maryland Hoping for Success Through the Air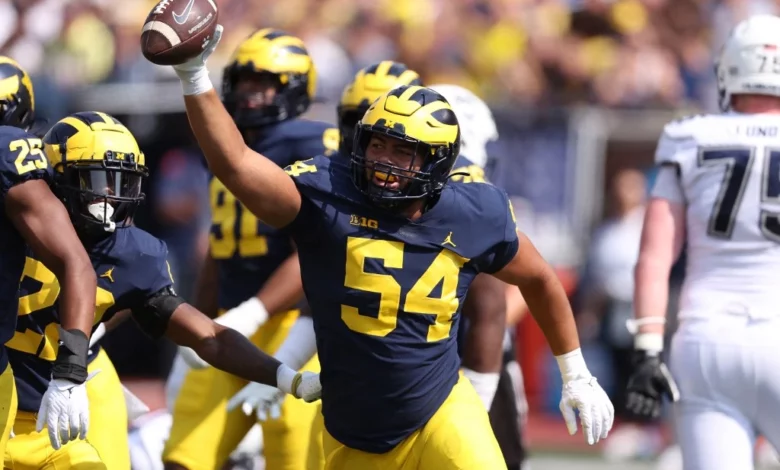 Maryland vs Michigan betting preview: Let's look at some of the relevant trends that may give us an edge when throwing down our cash down before Saturday's kick-off. Michigan (-16.5) has covered six straight games against Maryland, but are just 3-7 ATS against teams with a winning record. Maryland has covered four straight road games.
Game Information
Game: Maryland Terrapins (3-0) at Michigan Wolverines (3-0)
Location: Maryland Stadium, College Park, MD
Day/Time:
Television: BTN
Maryland Brings High Octane Offense to Ann Arbor
This game simply comes down to the play of veteran quarterback, Taulia Tagovailoa. Maryland owns the nations 29th scoring offense with an average of 40.3 points per game. Through three games the Terps have simply not been stopped while taking just under 500 yards of total yardage, ranking them 20th in College Football.
Tagovailoa has averaged 289 passing yards per game. We know they're going to move that ball, making the question how many points does Maryland figure to give up with a defense that has been average at best over the last two years. If bettors feel Mike Locksley's team can create a balanced attack, a Maryland wager should be considered by bettors. Let's continue our Maryland vs Michigan preview by looking closer at the Wolverines.
Untested Michigan Starts Conference Play
Colorado State, Hawaii, Connecticut doesn't tell us anything about Michael Kneip's team except we shouldn't read too much into the 166 points Michigan has scored in three games. That third-ranked defense has looked terrific against three schools who are a combined 153-229 (40.05%) against the number since 2011-12. The gaudy numbers account for big Michigan point spreads.
None of those schools have won a single game against an FBS in 2022 (0-9). Watching all three Wolverine games closely, there is reason to be concerned about an offensive line that was supposed to be one of their strengths in 2022. Until it lives up to their expectations, the Wolverine's running game is not yet the force in 2021.
Worth Noting: Michigan's inability to create constant pressure on some of College Football's bottom feeders, creates a reason for concern against the capable Terps. The maize and blue have just one sack since getting seven against the Rams to open the season.
Neither team has to deal with enough injuries to sway an opinion, but it will be interesting to see if the Wolverine starters will be ready to go for 60 minutes after getting pulled at the half in each of their first three games.
Betting Public Continues to Push Number Up
Considering the success Michigan bettors have had over the last couple of seasons (13-4 ATS), it's not surprising that this number continues to climb -16.5 after opening at -15.5. So far, 71% of the money has come in on Michigan while 84% of the total tickets written show the same.
It would be irresponsible to suggest that this Maryland vs Michigan match provides a clear, definitive way to bet.  The truth is, there are better games on the card to put your money behind which is why our official recommendation is a small play on Maryland (+16.5). There should be some 17's come game time so make sure to shop for a number like 17 which could easily make the difference between a loss and a push. Be sure to stay informed with the most recent college football injury news.
Follow us on Twitter