NCAA ACC Roundup: Florida St Road Trip to NC State
ACC Favorite Clemson Looks to Avoid Slipp Up Against Unranked Boston College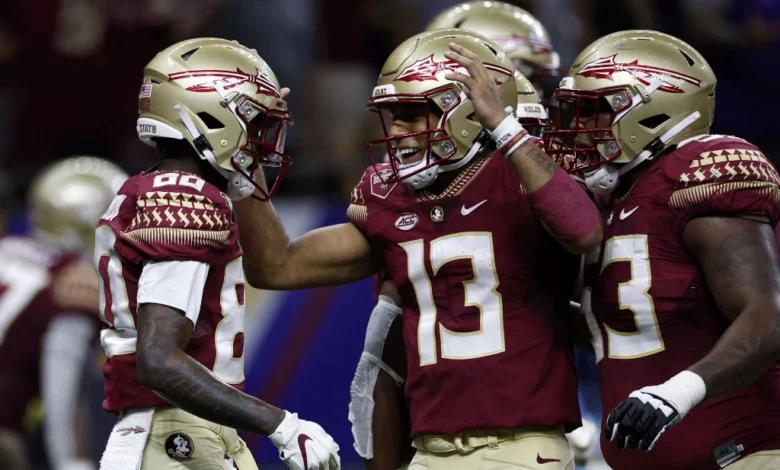 Offenses Could Steal the Show in Miami-North Carolina Matchup
The best might be saved for last in Week 6 as Point Spreads takes a look at the NCAA ACC Roundup.
A pair a 4-1 teams will be meeting when Florida State heads to face North Carolina State in the final game in the ACC on Saturday. That is one of the four games with spreads of four or less so there is the potential for some competitive affairs this week. The NCAA ACC Roundup takes a look at what could be a memorable Week 6 in the conference.
Clemson and Wake Forest are both favored by at least 17 points so not even 1 college game on the schedule is expected to be a barn burner. Speaking to barn burners, with the defensive struggles at Miami and North Carolina, could it come down to which team has the ball last?
Clemson (-225) remains the heavy favorite in the odds to win the ACC title followed by Miami (+650) and North Carolina (+800)
Clemson remains fifth in both national polls followed by N. 14 North Carolina State and No. 15 Wake Forest while Syracuse broke into the Associated Press poll at No. 22 and the American Football Coaches Association poll at No. 21.
Clemson (-225) remains the heavy favorite in the odds to win ACC title followed by Miami (+650) and North Carolina (+800)
Game of the Week
Florida State Seminoles vs North Carolina State Wolfpack
Perhaps no statistic best sums up how well a defense is playing than yards allowed per play. That is especially true in the era of up-tempo offenses.
Two of the five ACC teams allowing less than five yards per play will be getting together Saturday night. Host NC State leads the ACC giving up just 4.46 yards per offensive snap while Florida State isn't far behind at 4.87. Both teams have shown improvement on the defensive side of the ball from a season ago. The Wolfpack (4-1, 0-1 in the ACC) is the only ACC team yet to allow an offensive play of at least 40 yards while FSU (4-1, 2-1) leads the conference with just three offensive plays of 30 yards or longer allowed.
Jared Verse leads the Seminoles with four sacks while North Carolina State's Tyler Baker-Williams and Aydan White are tied for the ACC lead with two interceptions.
Jordan Travis of FSU and Devin Leary of North Carolina State are two of the ACC's most experienced quarterbacks and it shows with 18 touchdown passes and just four interceptions.
Six of the last seven meetings between these teams went under the total. North Carolina State is currently favored by 3.5 points as when looking at this week's ACC roundup, this could be one of the more competitive contests.
Other Games to Watch
Louisville Cardinals vs Virginia Cavaliers
A matchup of 2-3 teams so both squads are looking to get back to .500.
Louisville saw quarterback Malik Cunningham and running back Tiyon Evans injured in last week's loss to Boston College. Both are still listed on the Cardinals' depth chart, but keep an eye on their status as kickoff approaches as they rank third and seventh in the ACC in rushing yards per game.
The teams rank eighth and ninth in total defense, so there is the potential for points to be scored in this one.
Virginia has won three of the last four meetings and covered in six of the last eight.
Virginia Tech Hokies vs Pittsburgh Panthers
It's been a bit of a slow start for both teams in 2022. Pittsburgh (3-2, 0-1) led the ACC with an average of 41.4 points per game en route to the 2021 conference title. That number has fallen to 33 so far in 2022. Virginia Tech (2-3, 1-1) has the fewest trips to the red zone of any ACC team.
The Pittsburgh duo of SirVocea Dennis and Calijah Kancey each have three sacks, but they are going up against a Virginia Tech team has allowed just seven sacks this season.
Six of the last nine matchups between the Panthers and Hokies finished under the total. Pittsburgh is coming off a stunning loss to Georgia Tech and the 14-point favorites will look to rebound.
Duke Blue Devils vs Georgia Tech Yellow Jackets
So what was more surprising, Duke's 3-0 start or Georgia Tech's upset of defending ACC champion Pittsburgh?
Both teams have work to do on defense as the Blue Devils are 11th and the Yellow Jackets 13th in the ACC in total defense. The ACC Roundup in past years might have overlooked this matchup, but not this year.
Georgia Tech (2-3, 1-1) is trying to win back-to-back conference games for the first time since 2018 while that was also the last time the Blue Devils (4-1, 1-0) won five of their last six games. Duke is favored by three in this one according to the college football spreads.
Four of the last six games in this series have finished over the total.
North Carolina Tar Heels vs Miami Hurricanes
If you love offensive shootouts, this could be the game for you.
North Carolina (4-1, 1-0) is last in the ACC in total defense, allowing 451 yards per game and the only team to give up more yards per play than the Tar Heels is Miami (2-2). It is no wonder that the total for this contest is at 66.
It has been a strange start for Miami on defense as the Hurricanes have given up 45 plays of 10 or more yards, the best mark in the ACC. However, no ACC team has surrendered more plays of 50, 60 or 70 yards than the Hurricanes.
However, no ACC team has surrendered more plays of 50, 60 or 70 yards than the Hurricanes.
It won't get any easier with North Carolina freshman quarterback Drake Maye leading the ACC with 1,594 passing yards, 19 touchdown passes and a passer rating of 187.6.
Miami's Tyler Van Dyke was among the top Heisman candidates in the conference coming into the season per the college football betting. However, he is completing less than 60% of his passes with four TD passes and three interceptions so he has fallen back in the Heisman race.
North Carolina is going for its fourth win in a row against Miami. They were listed an underdogs in two of those contests just as they are this weekend.
Clemson Tigers vs Boston College Eagles
One of those dreaded "trap games." The undefeated Tigers are coming off hard-earned wins over Wake Forest and North Carolina State. If Clemson has any hope of being a part of the four-team College Football Playoff field, they can't start looking ahead to next week's ncaaf matchup with Florida State heading into the Clemson at Boston College matchup.
BC quarterback Phil Jurkovec is being projected as a first-round pick in the 2023 NFL Draft. He threw for three scores in last week's win over Louisville.
Clemson's DJ Uiagalelei has eight touchdown passes, no interceptions and two scoring runs in the last three games. The Tigers might be getting star defensive lineman Bryan Bresee back for this one.
Clemson (5-0, 3-0) has won the last four games at Boston College (2-3, 1-2) and has taken the last two by 46 and 20 points. The Tigers are favored by 21 points in this one.
Army Black Knights vs Wake Forest Demon Deacons
The mere mention of these two teams conjures up memories of last years unforgettable 70-56 affair when Wake Forest had 638 yards of offense and Army countered with 595 yards.
Even though quarterback Sam Hartman and receiver A.T. Perry are back for the 4-1 Demon Deacons, the offense isn't quite as explosive so far this year.
---
Get into the field and play with more related info: