NCAA Big 12 Odds: Oklahoma, Texas, Favored as Always
Big Names Coming and Going in The Big 12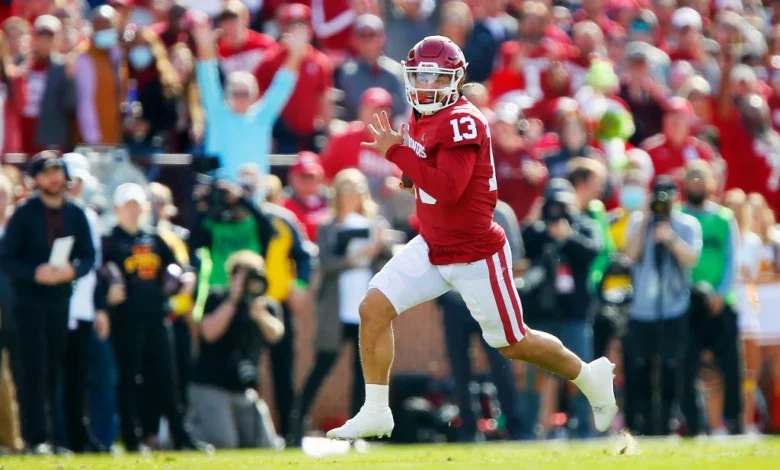 Transfers Could Alter the Big 12 football Landscape in 2022
When it comes to Big 12 football, the 2022 NCAAF schedule is going to be one of change. No, perennial contenders Oklahoma and Texas haven't left for the SEC just yet. However, prominent players have left the conference via the transfer portal and some others have transferred in. All of these changes should make for quite the race to the Big 12 title although there hasn't been much movement in the NCAA Big 12 odds.
Oklahoma and Texas are the clear favorites coming into the season even if both teams fell short of expectations in 2021.
Here's a look at some of the new faces, surprising departures, and NCAA football odds as we are a little more than two months away from the start of a new college football season. Four of the top nine transfers on the 247sports.com database either left or joined Big 12 programs so buckle up.
Oklahoma Sooners
Head coach Lincoln Riley headed to USC and not long after, quarterback Caleb Williams and receiver Mario Williams joined him in Southern California. That shook up the NCAA football odds.
Caleb Williams is listed as the No. 1 transfer while Mario Williams comes in at No. 9.
Quarterback Dillon Gabriel comes in from Central Florida to take over the offense under new coach Brent Venables as fellow quarterback Spencer Rattler also transferred out. Gabriel is the highest-rated incoming transfer for the Sooners while defensive lineman Jonah La'ulu, who comes in from Hawaii, is also a top 30-rated transfer. Gabriel is tied for 12th in the Heisman Trophy betting odds.
Oklahoma has the fourth-rated class of incoming transfers. That has helped the Sooners remain atop of the Big 12 title odds at +185.
The bar was set high for Oklahoma a season ago with an expected regular-season win total of 11. The Sooners finished at 10. The current number is 8.5, which seems low.
Texas Longhorns
For a player yet to throw a collegiate pass, quarterback Quinn Ewers is creating quite the buzz. He reclassified from the Class of 2022 to 2021 and quickly rose to the top of those rankings as well. The quarterback situation was handled just fine by C.J. Stroud. Ewers took his considerable talent to his home state and he should add the big-play ability to a Texas team that finished seventh in the Big 12 in passing offense a season ago. He is tied for fourth in the odds to win the Heisman Trophy.
Former Wyoming receiver Isaiah Neyor is the No. 20 rated transfer. He will team with Xavier Worthy to give the Longhorns a pair of talented pass catchers on the outside. Tight end Jahleel Billingsley came in from Alabama while receiver Agiye Hall also transferred in from Alabama.
The NCAA Big 12 odds for Texas shifted recently from +185 to +250. Texas was a definite underachiever in 2021 with five wins after coming into the season with an expected win total of eight. It is currently at 8.5.
Baylor Bears
Baylor had six players selected in the NFL Draft, tying for the most for the Bears since the draft was cut back to seven rounds. Three of the first four players selected were defensive backs Jalen Pitre, JT Woods, and linebacker Terrel Bernard… so there is work to be done replacing them. There is some help for the defensive front with Jaxon coming in from Tulsa.
Starting quarterback Gerry Bohanon transferred to South Carolina and that is not going to help an offense that saw its top rusher and receiver head to the pros. That didn't stop the conference odds for the Bears from improving slightly from +700 to +600.
Baylor was one of the surprise teams in college football a season ago. The Bears' expected win total of 5.5 was surpassed by mid-October en route to 10 wins during the regular season. It is now at 8.5 in 2022 despite some key personnel losses.
Oklahoma State Cowboys
The Cowboys snapped a six-year losing streak to rival Oklahoma and that was enough to get the Cowboys into the Big 12 title game.
The defense was already going to take a hit with the top two tacklers Malcolm Rodriguez and Devin Harper heading off to the NFL, as did cornerback Christian Holmes. The transfers of safety Tanner McCallister, cornerback Jarrick Bernard, and defensive lineman Jayden Jernigan weakened the defense even more. McCallister, rated as the No. 14 transfer, is now at Ohio State while Bernard, rated 18th among the transfers, headed off to LSU.
Quarterback Spencer Sanders is back, but the top receiver (Tay Martin) is not.
Oklahoma State didn't add a top-100 transfer. Perhaps that is why the Cowboys saw their conference title odds go from +450 to +600.
After the oddsmakers undersold Oklahoma State with an expected win total of 7.5 in 2021, that number was boosted to 8.5 going into the 2022 campaign.
Texas Christian Horned Frogs
Veteran head coach Gary Patterson is gone and that was not the only change.
Leading rusher Zach Evans is now at Ole Miss. The top incoming transfers are Emani Bailey from Louisiana and Trelon Smith from Arkansas. Receiver Quentin Johnson averaged 19.2 yards per catch in 2021 so keep an eye on him, especially with the new head coach Sonny Dykes known for his work with quarterbacks at previous stops.
Defensive end Ochaun Mathis, the No. 12-rated transfer, is now at Nebraska. TCU did add a top-50 transfer when offensive lineman Alan Ali followed Dykes from SMU to Texas Christian.
The NCAA Big 12 odds for TCU have remained at +1400. The Horned Frogs dropped expected win total dropped by a game to 6.5 for this season.
Kansas State Wildcats
Quarterback Adrian Martinez arrives from Nebraska to give the Wildcats an experienced quarterback to build the offense around as long as he beats out Will Howard for the starting job. There are no such positional battles at running back. Deuce Vaughn is back after running for 1404 yards and 18 touchdowns.
The defense should be aided by the arrival of Maryland transfer linebacker Branden Jennings, who had 18 tackles in the first four games last season. He will join 2021 leading tackler Daniel Green in what the Wildcats hope is an improved unit.
The Wildcats made a huge jump recently going from +4000 to +1600 in the Big 12 championship odds. Following a disappointing 5-7 season, KSU saw its regular-season projected win total drop from 7.5 in 2021 to 6.5 this season.
Iowa State Cyclones
Running back Breece Hall, tight end Charlie Kolar, and quarterback Brock Purdy were all selected in the NFL Draft. That matches the highest number of offensive players taken out of Iowa State since 1977. Defensive end Eyioma Uwazurike was another Cyclone drafted.
Their departures leave questions to be answered on both sides of the ball. Defensive end Will McDonald is being touted as a top draft prospect.
The conference title odds went from +1400 to +1800. No team took a bigger tumble in the expected wins department than the Cyclones who fell short of last year' 9.5 total and now sit at 6.5
West Virginia Mountaineers
The big addition is quarterback J.T. Daniels. He is in his third school after stops at USC and Georgia. West Virginia's first three losses were by a combined total of 12 points. Will the arrival of Daniels help the Mountaineers win some of the close games? We shall see. It isn't helping with the Big 12 title odds which dropped from +2500 to +3300.
Defensive lineman Akheem Mesidor transferred to Miami after recording 9 1/2 sacks at West Virginia over the last two seasons. Cornerback Jackie Matthews is now at Mississippi State.
Even with the arrival of Daniels, West Virginia's expected win total fell by a game to 5.5. Early money has come in on the over.
Texas Tech Red Raiders
Replacing leading receiver Erik Ezukanma and center Dawson Deaton, who were both selected in the NFL Draft, will not be easy. The return of quarterback Donovan Smith and running back Tahj Brooks back will help as will the arrival of former Western Kentucky offensive lineman Cole Spencer.
Texas Tech holds steady at +4000 in the odds to win the Big 12 title. The projected win total has gone up from 4.5 to 5.5 going into this season.
Kansas Jayhawks
Kansas has some pieces to work with on offense with running back Devin Neal and quarterback Jalon Daniels to lead the offense.
The secondary should be aided by the arrival of Kalon Gervin from Michigan State and Craig Young from Ohio State.
Even with those additions, Kansas remains well behind the rest of the conference with +25000 odds to win the Big 12 title.
Kansas is getting better but by how much? After topping its 1.5 expected win total in 2021, that number has jumped slightly to 2.5.
Follow us on Twitter