NCAA Pac-12 Roundup Betting: Another Challenge is Bruin for Undefeated UCLA
Defending Champion Utah Utes Take On Undefeated UCLA Bruins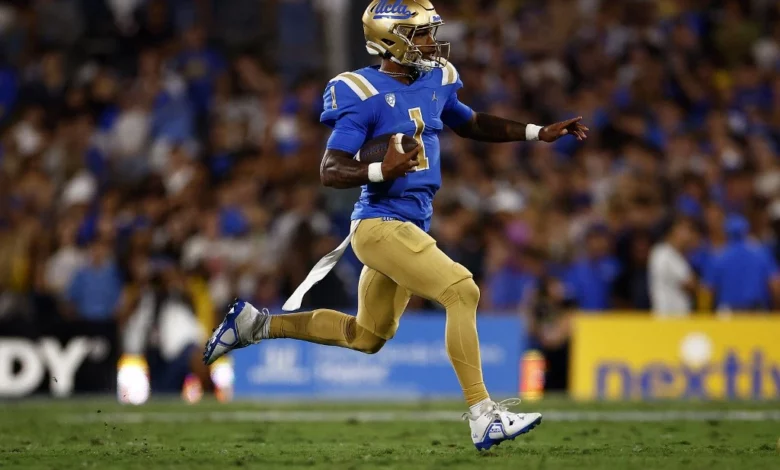 Plenty of Impressive Matchups in Pac-12 in Week 6
People are still in a wait and see mode when it comes to the UCLA Bruins even after last week's win over Washington. With the Bruins facing defending  Pac-12 champion  Utah on Saturday, this is a perfect time for the  Bruins to show that they are here to stay. That is the headline attraction in the NCAA Pac-12 Roundup.
In Week 6, it is hard to top the showdown between Utah and UCLA, while the Washington State-Southern California matchup could also be worth checking out.
There are four teams yet to lose in Pac-12 play and four others seeking their first conference win. Both of those numbers will shrink by at least one with UCLA and Utah both looking to improve to 3-0 in the Pac-12, while either Stanford or Oregon State will pick up its first conference win this week.
According to the Pac 12 odds, Utah (+150) and Southern California (+185) have the best odds to win the Pac-12 title, followed by Oregon (+300) and UCLA (+800).
According to the Pac-12 odds, Utah (+150) and Southern California (+185) have the best odds to win the Pac-12 title, followed by Oregon (+300) and UCLA (+800).
USC remained at No. 6 in both the Associated Press and American Football Coaches Association polls. Utah moved up one spot in the AP ranking and two positions in the coaches' poll and came in at No. 11, with Oregon right behind at 12th. UCLA broke into both polls this week at No. 18 in the Associated Press poll and 19th in the AFCA ranking. Washington fell six spots in each of the rankings, but did remain in the top 25.
Here is a look at Pac-12 matchups in Week 6.
Game of the Week
Utah Utes vs UCLA Bruins
Date, Time, TV: (FOX)
Line: Utah -4
There could be plenty of points in this one as Utah ranks second in the Pac-12 with an average of 42 points per game, while UCLA is fourth at 41.4 points per contest. When looking at the NCAA Pac-12 Roundup, this is a game to keep an eye on.
Utah's offensive numbers are all the more impressive considering that the Utes (4-1, 2-0 in the Pac-12) have just one play from scrimmage of at least 40 yards. UCLA (5-0, 2-0) has been able to come up with more big plays with the Bruins tied for the conference lead with six plays of 40 yards or more Dorian Thompson-Robinson is at the forefront of most of those explosive plays. He has the best passer rating in the Pac-12 and is completing 74.3% of his passes.
The teams rank first and second in the conference in total defense, so it will be worth watching to see what happens when explosive offenses square off with stifling defenses. Utah's Clark Phillips already has four interceptions, while UCLA's Laiatu Latu is the conference leader with six sacks.
Utah has won the last five meetings against UCLA and covered against the college football betting lines in each of them. The Utes averaged 46.8 points in those contests.
Washington Huskies vs Arizona State Sun Devils
Date, Time (TV): (Pac-12 Network)
Line: Washington -14
Washington's Michael Penix threw two of his three interceptions during last week's loss and  he will look to bounce back.
It has been a tough start for Arizona State as the Sun Devils have moved on from head coach Herm Edwards. A bright spot is running back Xazavian Valladay, the second-leading rusher in the Pac-12 with 455 yards.
Washington's Wayne Taulapapa was held to 48 yards in last week's loss to UCLA.
It won't be all about the offense as Washington's Bralen Trice is second in the conference with 4½ sacks and fourth with seven tackles for loss.
One of the major differences between the two teams is that Washington (4-1, 1-1) has made 11 more trips to the red zone through five games than Arizona State (3-2, 1-1) has.
The Sun Devils had won 10 straight against Washington, however, the teams have split the last four meetings. Arizona State has covered in 13 consecutive games in the series before last year's 35-30 win as a six-point favorite on the road.
Washington State Cougars vs Southern California Trojans
Date, Time (TV): (FOX)
Line: Southern California -12½
Quarterbacks Cameron Ward and Caleb Williams are in their first seasons in the Pac-12. Williams' move from Oklahoma to USC made significantly more news than Ward's transfer from Incarnate Word to Washington State. Ward has a better completion percentage, more passing yards, and touchdown passes than Williams, although Williams has only one interception compared to seven for Ward.
On the other side of the ball, Washington State's Daiyan Henley and Brennan Jackson are first and third in the Pac-12 with 9½ and 7½ tackles for loss, while Tuli Tuipulotu of USC is second with 8½ stops behind the line of scrimmage. The Cougars' defensive stars could have their work cut out for them with the NCAA Pac-12 Roundup expecting the host Trojans to roll in this matchup.
USC (5-0, 3-0) has won 12 of the last 14 meetings with Washington State (4-1, 1-1), including the last three.
Oregon Ducks vs Arizona Wildcats
Date, Time (TV): (Pac-12 Network)
Line: Oregon -13½
Arizona has made quite the jump offensively, going from putting up 355 yards per game a season ago to 476 in 2022. However, Oregon is once again in the middle of the pack in many defensive stats.
Former Washington State quarterback Jayden De Laura leads Arizona as he is second in the conference with 1,633 passing yards. Bo Nix, who transferred to Oregon from Auburn, is completing 69% of his passes with 12 TD passes and just three interceptions.
Arizona's Jacob Cowing and Dorian Singer are first and second in the Pac-12 with 566 and 450 receiving yards. This series has been surprisingly competitive in recent years, with the Ducks (4-1, 2-0) winning four of the last seven matchups and Arizona (3-2, 1-1) covering against the betting odds college football in nine of the last 15 contests.
Oregon State Beavers vs Stanford Cardinal
Date, Time (TV): (ESPN)
Line: Oregon State -7
Oregon State is one of the top pass defenses in the Pac-12 as the Beavers are allowing opponents to complete 59.6% of their passes and are one of three Pac-12 teams with more interceptions than touchdown passes allowed.
Quarterbacks Tanner McKee of Stanford and Chance Nolan of Oregon State have combined for 15 touchdown passes and 12 interceptions.
Stanford (1-3, 0-3) has won 11 games in a row against Oregon State (3-2 0-2) before the Beavers won 35-14 as a 12½-point favorite in 2021. It has been 15 years since Oregon State has won back-to-back games against the Cardinal.
Follow us on Twitter
---
Can't get enough? Here's more!