NCAAF – Group of Five Odds: Cincinnati is Once Again a Team to Watch Outside the Power-5
Cincinnati, Houston and BYU are Beginning the 2022 Season as Ranked Teams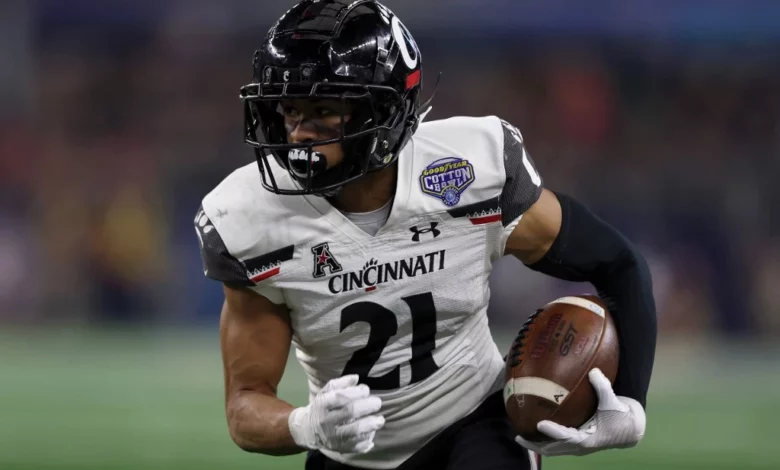 Don't Overlook the Non-Power-5 Conference Programs
The college football season is set to get underway this weekend and now is the perfect time to take a look at the Group of Five odds.
While the focus obviously falls on teams from the ACC, Big Ten, Big 12, Pac-12, and SEC, that doesn't include all the teams worth monitoring.
Notre Dame is a team that isn't in a Power-5 conference even if the Fighting Irish plays four ACC teams this season. The Fighting Irish are most certainly not among the Group of 5 programs either. Cincinnati was the talk of the college football world after reaching the College Football Playoffs and other teams are looking to follow their lead.
When looking at the Week 1 NCAAF schedule 2022, Cincinnati facing fellow ranked team Arkansas, BYU meeting South Florida, Colorado State squaring off against Michigan and Appalachian State welcoming North Carolina to town are among the games of note.
With that in mind, Pointspreads takes a look at 10 teams outside the Power-5 to keep an eye on.
Air Force Falcons (+400 to win the Mountain West Championship)
Air Force lost some key players from a team that was first in the Mountain West in scoring defense and total defense. Filling those holes will be key for Air Force being in contention for a division title. Trey Taylor, Vince Sanford, and Christopher Herrera will lead the defense.
Three starters are back on the offensive line along with quarterback Haaziq Daniels and running back Brad Roberts, who helped the Falcons lead the country with nearly 330 rushing yards per game.
Air Force's regular-season projected win total is 8.5 with the odds at -150 to go over that total.
Appalachian State Mountaineers (+225 odds to win the Sun Belt championship)
Running the ball should be no problem with the return of Nate Noel (1,126 yards) and Camerun Peoples (926 yards and 14 touchdowns), especially with offensive lineman Cooper Hodges leading the way.
Chase Brice threw for 3,337 yards and 27 touchdowns in 2021 so it won't be all about the running game.
Trey Cobb (75 tackles), Nick Hampton (68 tackles), and Steven Jones (51 tackles, five interceptions) return to lead the defense.
The odds are at -130 for the Mountaineers to go over the expected regular-season win total of 8.5.
Boise State Broncos (+200 odds to win the Mountain West)
Quarterback Hank Bachmeier and running back George Holani are two of the top offensive players in the conference. They will look to help the Broncos rebound from a disappointing 7-5 season.
Scott Matlock and JL Skinner are players to watch on a rebuilt defense.
The college football betting money is coming in on Boise State topping the expected regular-season win total of nine.
Brigham Young Cougars
The lone independent team on this list, but that will change when the Cougars join the Big 12 Conference.
In the meantime, this is one talented team not affiliated with a conference. BYU is not officially a part of the Group of 5 with no conference affiliation, but we are including them in this feature.
BYU added the top-rated offensive lineman in the transfer portal when Kingsley Suamataia transferred from Oregon.
He is one reason why BYU has an expected win total of 8.5 and the second-best champion odds among the NCAAF independent teams programs.
The top nine tacklers all return led by Ben Bywater, who led BYU with 102 tackles. Malik Moore and Jakor Robinson were tied for the team lead with three interceptions.
Jaren Hall returns after throwing for 2,583 yards with 20 touchdowns and only five interceptions in 10 games a season ago.
The top two receivers also return. Puka Nacua had 43 catches for 805 yards and six touchdowns while Gunner Romney added 594 yards on 34 receptions.
Cincinnati (+185 to win the American Athletic Conference title)
Other than Notre Dame, Cincinnati became the first team not in a Power-5 Conference to earn a spot in the College Football Playoff field.
Cincinnati had nine players selected in the 2022 NFL Draft, led by cornerback Ahmed "Sauce" Gardner. The offense will look much different without quarterback Desmond Ridder, running back Jerome Ford, and receiver Alec Pierce.
There are still some key players returning for Cincinnati led by linebacker Deshawn Pace, who is coming off a season with 95 tackles and four interceptions. Tyler Scott is the top returning receiver after having 520 yards on 30 catches.
Cincinnati is not expected to be quite as powerful as last year's team. However, the Bearcats still have -145 odds to go over the expected regular season win total of nine.
When looking at the Group of 5 odds, Cincinnati leads the way with +15000 odds to win the national title.
Coastal Carolina Chanticleers (+500 to win the Sun Belt championship)
Quarterback Grayson McCall and offensive lineman Willie Lampkin return to lead the offense. McCall will need to find some new favorite receivers with Jaivon Heiligh and Isaiah Likely off to the NFL. Still, it is hard to overlook Coastal Carolina in the Group of Five betting preview.
The best player could be Josaiah Stewart (12.5 sacks, 15.5 tackles for loss, three forced fumbles as a freshman).
The projected win total for Coastal Carolina is currently at eight.
Fresno State Bulldogs (+225 to win the Mountain West)
Quarterback Jake Haener threw for more than 4,000 yards to go with 33 touchdowns while Jalen Cropper (85 catches, 899 yards) also returns.
Jordan Mims should see a larger role at running back after rushing for 710 yards a season ago.
Fresno will be led by defensive back Evan Williams and lineman David Perales on defense.
It could be a special season with Fresno State having -145 odds to exceed the expected regular-season win total of 8.5. Keep an eye on the Bulldogs, one of the more intriguing teams when looking at the Group of Five odds.
Houston Cougars (+200 to win the American Athletic Conference title)
Houston is showing a Moneyline of -135 to go over nine wins during the regular season. The Cougars' odds to win the AAC title have been holding steady at +225 according to the AAC regular season odds.
The Houston offense could be dynamic once again with the return of quarterback Clayton Tune, who completed 68% of his passes for 3,546 yards and 30 touchdowns. Nathaniel Dell was his favorite receiver as he finished his sophomore season with 1,329 yards on 90 catches. Running back Alton McCaskill tore his ACL in the spring so keep an eye on his recovery.
Leading tackler Donovan Mutin returns to lead the defense.
The odds are at -145 for Houston to top the expected regular-season win total of nine so it is no wonder that Houston is among the leader in the Group of Five odds.
SMU Mustangs (+1000 to win the American Athletic Conference championship)
Rhett Lashlee is SMU's new head coach and the longtime college offensive coordinator will be working with quarterback Tanner Mordecai, who completed 68% of his passes with 3,628 yards and 39 touchdowns. Receiver Rashee Rice (64 catches, 670 yards) is another key returnee.
Defensive linemen Elijah Chatman and DeVere Levelston are key returning players for SMU.
SMU is only projected for seven wins in the regular season.
UCF Knights (+300 to win American Athletic Conference championship)
Mikey Keene had 17 touchdown passes after replacing injured starting quarterback Dillon Gabriel. Ryan O'Keefe also returns after leading the Knights with 84 catches and 812 receiving yards. The running game should be in good shape with Johnny Richardson and Isaiah Bowser both coming back.
Cornerback Davonte Brown, safety Divaad Wilson, and linemen Tre'mon Morris-Brash and Ricky Barber will lead the defense.
The expected win total is set at 8.5 during the regular season with the odds at -150 to go over that mark. The odds to win the conference title have moved from +350 to +300 in the last month.
Follow us on Twitter