NCAAF – SEC Conference Betting Odds: Alabama and Georgia Expected to Dominate Once Again
Will Nation's No. 1 Rated Recruiting Class Help Texas A&M to Challenge for SEC Supremacy?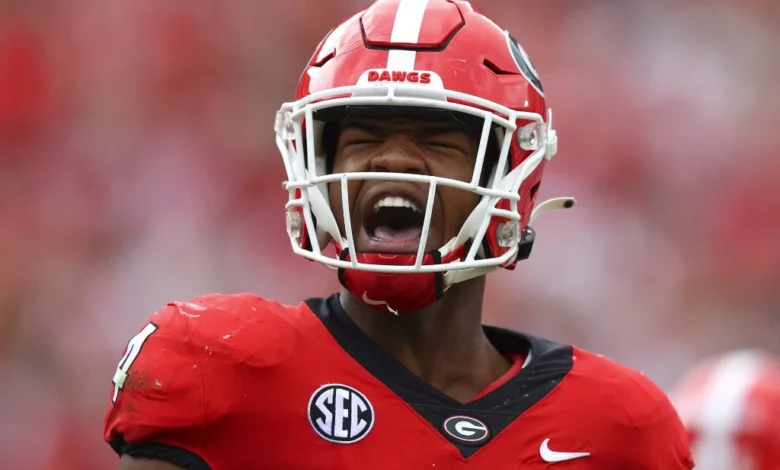 Pair of New Coaches Figure to Make SEC Stronger in 2022
Alabama and Georgia are the favorites to win the SEC divisions in 2022 according to the SEC conference betting odds. In other breaking news, the sky is usually blue and the grass tends to be green!
Brian Kelly comes to LSU from Notre Dame while Billy Napier takes over at Florida after a successful run at Louisiana. Ten of the 14 head coaches in the conference have been in those roles for three years or less. Time will tell if that will impact the odds when it comes to the NCAA and SEC standings.
Ten of the top 23 players selected in the 2022 NFL Draft came from the SEC. Is anybody wondering about that impact on the talent level in the conference, one recent 2023 mock draft lists 13 SEC players going in the first round? When looking at the odds to lead the way in the NCAAF standings odds, the SEC figures to reign supreme once again.
The Week 1 schedule is highlighted by the Georgia matchup with Oregon. The college football spreads favor Georgia by 17.5 points. When looking at the NCAAF against the spread in the opening week, eight SEC teams are favored by at least 10 points.
Pointspreads continues its college football previews with a look at the SEC. With Alabama (+175) and Georgia (+375) ranking first and third in the odds to win the national championship and five other SEC teams in the top 20, it could be another year to remember in the SEC.
Alabama Crimson Tide (-145 to win the conference title)
It is business as usual for Alabama as the Crimson Tide is the No. 1 team in both the Associated Press and American Football Coaches Association polls. Naturally, the SEC conference betting odds begin with Alabama.
Alabama not only returns quarterback Bryce Young, the reigning Heisman Trophy winner, but linebacker Will Anderson Jr. is the best defensive player in the country as well.
Along with the normal haul that comes with having one of the best-recruiting classes each year, the Crimson Tide added former LSU cornerback Eli Ricks, Georgia Tech's leading rusher Jahmyr Gibbs, receivers Tyler Harrell and Jermaine Burton from Louisville and Georgia.
Georgia Bulldogs (Odds to win conference title +140)
With five players taken in the first round of the 2022 NFL Draft and coordinator Dan Lanning now the head coach at Oregon, the Georgia defense won't be as dominant as it was during last year's run to the national title. There is still plenty of talent remaining on both sides of the ball.
Linebacker Nolan Smith and tight-end Brock Bowers are among the best players in the country at their position. Defensive lineman Jalen Carter and defensive back Kelee Ringo are other players to watch in a rebuilt defense. Stetson Bennett looks to take the next step as a quarterback.
The odds for Georgia to win the SEC title have moved from +125 to +140 over the last couple of months.
Texas A&M Aggies (Odds to win conference title +1600)
The Aggies lost their leading passer, rusher, and receiver as well as some key defensive players so perhaps that is why the odds to win the SEC title have gone from +850 to +1600. Texas A&M's impressive recruiting class will add an influx of talent on both sides of the ball.
Former LSU quarterback Max Johnson and Liberty defensive lineman Micaiah Overton have joined the Aggies.
With Isaiah Spiller off to the NFL, Devon Achane could emerge as the unquestioned No. 1 back for the Aggies.
Antonio Johnson and Demani Richardson return after combining for 144 tackles. Johnson is being touted as a potential top 10 pick in the 2023 NFL Draft.
Florida Gators (Odds to win conference title: +4000)
Has there ever been a quarterback with 66 career passing attempts to get more hype in the preseason than Florida's Anthony Richardson. He is considered a Heisman Trophy candidate and is being projected as a possible top-10 draft pick.
The defense needs to be rebuilt, but with nine of the top 20 tacklers for Florida a season ago being freshmen or sophomores, there are the pieces in place to improve a unit that finished 11th in the SEC in scoring defense in 2021.
New Florida coach Billy Napier added running back Montrell Johnson (12 touchdown runs as a freshman) as well as offensive linemen O'Cyrus Torrence and Kamryn Waites from his previous stop. Arizona State's top receiver Ricky Pearsall and Georgia cornerback Jalen Kimber are among the other incoming transfers.
Tennessee Volunteers (Odds to win conference title +4000)
Quarterback Hendon Hooker returns along with leading receiver Cedric Tillman and top rusher Jabari Small. Jeremy Banks (a team-leading 128 tackles in 2021) is back to lead the defense, so there are plenty of pieces in place for the Volunteers.
Former USC receiver Bru McCoy, a top-10-rated player coming out of high school could be the most noteworthy player to transfer to Tennessee.
Georgia Tech's sixth-leading tackler Wesley Walker, Florida offensive lineman Gerald Mincey, Nebraska linebacker Jackson Hannah, and Ohio State defensive back Andre Turrentine also have joined the Volunteers.
Kentucky Wildcats (Odds to win conference title +5000)
What is the next step for quarterback Will Levis, who had an impressive debut season with the Wildcats after transferring from Penn State. He will miss leading receiver Wan'Dale Robinson, who is off to the NFL. Perhaps the arrival of Virginia Tech's second-leading receiver Tayvion Robinson will help fill that void.
J.J. Weaver, the team leader in sacks in 2021, returns to lead the defense along with linebackers Jacquez Jones and DeAndre Square while cornerback Keidron Smith, who had 64 tackles and two interceptions for Ole Miss in 2021, will bolster Kentucky's secondary. Defensive lineman Darrion Henry-Young joins the Wildcats from Ohio State while Tashawn Manning comes over from Auburn.
When looking at the SEC conference betting odds, Kentucky's odds to win the SEC have moved from +2800 to +5000 during the summer.
Ole Miss Rebels (Odds to win conference title +5000)
Jaxson Dart, who threw for 391 yards and four touchdowns in his first collegiate game when he was at USC, is set to take over at Ole Miss now that Matt Corral headed off to the NFL. Tight end Michael Trigg, also from USC, joined Dart at Ole Miss.
The secondary will be led by Otis Reese (91 tackles) and A.J. Finley (90 tackles, three interceptions).
They will be joined by TCU's top rusher Zach Evans, Louisville's second-leading receiver Jordan Watkins, Mississippi State receiver Malik Heath, UCF receiver Jaylon Robinson, SMU running back Ulysses Bentley, Western Kentucky offensive lineman Mason Brooks and Auburn tight end JJ Pegues.
On defense, Auburn safety Ladarius Tennison, Georgia Tech defensive lineman Jared Ivey, Central Michigan linebacker Troy Brown, Vanderbilt safety Dashaun Jerkins, and Iowa State safety Isheem Young have been brought in.
The odds to win the SEC have gone from +3300 to +5000 for the Rebels.
Arkansas Razorbacks (Odds to win conference title +6000)
K.J. Jefferson could very well be the second-best quarterback in the SEC behind only Heisman Trophy winner Bryce Young of Alabama. However, that hasn't stopped the conference title odds for Arkansas from moving to +6000 from +4000 a couple of months back.
Jefferson threw for 21 touchdowns with only four interceptions as a sophomore. He was also the Razorbacks leading rusher. The loss of Treylon Burks to the NFL leaves a void to fill at receiver.
Jalen Catalon is one of the best defensive backs in the SEC.
Oklahoma receiver Jason Haselwood, LSU defensive lineman Landon Jackson and cornerback Dwight McGlothern, Alabama linebacker Drew Sanders, Georgia defensive back Latavious Brini, Akron receiver Matt Landers and Georgia Tech defensive lineman Jordan Domineck all transferred to Arkansas.
Louisiana State Tigers (Odds to win conference title: +6000)
Kelly shocked plenty of folks when he left a great gig at Notre Dame to take the job at LSU. He signed one of the top classes of transfers in the country. The odds to win the SEC title have gone from +6600 to +6000 since early June.
The top five receivers – Kayshon Boutte, Jaray Jenkins, Jack Bech, Malik Nabers, and Brian Thomas are all back. Boutte was on pace for a huge season with 38 catches and nine touchdowns in the first six games of the season before missing the final seven games. LSU struggled to replace Boutte as he still finished with more receiving yards than any other LSU player.
Second-leading tackle Micah Baskerville (83 tackles, nine tackles for loss) tops the list of returning players on defense. Defensive end BJ Ojulari (53 tackles, 11½ tackles for loss, seven sacks) is being touted as a potential first-round pick in the 2023 NFL Draft while safety Jay Ward (70 tackles, two interceptions) will be the player to watch in the secondary.
Former Arizona State quarterback Jayden Daniels is now in Baton Rouge as LSU was rather active in the transfer portal.
Auburn Tigers (Odds to win conference title +15000
When looking at the SEC conference betting odds, Auburn's SEC championship odds were at +6600 not too long ago. Now they are at +15000.
Starting quarterback Bo Nix headed to Oregon. The Tigers did get defensive lineman Jayson Jones and cornerback DJ James to come to the SEC from Oregon while former Texas A&M quarterback Zach Calzada could take over for Nix.
Iowa State safety Craig McDonald, Miami receiver Dazalin Worsham, and North Carolina linebacker Eugene Asante also transferred to Auburn.
Ten of the 15 players to catch passes a season ago were either freshmen or sophomores, so there could be plenty of options. Leading rusher Tank Bigsby is also back.
South Carolina Gamecocks (Odds to win conference title: +15000)
There has been significant movement in the SEC conference betting odds for the Gamecocks. Not long ago the odds were at +8000 and now they come in at +15000.
Former Oklahoma quarterback Spencer Rattler leads the list of players transferring to South Carolina. He will be throwing to Corey Rucker, Arkansas State's top receiver in 2021 as well as Antwane Wells (83 catches for 1,250 yards at James Madison in 2021). Running back Lovasea Carroll comes in from Georgia while Wake Forest's leading rusher Christian Beal-Smith is also a running back to watch.
Safety Devonni Reed, who had nearly 300 tackles over the last four seasons for Central Michigan, will be joined by former North Carolina State defensive end Terrell Dawkins.
Mississippi State Bulldogs (Odds to win conference title +12500)
Will Rogers returns as quarterback after passing for 4,739 yards. Ten of the top 14 tacklers a season ago were juniors so perhaps the defense will show signs of growth.
Jett Johnson (87 tackles) and Nathaniel Watson (84 tackles, five sacks) return on defense.
Mississippi State used the transfer portal to upgrade the receiver position with the additions of Jordan Mosley (Northwestern) and Justin Robinson (Georgia). Cornerbacks Marcus Banks (Alabama), Jackie Matthews (West Virginia), Hunter Washington (Florida State) as well as Middle Tennessee offensive lineman Steven Losoya are other players transferring in.
Missouri Tigers (Odds to win conference title +25000)
Missouri will definitely miss Tyler Badie, the SEC's leading rusher, however, the bigger issues come on the other side of the ball. Missouri finished 13th out of 14 SEC in total defense and scoring defense in 2021 so there is work to be done.
Oklahoma State defensive tackle Jayden Jernigan, Stanford's leading rusher Nathaniel Peat, Florida linebacker Ty'Ron Hopper, Baylor defensive lineman Josh Landry and former Southern Miss quarterback Jack Abraham join the Missouri program.
Starting quarterback Connor Bazelak and defensive lineman Mekhi Wingo are among the players who transferred out.
Vanderbilt Commodores (Odds to win conference title +50000)
Vanderbilt was the worst defense in the SEC during head coach Clark Lea's first season. The Commodores do return leading tackler Anfernee Orji (92 tackles) and Ethan Barr (85 tackles).
UConn cornerback Jeremy Lucien, Clemson linebacker Kane Patterson, and Cal Poly defensive lineman Myles Cecil lead the list of newcomers.
The leading rusher (Rocko Griffin) and passer (Ken Seals) for the Commodores were sophomores, so perhaps there are better times ahead.
Follow us on Twitter