Notre Dame vs Navy Odds: Irish Favored Nearly Three Touchdowns
Midshipmen, Notre Dame to Meet in Ireland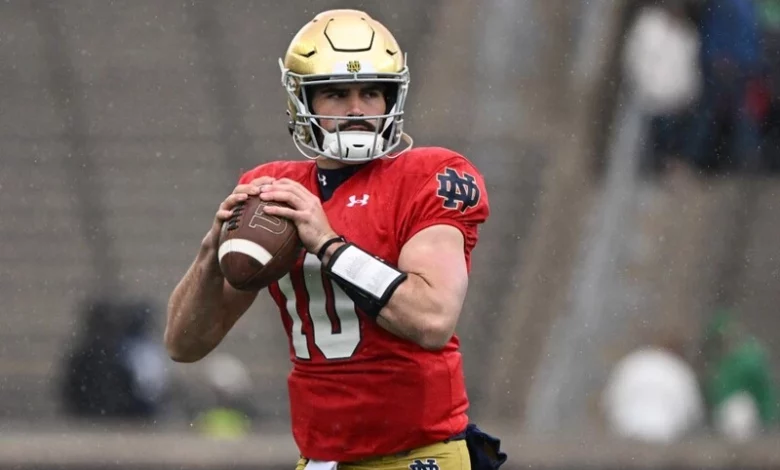 The Notre Dame vs Navy odds show a game that looks to be a bit of a mismatch, with the Irish favored by 20.5 points. Notre Dame is taking the whole Fighting Irish thing to the extreme, as the game will be played in Dublin, Ireland. The Fighting Irish are -1500 on the moneyline and the total on the game is 50.5.
Notre Dame Welcomes New QB
The big offseason news for Notre Dame was the arrival of quarterback Sam Hartman from Wake Forest. In his last two seasons with the Demon Deacons, Hartman threw for almost 8,000 yards and 77 touchdowns. He won't have to throw the ball as much with Notre Dame. Notre Dame has a collection of solid running backs, led by Audric Estime, who rushed for 920 yards and 11 touchdowns last season. He only carried the ball eight times against Navy last year in an exciting game won by Notre Dame 35-32.
The Irish have a solid offensive line, led by Joe Alt at left tackle. Center Zeke Correll was beaten up a little bit in practice but should be ready for Saturday. New starting guards Pat Coogan and Rocco Spindler have looked good in practice, according to Notre Dame coaches.
Notre Dame's offense no doubt spent some time looking at the film from last year's game. With Notre Dame leading 35-13 at the half, Navy unleashed the hounds in the second half. The Midshipmen rushed more players than Notre Dame could block and shut the Irish out over the final two quarters.
Navy plays a standard 4-2-5 defense but isn't adverse to bringing the house and putting pressure on the offense. It usually works. But when it doesn't, Navy can give up some big plays. New head coach Brian Newberry was Navy's defensive coordinator, so he's familiar with his defensive players and what they can do.
Navy's New Look Offense
Former Kennesaw State offensive coordinator Grant Chesnut is Navy's new offensive coordinator and things will be different for the Midshipmen. They'll still run the triple option but will work from the shotgun at times, utilize tight ends, and throw more. Notre Dame's coaching staff has been watching a film on Kennesaw State to get ready for the game.
Navy's defense wasn't all that bad last season, but the offense struggled at times. The Midshipmen are hoping the new coaching changes can help get the offense back on track. The rushing game was there last year, as Navy finished fourth in the nation in rushing yards. But that was about all the Midshipmen did, as the passing game was practically nonexistent.
Navy returns 16 starters from last year's team, which is both good and bad. While it's nice to have that many starters coming back, they are the same players who were 4-8 last season.
Notre Dame 35, Navy 32
Last year's was looking like a blowout at halftime, as Notre Dame raced out to a 35-13 lead, only to see Navy score 19 unanswered points in the second half. The Midshipmen had a 23-yard drive after an interception and scored their final touchdown with a little over a minute remaining. Navy did outgain Notre Dame 363-335 in the game and both teams had one turnover.
To be fair to Notre Dame, the game with Navy was coming at a terrible time. The Irish had just upset No. 16 and No. 5 Clemson in back-to-back games, so Navy was one of those NCAA football games that had letdown written all over it. Even though the final was 35-32, Notre Dame was in control pretty much the entire game. Navy's late TD made the final look closer than it really was, which is the downfall of just looking at the NCAA football scores instead of seeing how the game transpired.
What to Expect
Navy has been a great large underdog over the years, going 30-12 (71.4%) against the spread when getting 20 or more points since 1990. All three of the service academy teams have been good bets in that situation. There's something about running up the score on the Armed Forces that opposing coaches didn't want to do. But things are a little different now with the college football playoffs. Teams not only have to win but win in impressive fashion.
Notre Dame will come out and try to get Hartman and Estime going. The Irish like to run the ball to open up the passing game. If Notre Dame can get the ground game going, which it didn't do last year, Navy will be starting blitzing more. That could allow Notre Dame to connect on some big pass plays.
For Navy, it's a chance to show off the team's new offense. The Midshipmen may try a few things they normally wouldn't, just to give future opponents something to prepare for. But it is an opportunity to get a good test on both sides of the ball.
The Notre Dame vs Navy odds on the point spread sound about right. Notre Dame is the better team and should be close to three touchdowns better than Navy. The Irish should have a bit of a crowd advantage, although it shouldn't really be a factor.
The Notre Dame vs Navy odds on the total appear to be a little low. If the Notre Dame offense is clicking, it can score plenty of points itself. And Navy should be able to put a few points on the scoreboard. Take this one to go over the total for one of your Saturday college football picks.
For NCAAF betting news, odds analysis, and more, visit Point Spreads Sports Magazine.
Follow us on Twitter
---
Can't get enough? Here's more!