Penn State vs Auburn Game Preview: A Pair of 2-0 Teams Meet at Jordan-Hare Stadium
Veteran Quarterback Sean Clifford Tries to Lead Penn State to Another Win Over Auburn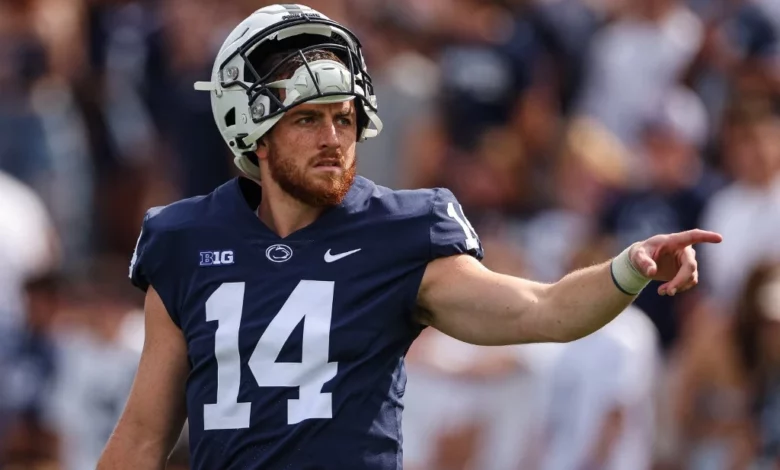 Running Game Key in Penn State-Auburn Showdown
The matchup between Penn State and Auburn might not get the same attention as some other Week 3 showdowns, however, it is a fairly compelling contest. Auburn leads the NCAAF SEC in rushing defense and is third in rushing offense. Controlling the clock could be crucial for the Tigers as the Penn State vs Auburn game preview has the host team as a three-point underdog.
Penn State (+1400) is fourth in the odds to win the Big Ten championship while Auburn (+10000) is tied for 10th in the odds to win the SEC.
Penn State (+8000) is tied for ninth in the odds to win the national championship.
The Nittany Lions broke into both national polls this week. Penn State is 22nd in the Associated Press poll and 23rd in the American Football Coaches Association poll.
Penn State vs Auburn Game Information
Penn State Nittany Lions
A season ago, all four of Sean Clifford's 300-yard passing games came from Week 4 on. He is not being asked to do much in the first few games once again. He has 495 yards with five touchdown passes and one interception. With touchdown runs in his first two games, he had already matched his total from the 2021 season. His return is one of the reasons why the Penn State vs Auburn game preview is favoring the visiting Nittany Lions.
Mitchell Tinsley is the top receiver with 111 yards on 10 catches while freshman running back Nicholas Singleton leads the team with 210 rushing yards as he is averaging 10.5 yards per carrying.
Linebacker Curtis Jacobs (11 tackles) and Ji'Avir Brown (10 tackles) lead the defense. Johnny Dixon has two of the Nittany Lions' three sacks. This is the third of five straight games on the Penn State football schedule against unranked teams.
Auburn Tigers
T.J. Finley is off to a slow start with 279 passing yards, one touchdown pass, and three interceptions in the first two games of the season. Freshman Robby Ashford also has an interception. However, he has run for 129 yards, which is second only to Tank Bigsby's 199 yards. He may need to have an impact if the Tigers are to defy the Penn State vs Auburn game preview by pulling off the upset.
The Tigers have eight scoring runs in the first two games of the season. Player Jarquez Hunter had scored on four of his 16 rushing attempts.
Ja'Varrius Johnson leads Auburn with 158 yards on seven catches.
Linebacker Cam Riley came into the season with 23 career tackles. He already has 21 stops in the first two games.
Penn State vs Auburn Injury Update
When looking at the NCAA injury list, Penn State tight ends Theo Johnson and Jerry Cross as well as defensive ends Coziah Izzard and Smith Vilbert are questionable. Linebacker Zuriah Fisher is out indefinitely with a knee injury.
Auburn receiver Malcolm Johnson is probable, defensive end Zykeivous Walker (knee) is questionable and Nick Brahms is out for the season.
Penn State vs Auburn Head-to-Head
Penn State won last year's game 28-20 as the four-point favorite at home as Sean Clifford threw for 280 yards and a pair of touchdowns. Tight end Benton Strange had four catches for 71 yards and a touchdown.
That was the first meeting between the teams since a 13-9 win by Auburn in the Capital One Bowl on January 1, 2003.
Penn State has lost six of its last seven games against SEC competition with the lone win coming against Auburn.
Auburn has lost its last three games to Big Ten teams and that included losses in bowl games to Northwestern and Minnesota.
Penn State vs Auburn Betting Preview
Penn State is 11th in the Big Ten in total defense and that is a drop-off from last year's results when the Nittany Lions were third in the Big Ten allowing just 4.76 yards per play. Auburn is in the middle of the pack in most defensive categories.
With former starting quarterback Bo Nix at Oregon, Auburn is clearly not as experienced at quarterback as Penn State and that could play a role in the outcome. When looking at the betting odds college football,  this is the first time Auburn is an underdog at home against a non-conference team since a 2016 matchup with Clemson.
Auburn is minus four in turnover margin and that is a concern.
Penn State has covered 13 of its last 19 games. The total has gone under in 12 of the Nittany Lions last 16 road games.
Auburn has covered in just one of its last seven games and in one of the last five against Big Ten teams.
Follow us on Twitter