Sun Belt Conference Odds: Appalachian State and Louisiana are the Teams to Beat
James Madison, Marshall Look to Make Noise During First Season in Sun Belt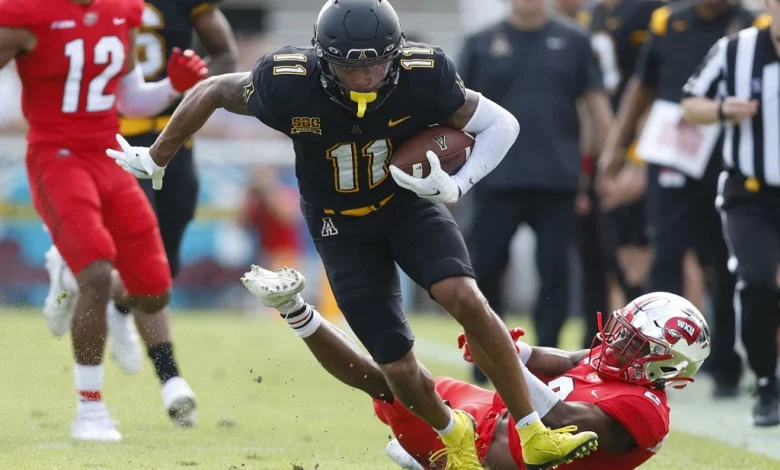 No Lack of Elite Pass Rushers in Sun Belt Conference 2022
The first thing that stands out when looking at the NCAAF 2022 Sun Belt Conference odds other than the addition of Marshall, Old Dominion, and Southern Mississippi from Conference USA and James Madison from the Colonial Athletic Association is the impressive group of pass rushers ready to chase down quarterbacks once again.
Josaiah Stewart of Coastal Carolina led the conference with 12.5 sacks followed by Troy's Javon Solomon and Nick Hampton of Appalachian State with 11 sacks each.
Troy moved from the East to the West Division after the addition of the four new members. With Marshall and Old Dominion both coming off winning seasons in Conference USA, a competitive conference could be even harder to call in 2022.
The Thundering Herd of Marshall joins a conference that already leads the way in nicknames with the Ragin' Cajuns, Red Wolves, and Chanticleers.
The conference teams aren't taking the easy way out when it comes to putting together non-conference NCAAF schedules. Week 1 features Sun Belt teams playing North Carolina, Virginia Tech and Texas.
Appalachian State Mountaineers (+200 odds to win the Sun Belt title)
Running back Nate Noel is back after rushing for 1126 yards. Teammate Camerun Peoples added 926 yards and 14 touchdowns. If he hadn't missed two games, the Mountaineers likely would have been returning a pair of 1,000-yard rushers. They are two major reasons why Appalachian State currently has a regular-season expected win total of 8.5.
Cooper Hodges should be one of the conference's top offensive linemen.
It will not be a one-dimensional team with the return of Chase Brice after he passed for 3337 yards and 27 touchdowns.
Trey Cobb (75 tackles), Nick Hampton (68 tackles) and Steven Jones (51 tackles, five interceptions) return to lead the defense. They are major reasons why the Sun Belt Conference odds favor Appalachian State to win the conference title.
The 15 interceptions helped go 7-1 in the Sun Belt a season ago so the Mountaineers will hope to be opportunistic on defense once again.
Louisiana Ragin' Cajuns (+275 odds to win the Sun Belt title)
Eleven of the top 15 players in catches a season ago were either freshmen or sophomores while Chris Smith is one of the Sun Belt's top running backs.
Leading tackler Lorenzo McCaskill is transferring to Kansas so that is a big blow, especially after former head coach Billy Napier took running back Montrell Johnson as well as offensive linemen O'Cyrus Torrence and Kamryn Waites with him to Florida. Even with the departures, the Ragin' Cajuns have a regular season expected win total of 8.5.
Defensive linemen Zi'Yon Hill and Andre Jones return after combining for 12.5 sacks last season. If they get some help, this a team that could make a run at the conference title even with the coaching change.
Coastal Carolina Chanticleers (+550 odds to win the Sun Belt title)
There has been moneyline movement coming in on Coastal Carolina finishing under the expected win total of eight.
Quarterback Grayson McCall and offensive lineman Willie Lampkin return to lead the offense. McCall will need to find some new favorite receivers with Jaivon Heiligh and Isaiah Likely off to the NFL. Their departure certainly impacted where the Chanticleers fall in the Sun Belt Conference odds.
The best player could be Josaiah Stewart (12.5 sacks, 15.5 tackles for loss, three forced fumbles as a freshman).
Marshall Thundering Herd (+800 odds to win the Sun Belt title)
Marshall comes in from Conference USA with -170 odds to go over the expected win total of 6.5 during the regular season.
Running back Rasheen Ali ran for 1401 yards and 23 touchdowns as a freshman, had 45 catches and returned a kickoff 97 yards for a touchdown as a redshirt freshman. Top receiver Corey Gammage (78 catches, 869 yards) also returns.
Linebacker Abraham Beauplan (110 tackles, 10 tackles for loss), linebacker Eli Neal and defensive lineman Koby Cumberlander are among the defensive players to keep an eye on.
Georgia State Panthers (+800 odds to win the Sun Belt title)
Veteran linebackers Jordan Veneziale and Blake Carroll are back for the Panthers while Antavious Lane (81 tackles, five interceptions) will be among the top defensive backs in the Sun Belt. Running back Tucker Gregg is coming off a season with 953 rushing yards.
The odds are currently at -155 for Georgia State to come in under the expected win total of 7.5.
Troy Trojans (+1400 odds to win the Sun Belt title)
The strength for the Trojans could come on defense with the return of linebacker Carlton Martial (127 tackles), edge rusher Javon Solomon (17 tackles for loss, 11 sacks) and defensive lineman Richard Jibunor (eight sacks).
Receiver Tez Johnson returns after leading Troy with 735 yards on 67 catches. Austin Stidham is a top offensive lineman.
James Madison Dukes
James Madison's first season in the Sun Belt and as an FBS member feature an expected regular-season win total of 6.5.
Quarterback Todd Centeio threw for nearly 3000 yards and ran for 439 more for Colorado State and now he is at James Madison. He figures to connect with speedy receiver Kris Thornton early and often. Offensive lineman Nick Kidwell was a first-team All Colonial pick and now will lead the Dukes into the Sun Belt.
Edge rusher Isaak Ukwu is a player to watch on defense.
The Dukes will not be eligible for the 2022 Sun Belt title.
South Alabama Jaguars (+2200 odds to win the Sun Belt title)
The secondary should be in good shape with the return of safety Keith Gallmon (59 tackles) and cornerback Darrell Luter (four interceptions, 10 pass breakups.
Tight end Lincoln Sefick should top his total of 32 receptions from 2021.
Southern Mississippi Golden Eagles (+4000 to win the Sun Belt title)
Frank Gore's name garnered plenty of attention before taking his first snap, thanks to the impressive run in the NFL by his father. He is a pretty good back as well with 801 rushing yards as a freshman. Receiver Jason Brownlee is another player to keep an eye on.
Leading tackler Hayes Maples will continue to be an impact player on defense.
Arkansas State Red Wolves (+4000 to win the Sun Belt title)
Expect more from quarterback James Blackman in 2022 after a solid but unspectacular 2021 season. It helps that Tevailance Hunt is back at receiver.
The defense had some issues, but Kivon Bennett was a handful last season with 58 tackles and eight sacks.
The odds are at -145 for Arkansas State to go over the regular season expected win total of 7.5
Georgia Southern Eagles (+6600 to win the Sun Belt title)
Georgia Southern deserves some credit for consistency after finishing eighth in both total offense and total defense last season. Obviously, the Eagles will be looking to move up in the rankings on both sides of the ball.
Anthony Wilson is back after leading the league with 78 tackles as a sophomore. The top three tacklers were either freshmen or sophomores, so the hope is that experience will pay off in 2022.
The offense will look much different with former USC Clay Helton at the helm of the program. Kyle Vantrease, a three-year starting quarterback at Buffalo, will bring some needed experience. It doesn't hurt that Georgia Southern has eight starters back on offense as well.
The expected win total of 4.5 seems a little bit on the low side, but time will tell.
Old Dominion Monarchs (+6600 to win the Sun Belt title)
Receiver Ali Jennings had 1063 yards on 61 catches and tight Zack Kuntz led the Monarchs with 73 catches so they will be keys to the offense. Safety R'Tarriun Johnson (91 tackles, two interceptions, six pass breakups) is a defensive player to keep an eye on.
Playing in a new conference and with some key personnel losses, it is hard to project whether Old Dominion can top the  4.5 expected win total.
Texas State Bobcats (+8000 to win the Sun Belt title)
Texas State brought in 15 transfers, including ones from Arizona, Baylor, Rutgers, Syracuse and Texas. Three of those transfers are quarterbacks. That includes Layne Hatcher, who passed for nearly 4500 yards with 38 touchdown passes over the last two seasons.
The highest rated incoming transfer is former Texas defensive lineman Myron Warren. Offensive lineman Dalton Cooper is probably the top returning player. Texas State's expected win total is 5 and that would be an improvement from a four-win 2021 season.
Louisiana-Monroe Warhawks (+20000 to win the Sun Belt title)
If Louisiana-Monroe brought everybody back, it would still be a bit of a struggle to improve on last year's 4-8 record. Losing 17 transfers will make things all the more challenging.
The Warhawks were 0-6 on the road a season ago and that is something that will need to change.
Defensive lineman Caleb Thomas had 37 tackles and 2.5 sacks in his first season at ULM after transferring in from UConn. He will team with second-leading tackler Zack Woodard to lead a defense that finished eighth or lower in every major category in 2021. When it some to Week 1 NCAAF matchups, few will have bigger lines than Texas being favored by 39 against Louisiana-Monroe
Follow us on Twitter