Top NCAAF Big 12 Transfers: Plenty of Star Power Coming and Going in the Big 12
Highly Touted Quarterback Quinn Ewers Get's Chance to Shine at Texas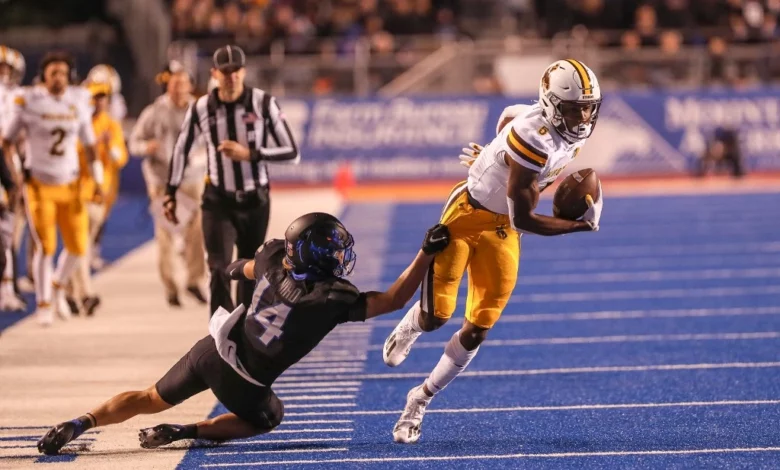 Texas Loading Up the High-Profile Transfers to Boost Offense
Who are the top NCAAF Big 12 transfers? There are some big names and perhaps it's time to call the Big 12, "transfer central".
While the teams from the other Power-5 conferences have certainly been active when it comes to gaining and losing transfers, nobody can hold a candle to what has transpired in the Big 12.
Four of the top nine, and 13 of the top 30 transfers are either joining or leaving the Big 12. The most stunning number in that group – there isn't one Big 12 to Big 12 transfer among the top players on the move.
Seven of the top 20 rated transfers according to the 247sports.com database are leaving the Big 12.
Here's a look at the top players on the move either in or out of the Big 12.
Quinn Ewers QB (Ohio State to Texas)
When is the last time a player was tied for the fifth-best betting odds to win the Heisman Trophy before he ever threw a pass at the collegiate level? Ewers was the No. 1 rated player in two different recruiting classes after he reclassified. Unfortunately for him, C.J. Stroud grabbed onto the Ohio State job so now Ewers returns to his native Texas.
Isaiah Neyor WR (Wyoming to Texas)
Another top NCAAF Big 12 transfer coming into Texas, Neyor averaged 20 yards on his 44 catches during the 2021 season at Wyoming. Only seven FBS players had more catches of at least 30 yards a season ago and two of them were selected in the 2022 NFL Draft.
Texas also added former Alabama receiver Agiye Hall. He had two catches for 52 yards in the national championship game loss to Georgia.
Jahleel Billingsley TE (Alabama to Texas)
Do you notice a trend here? Texas was a disappointment a season ago, but the offense could be a lot more dangerous thanks to the incoming transfers. Billingsley only caught 17 passes a season ago at Alabama but three of them went for touchdowns. He had a TD catch against Notre Dame in the College Football Playoff and then two of his first six catches in 2021 went for TDs.
Dillon Gabriel QB (UCF to Oklahoma)
Gabriel burst onto the scene in 2019 when he threw for more than 7000 yards and 61 touchdown passes in his first two seasons at UCF. His junior year was cut short by injury after just three games and now he is ready to get his career going at Oklahoma. He is one reason why the Big 12 football odds favor Oklahoma to win the conference title in 2022.
Jonah La'ulu DL (Hawaii to Oklahoma)
When looking at the top NCAAF transfers coming into the Big 12, not all the newcomers are on the offensive side of the ball. The 6-foot-6, 280-pound La'ulu had 34 tackles, eight tackles for loss, and four sacks at Hawaii in 2021. He has the size to play multiple positions on the defensive line.
New Oklahoma coach Brent Venables was considered one of the best defensive minds in the country when he was the defensive coordinator at Clemson and he could have some fun moving around his newest playmaker.
43 Alan Ali OL (SMU to TCU)
Ali won't need much time to get to know TCU coach Sonny Dykes since Dykes recruited Ali to SMU and coached him there as well. SMU ranked 13th in total offense and 14th in passing offense a season ago and the physical Ali had something to do with that.
Best of the rest
New Texas Tech offensive tackle Cole Spencer knows something about pass protection considering that his Western Kentucky team led all Football Bowl Subdivision programs in passing yards and touchdowns in 2021.
Jaxon Player had 32 tackles for loss and eight sacks in his four seasons at Tulsa and now the Texas native is at Baylor.
Oklahoma added to both lines with former Cal offensive lineman McKade Mettauer and former Tulane defensive lineman Jeffery Johnson.
TCU has an opening at running back and perhaps Emani Bailey, who averaged 6.3 yards per carrying and 10.2 yards per reception at Louisiana in 2021, can fill that need.
On the Way Out
A team could fill the offensive skill positions with the players transferring out of the Big 12 and have a team capable of lighting up the scoreboard.
It starts with Heisman Trophy candidate Caleb Williams and receiver Mario Williams following head coach Lincoln Riley from Oklahoma to Southern California. At running back, Zach Evans (648 rushing yards in six games) moved from TCU to Ole Miss. Spencer Rattler, who started the 2021 season as Oklahoma's starting quarterback, is now at South Carolina.
Yet another Sooner on the way out is receiver Jadon Haselwood as he transferred to Arkansas. Fellow receiver Cody Jackson headed from Oklahoma to Houston while former Sooner tight end Austin Stogner joins Rattler at South Carolina. All the outgoing transfers from Oklahoma haven't kept the Sooners from being favored in the Big 12 Conference odds.
Oklahoma State lost cornerbacks Tanner McCalister and Jarrick Bernard to Ohio State and LSU. They combined for 93 tackles and 17 pass breakups to help the Cowboys reach the Big 12 title game.
TCU edge rusher Ochaun Mathis (21 tackles for loss and 14 sacks in the last two seasons) is now at Nebraska.
West Virginia saw defensive lineman Akheem Mesidor (9.5 sacks during 2020 and 2021 seasons) land at Miami and cornerback Jackie Matthews (43 tackles last season) go to Mississippi State.
Another player on Oklahoma to USC caravan was cornerback Latrell McCutchin. That was a look at the latest top NCAAF Big 12 transfers, stay tuned right here for all of your Big 12 NCAAF news.
Follow us on Twitter