UMass' Kay'Ron Lynch-Adams' Stats Posts Career Day in Upset of Army
Kay'Ron Lynch-Adams Stats: Junior Runs for 234 yards, 3 TDs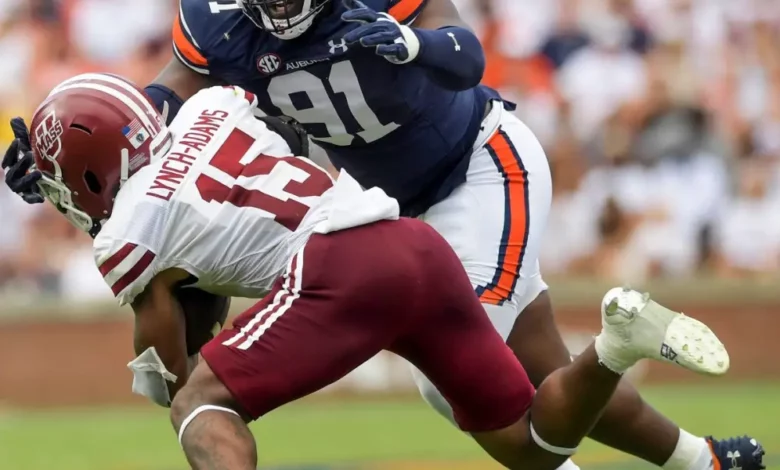 Kay'Ron Adams
Full Name:
Kay'Ron Lynch-Adams
---
The UMass Minutemen pulled off one of the bigger upsets in college football Week 9, defeating the Army Black Knights 21-14 on the road. Running back Kay'Ron Lynch-Adams had a big hand in the win, accounting for all three of UMass' touchdowns.
But that's not all that stood out about Lynch-Adams' performance. Let's take a closer look as we break down Kay'Ron Lynch-Adams' stats.
Career Day Paces UMass
Kay'Ron Lynch-Adams' stats against Army jump off the page. The fifth-year junior ran for a career-high 234 yards on 34 carries, his fourth 100-yard day this season. Lynch-Adams had three touchdown runs, including a 34-yarder to open the scoring in the first quarter.
UMass, a 10-point underdog, covered the spread for the second time in three weeks. It's now 3-5 ATS overall.
Lynch-Adams' previous career-best was 157 yards, set on Oct. 7 in a 41-24 loss to Toledo. He also surpassed 100 yards in losses to Eastern Michigan (129) and Auburn (101).
For the season, Lynch-Adams is now up to 926 yards on 178 carries (5.2 yards per carry) and nine touchdowns. He had just one touchdown in each of his previous four seasons, including stints in 2019 and 2020 with Rutgers. Based on that alone, Lynch-Adams has been one of the more pleasant surprises in NCAAF.
Despite that, it hasn't translated into much on-the-field success for UMass. The Minutemen are headed toward their 12th straight losing season since making the jump to FBS competition in 2012.
Saturday (3:30 p.m. ET, ESPN+), UMass will host FCS school Merrimack. The Warriors are 4-4, including 3-2 in the Northeast Conference. Lines have yet to be posted for the matchup, which is typically the case for games involving FCS teams. Be sure to monitor that while making your NCAAF predictions.
Odds Outlook
Lynch-Adams isn't getting much recognition nationally despite his career day. Not that it's surprising, of course.
UMass is — and has been — one of the worst teams at the FBS level. The Minutemen are 2-7, this after going just 3-37 over the previous four years. This is the first time they've won multiple games in a season since 2018 (4-8) under Mark Whipple. They need one more victory over their final three games — Merrimack, Liberty, and UConn — to beat their projected total of 2.5.
Aside from that, there's not a whole lot else to look forward to here. The Minutemen are an afterthought in the college football standings as an independent, and Lynch-Adams' upside is limited because of the lack of surrounding talent.
UMass ranks second to last nationally in scoring defense (39.2 points allowed per game), ahead of only Southern Mississippi (39.3). Seven of its nine NCAAF teams have scored at least 30 points. Based on that alone, the Minutemen haven't had much of a chance to create any headway this season.
Lynch-Adams ranks fourth in FBS in rushing, one of eight players with at least 900 yards. The only three to have run for more are Oklahoma State's Ollie Gordon (1,087), Georgia State's Marcus Carroll (1,060), and Troy's Kimani Vidal (994). Still, don't expect to see Lynch-Adams up for any major awards. Odds are he'll continue to fly under the radar, through no fault of his own.
For Kay'Ron Lynch-Adams stats, betting news, odds, and more, visit Point Spreads Sports Magazine.
---
Can't get enough? Here's more!