UNC vs Georgia Tech Odds: How Will North Carolina Respond After Last Week's Loss?
Tar Heels Lost Perfect Season Bid With Home Loss to VA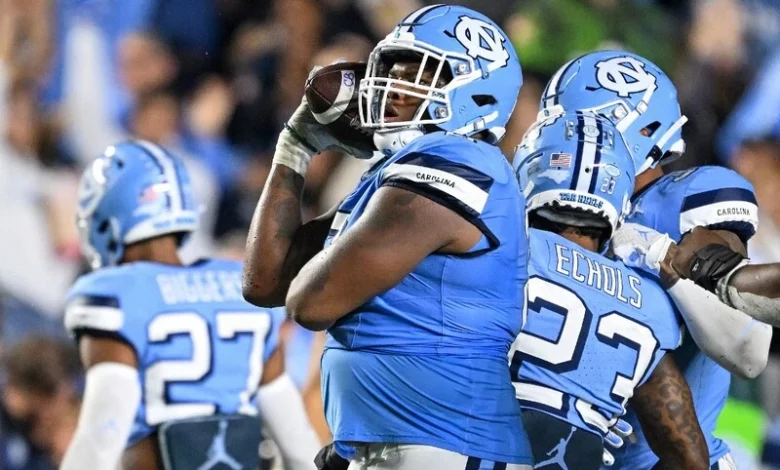 The North Carolina Tar Heels took their first loss of the season at home against a one-win Virginia team.
The Tar Heels had College Football Playoff aspirations. But that loss, at home, will all but end those aspirations.
Although the Tar Heels don't have a chance at the College Football Playoff, they can still potentially earn the ACC Championship. The Tar Heels still have a lot to play for at just 6-1 on the season and only one loss in the ACC.
They'll face the Georgia Tech Yellow Jackets in Atlanta, GA, looking to get back on track. The Yellow Jackets have lost three of their last five games this season. The most recent loss came last weekend against Boston College, 38-23.
Therefore, the Tar Heels are still -11.5 (-105) against Georgia Tech on Saturday. The total is currently sitting at 63.5.
How will North Carolina respond after last week's disastrous loss?
Let's break down the UNC vs Georgia Tech odds for this late-night ACC matchup.
Day/Time:
Location: Bobby Dodd Stadium
Streaming: ACCN

UNC vs Georgia Tech Odds
Despite losing to Virginia as a 24-point favorite last weekend, the North Carolina Tar Heels are heavy favorites against Georgia Tech.
The Tar Heels have been very good against the spread throughout the season. They've gone 5-2 and are 6-1 straight up. However, the total has hit the Over and Under three times each.
This will be North Carolina's second game on the road this season. The Tar Heels won their only road game, 41-24, as seven-point favorites against Pittsburgh.
On the other hand, Georgia Tech is 3-4 straight up and 3-4 against the spread this season. The Yellow Jackets failed to cover against Boston College in a 38-23 loss as six-point favorites. However, the total has gone Over in five of seven games for the Yellow Jackets this year.
Georgia Tech has been a heavy underdog over the last three seasons. However, the Yellow Jackets have won outright in 2021 and 2022 as 14 and 22-point underdogs.
That's something to keep an eye on heading into this matchup.
North Carolina Needs To Fix Some Things
Just when we all thought that the North Carolina Tar Heels were a top team in the nation, the Tar Heels failed everyone, losing to Virginia 31-27 at home.
That game wasn't a look-ahead spot or anything. It was just another game at home. The Tar Heels had played two home games previously and won both, scoring 40+ points against Syracuse and Miami.
However, the offense didn't play at a high level against Virginia and paid a price. Meanwhile, the defense wasn't up to par either.
Virginia rushed for 228 yards and three touchdowns on the ground. Meanwhile, the Cavaliers held the ball for over 37 minutes in that game.
Virginia had as many first downs as North Carolina and earned four more third-down conversions than North Carolina.
The Tar Heels must make some adjustments before their game against Georgia Tech. Whatever they did last week won't work against any ACC team.
Does Georgia Tech Have Anyone Else But Haynes King?
The Georgia Tech football program made Haynes King the lead quarterback this year. He's a former Texas A&M quarterback who has a win against Alabama on his resume. He was supposed to bring this team to bigger heights.
However, against Boston College, the quarterback went 14-for-32 with 204 yards passing. He also added one touchdown and three interceptions and had a QBR of 42.3.
On top of that, Georgia Tech had King rush 10 more times for 150 yards. He scored another touchdown on the ground.
But can the guy get help?
No receiver added more than 54 receiving against Boston College. No running back, besides King, rushed for more than 56 yards.
King hasn't been great. But they've given him no help.
The Haynes King Show Won't Be Enough!
Don't get mad at Haynes King. He's just doing whatever he can to give Georgia Tech a chance at winning football games.
He's thrown for 1,835 yards with 17 touchdowns and nine interceptions. However, he's still a top 55 quarterback in QBR rating, with a 63.5 number.
The Yellow Jackets have earned 434.1 yards per game. But that's mainly due to King. Someone's got to step up and be a primary playmaker for this team.
Typically, that's Eric Singleton. He's added 20 catches for 355 yards and five touchdowns. But he hasn't had a single game with more than five receptions this year. While he's finding the endzone, he's not doing much else.
The Tar Heels have one of the best secondaries in the ACC. The run defense has also held teams to 130.1 yards per game, which isn't so bad. The pass rush is also effective, and the tackling hasn't been brutal.
Drake Maye's Revenge Game
The North Carolina Tar Heels don't need revenge on Georgia Tech. However, the Yellow Jackets have had North Carolina's number over the last few seasons.
Either way, Maye will want revenge after a brutal game last weekend against Virginia. Maye and the Tar Heels have added nearly 500 yards per game. Maye is a probable top-five draft pick next season in the NFL and will likely be the second quarterback in the draft.
He's already thrown for 14 touchdowns and 2,249 yards and has rushed for another 201 yards for five touchdowns.
The Tar Heels are a balanced offense, getting nearly 180 yards on the ground, with the other 320 yards in the air.
That'll work out against Georgia Tech. The Yellow Jackets have allowed 452.7 yards per game, with 227.7 yards on the ground. North Carolina will succeed on both sides of the ball, even with Georgia Tech's secondary playing at a high level.
Don't get scared away from the UNC vs Georgia Tech odds. North Carolina matches up well against Georgia Tech this season. The Tar Heels will want to rise back up in the NCAAF rankings and have the college football schedule to do it.
When looking at the college football betting lines, we'll back North Carolina at -11.5.

For NCAAF betting news, college football scores and odds, and more, visit Point Spreads Sports Magazine.
---
Can't get enough? Here's more!