2022 NFL Week 12 Lines and Odds: Late Game Spotlight
Five Late Games Round out Holiday Schedule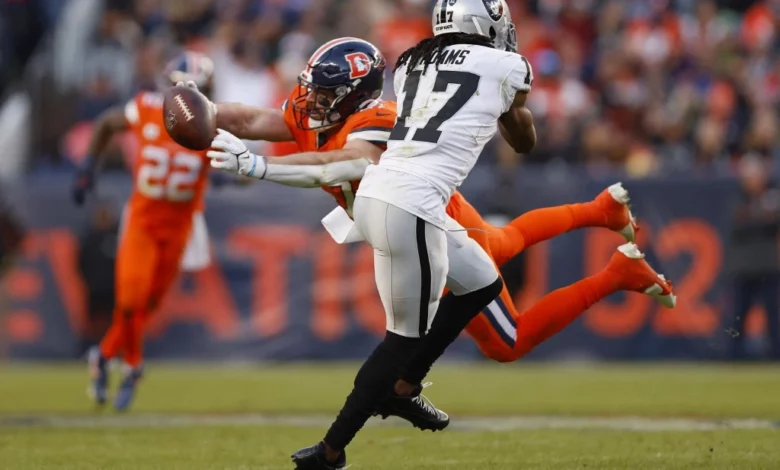 Here's a quick look at Sunday's late Week 12 odds and Lines along with our official selections.
Underdogs are 91-69-4 (56.88%) +1423 units (Based on a $100 wager)
Home Teams 75-81 (48.08%) -1227 units
Tennessee Titans 8-2 ATS (+541 units), New York Giants 7-3 (+350), Dallas Cowboys 7-3 (+343).
Underdogs getting between 3 ½ and 7 points are 44-25 (63.77%) +1503 units
Teams with less than 50% of the public wagers are 84-69 (54.90%) +762 units
---
Raiders vs Seahawks Betting Analysis
The Raiders have been a major disappointment in a city that is trying to dub itself 'Win City'. That's a lofty standard to meet, but an expectation that is expected in Las Vegas. With the Golden Knights leading the Western Conference and the WNBA's Las Vegas Aces winning a championship, it's expected to put a good product on the field.
First-year Raider, Davante Adams, has come as advertised and is clearly a receiver that quarterback Derek Carr leans on. It's not that side of the ball that's a problem.
Las Vegas has forced just six turnovers this NFL season, dead last in the league while giving up over 370 yards a game. However, something seemed to click in their week 11 (22-16) win at Denver where they gave up just 320 total yards while holding the Broncos on 9 of 12 third-down opportunities. This may be the start of the Raiders upholding their role in 'Win City'.
By the numbers
A peek at week 12 odds and lines in this one reminds us that small road dogs have been a profitable wager for a few seasons now.
Since 2018-19, road dogs receiving four points or less are 169-124 (57.68%) +3532 units. There are some variables in that number as we like to throw out the first and last week of a season for accuracy. This number also seems peculiar to the eye of seasoned bettors with the Seahawks expected to be larger favorites at home.
It's important to catch NFL teams when they're just starting to get hot, with last week's win a clear indication that we could be seeing the start of a Raider win streak.
Prediction: Raiders 24, Seahawks 21
Chargers vs Cardinals Betting Analysis
An organization never wants distractions, but after a report this week that former New Orleans Saints Head Coach Sean Payton may be part of the Chargers' future plans, it's tough to think that was the news that current Head Coach Brandon Staley wanted his team to be focused on.
The Saints still own his rights through 2024 but could be traded if there was an opening. Ironically enough, the Cardinals are the other team that is rumored to be part of the potential Payton sweepstakes. The difference is, one team still is focused on the postseason.
Our position will remain no matter who is at quarterback for the Cardinals. This game gives us a betting angle that we've liked to recommend through the years. Underdogs coming off a blow-out loss of 20 or more are 7-3-1 ATS this season. This has been a consistent trend for years, with a 312-222 (58.43%) +7058 units record since the 2004-2005 season. More recently, this angle is 48-27 (64%) +1704 units since 2020.
By the numbers
The Chargers have been one of the better cover teams in the league this season (7-3 ATS) but most of that damage has come on the road (5-0 ATS). At home, Los Angeles is just 2-3 ATS.
That's not surprising considering the team hasn't produced a winning ATS season in their own yard since 2013 (25-42-1, 37.31%, -1782 units). Arizona is 3-2 ATS on the road this season and 24-11 ATS (68.57%) since 2018.
Prediction: Cardinals 30, Chargers 21
Rams vs Chiefs Betting Analysis
LA Rams quarterback Matthew Stafford will find himself on the NFL injury report this week after entering concussion protocol during the Rams' loss to the New Orleans Saints last week. It's still unknown if he'll play this weekend but it's important to keep in mind that this will be the second time in three weeks that concussion protocol was necessary.
Not good news for a team that has already lost tight end, Cooper Kupp, for the season with an ankle injury. Head Coach Todd McVay did lead the media to believe that Stafford is checking out well, leading to speculation that he could play this week 12.
McVay also noted that his start quarterback could be shut down for the season as well. For bettors, we now have to make a choice if we want to take the two-plus touchdowns with or without Stafford. It's a generous number if Stafford is 100% but if the Rams weren't 3-7, we would say that Los Angeles may be a play here. Unfortunately, there are too many negative variables to get involved, but we will jump in on the total.
By the numbers
When a start player is less than 100%, it's difficult to put emphasis on past numbers because a team is simply not close to being a true representation of past performances.
We are going to look at past performances by the officiating crew this week, led by Adrian Hill who definitely has under tendencies with 26 of his 44 games cashing under tickets during his four-year career. This is significant, because no matter who plays at quarterback for the Rams, you can bet there will be extra pressure on the offensive line to keep their signal caller upright, which could result in holding calls, a friend to under bettors.
Prediction: Chiefs 23, Rams 17
Saints vs 49ers Betting Analysis
The Niners are in first place in a week division with a 6-4 record. They've beaten one team with a record over .500 this season and that was in week two against the Seattle Seahawks at home. I'm pumping the brakes on the San Francisco enthusiasm until they win a playoff game.
Despite this being a divisional match-up, it's not inconceivable that San Francisco is likely looking ahead to a date with the 7-3 Miami Dolphins next week. We are well aware of the impressive numbers the Niners are putting up this season, it's just hard to pull the trigger on a number that seems to be begging bettors to take San Francisco.
By the numbers
The Saints have dropped their first two games as a road dog this season, but typically they are a strong wager with 21 cashouts in their last 32 games dating back to 2014-15.
Our selection is less about their history and more about the rebound game for the Niners after playing in football-crazed Mexico last week. They likely will win SU but these are too many points to cover coming off a massive road win against the Arizona Cardinals.
Prediction: 49ers 26, Saints 21
Packers vs Eagles Betting Analysis
Since the Eagles' loss to the Commanders, 32-21, Philadelphia hasn't been the same. Last week they barely survived at Indianapolis 17-16, after trailing 13-3 heading to the fourth, and this NFL week we're being asked to lay a touchdown against the Packers who still have a Hall of Fame quarterback under center.
The concern from Eagles fans has to go back a week before the Commanders' game against the Houston Texans who exposed the Eagles' run defense after scorching them for 168 yards. Since the Eagles have given up just under 300 yards on the ground to Washington and Indianapolis and now we're supposed to lay a touchdown? We don't think so.
By the numbers:
Green Bay has covered 6 of their last 8 meetings with the Eagles and are 14-6 ATS after a loss of 20 or more points. The Eagles have failed to cover 26 of their last 45 games as a favorite, and 7-11 ATS when NFL point spread favorites between 5 ½ and 7 ½ points since 2018. The Packers' strength is their run game, spelling bad news for Eagle bettors in a close affair.
Prediction:Eagles 26, Packers 20
That concludes our look at the late week 12 odds and lines, we wish everyone a profitable holiday weekend.
Follow us on Twitter
---
Looking for more information about the NFL season? Here's more!