Bears vs Pats Betting Preview: Patriots Fighting Through Injuries, Bears Fighting for Anything
NFL Standings Week 7 Show Bears Desperate for Win, Pats on 2 Game Roll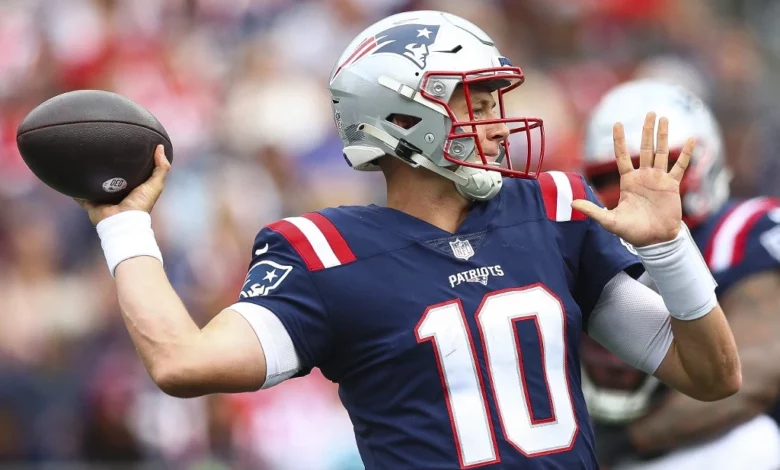 Bears vs Pats Betting Preview: After a high ankle sprain kept him out of the Patriots line-up for three games, Mac Jones will return behind center. Chicago Bears signal caller, Justin Fields, is looking for his first win on Monday Night Football after two losses last season. For bettors, there has been no better month to bet on the Pats than October with a sparkling 56-24 ATS mark, +2975 units since the 2003-04 season. A win tonight would give them a perfect 4-0 ATS this month.
Game Information
Game: Chicago Bears (2-4) at New England Patriots (3-3)
Date, time (TV):
Location: Gillette Stadium, Foxborough, Massachusetts
Streaming: ESPN
Bears' Frail Offensive Line Must Protect Fields
Continuing Our Bears vs Pats Betting Preview: There have to be days when Justin Fields wishes he was back at Ohio State. The only time he ran with the ball there usually resulted in a first down after a 20-yard run. In Chicago, Fields is simply running for his football life.
Last week against Washington, Justin Fields was sacked five times and hit countless times in a 12-7 loss. The second-year pro is just 4-12 as a starter but it's hard to win when your quarterback is closer to running onto the NFL injury list than he is in the end zone.
It's not all on the offensive line in the mind of head coach Matt Eberflus who stated this week that Fields could also read defenses quicker pre and post-snap. Sometimes these little nuggets help when you're putting your cash on the line. A quick glance back at his starts will supports what Eberflus is preaching. You can see him going through his progression with trouble coming if the primary receiver isn't open.
We expect a quick passing game this week to establish confidence in Fields and to alleviate a pass rush that will likely be focused on harassing Fields.
This becomes a problem with most quarterbacks who rely on their legs. Their mind tells them to take off and run after the primary target fails. We expect a quick passing game this week to establish confidence in Fields and to alleviate a pass rush that will likely be focused on harassing Fields.
Jones Set to return For Pats
Nothing has been made official but it appears quarterback Mac Jones will return from the NFL injury list this week after suffering an ankle injury that has kept him out of three games. Jones, who is 11-9 as a starter, was off to a rough start in 2022, losing two of three games he started while throwing five picks against just two touchdowns.
He threw three interceptions in his last start against Baltimore, a 37-26 loss. This could turn into a sloppy game on paper but we think both Bill Belichick, who is looking to become the second-winningest coach in NFL standings week 7 and history, and Eberflus will make the adjustments necessary to avoid a turnover fest. Our bears vs. Patriots game preview culminates with our official selection below
Turnovers Don't Often Lead to Low Scoring Games
Clearly, the betting public is all over the under in this one with 90% of the money counted backing that claim. Again, logic doesn't cash tickets. With Jones coming back many anticipate a step back with the offense until Jones can prove that he can rely on the take care of the ball. The same can be said for Fields with his low completion rate behind his wet-paper offensive line.
In our mind, the potential for turmoil often results in high-scoring affairs. Teams who are mistake-prone often open the door for short-yardage situations for the opposition. New England has cashed seven overs in their last 10 games and seven of eight at home. To conclude our Bears vs Pats betting preview, we officially recommend playing the over of 39.5. Expect the offenses to be more efficient but still make enough mistakes to push this over the low total. Be sure to stay tuned right here for the latest news on NFL injuries, as well as the updated lines and odds.
Follow us on Twitter
---
Can't get enough? Here's more!