NFL Betting: Early Look at Chargers Receiver Keenan Allen's 2023 Stat Projections
Can Allen Post Another 100-Catch Season for Pass-Happy Chargers?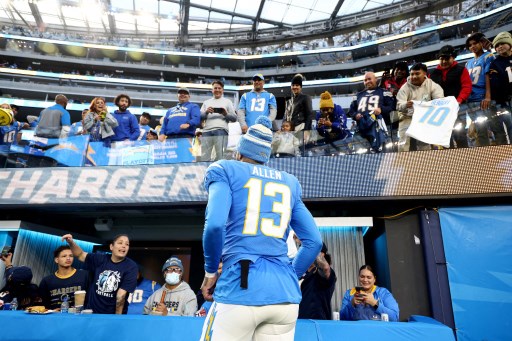 Plenty of Mouths to Feed in the 2023 Los Angeles Chargers Offense
This could be a make-or-break season for Keenan Allen as well as the Los Angeles Chargers offense and might be challenging to project Keenan Allen's 2023 stats.
The Chargers have one playoff win over the last nine NFL seasons despite having five winning campaigns during that time. There is so much talent on this Chargers offense, especially if disgruntled running back Austin Ekeler chooses to remain with the Chargers.
The drafting of Quentin Johnston out of Texas Christian in the first round might not signal a sense that the clock is ticking on Allen's run with the Chargers, it does provide some options moving forward.
Allen is priced at +8000 in the NFL Offensive Player of the Year odds and that placed him outside the top 50. The five-time Pro Bowler has proven to be one of the best pass catchers in the NFL when healthy.
When looking at the 2022 NFL standings, the Chargers finished 10-7, but were just 2-4 against fellow AFC West teams.
Here's a look at some factors that could impact Allen's 2023 receiving numbers.
Another High-Volume Season Coming?
Allen has topped the 100-catch mark in four of the previous five seasons and fell three receptions short of making it five consecutive seasons hitting triple digits in catches going into the 2022 season. There was little reason to expect that to change before he missed seven out of eight games early in the season.
Now those who bet online as well as those taking part in fantasy football drafts have to weigh his age, injury history and the large number of pass catchers on the Chargers' roster moving forward.
Had Allen not missed seven games, he was on pace to set a career-high with 112 receptions with his 151 projected targets and 1,278 yards would have ranked second.
Instead, he finished with 66 catches and 752 yards while playing in 10 games. Allen played in 33% of the offensive snaps in the season opener and when he returned in a Week 7 loss to Seattle, he was limited to just 23 snaps. More is expected when it comes to Keenan Allen's stats in 2023.
Allen topped the 80-yard mark in six of the last eight games when he returned to the field.
He caught just six of the 13 targets as he had six catches for 61 yards in a playoff loss to Jacksonville.
Milestones in Sight
Allen needs four catches to hit the 800 mark in regular-season catches and is 713 yards shy of 10,000 career receiving yards. That pretty impressive stuff for the eighth receiver taking in the 2013 NFL Draft.
Allen ranks in the top 10 among active players in both receptions and receiving yards since being picked in the third round in the 2013 NFL Draft.
The Keenan Allen stats projections are starting to roll in for the former Cal star and another 100-catch and 1,000-yard season could be in the cards for one of the most reliable pass catchers over the last decade.
Sharing the Load
Allen and Mike Williams have been a production receiving duo and even with Austin Ekeler emerging into one of the best pass-catching running backs in the NFL, Allen has been a favorite target of quarterback Justin Herbert.
Will the addition of Johnston, who is ninth in the NFL Offensive Rookie of the Year odds, result in less work for Allen?
Allen has averaged more than nine targets per game since breaking into the NFL in 2013.
A 31-year-old receiving coming off a season when he missed seven games is certainly a cause for concern. Since being limited to nine games during the 2015 and 2016, Allen has been able to avoid the injury issues that slowed him earlier in his career.
A Look at the Schedule
The early stretch of games could help Allen get off to a strong start with five of the first six games coming against teams ranking 21st or lower in passing yards per game during the 2022 regular season.
There is a three-game stretch when Allen and the Chargers face the Miami Dolphins (234.8 passing yards per game), Tennessee Titans (an NFL-worst 274.8 passing yards per contest) and Minnesota Vikings, who were 31st out of 32 NFL teams in pass defense.
According to the NFL point spreads, the Chargers are 3-point favorites in the season opener against Miami.
Follow us on Twitter
---
Can't get enough? Here's more!