NFL Draft Preview: Road to the Top Prospects
Projected First-Round Picks Not Always Elite Recruits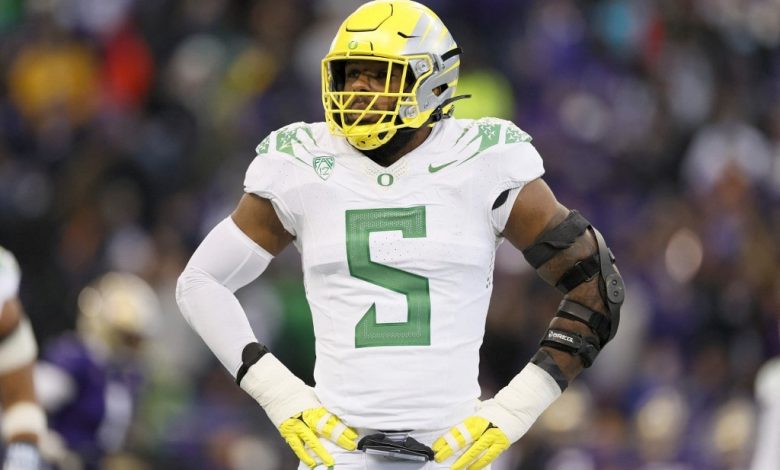 Blasts from Past: Rising Up from High School Ranks
The best and brightest college stars will get to take a major step toward realizing a lifelong dream of playing in the NFL when they hear their names called in the 2022 NFL Draft starting with the first round on Thursday night. Keep on reading for a different approach to the 2022 NFL Draft preview.
For every Kayvon Thibodeaux, Derek Stingley Jr. and Evan Neal, who were consensus top-10 recruits coming out of high school, there are just as many top draft prospects that flew under the radar during their scholastic careers.
In former NFL scout Daniel Jeremiah's list of the top 150 players in the 2022 NFL Draft, none of the top three players mentioned were top-20 recruits.
Michigan defensive end Aidan Hutchinson was the 112th-rated player in his class coming out of high school, Cincinnati cornerback Ahmad Gardner had 1,835 players rated ahead of him and North Carolina State offensive lineman Ikem Ekwonu was the 612th-rated player in his recruiting class.
USC receiver Drake London, Liberty quarterback Malik Willis, Ohio State receiver Chris Olave, Georgia defensive tackle Jordan Davis and Utah linebacker Devin Lloyd are other top draft prospects ranked outside of the top 200 players when they were in high school.
Georgia defensive lineman Travon Walker, who has the best odds at -300 to be the top overall pick in Thursday's NFL Draft, was rated just outside the top 20 when he was a high school recruit.
We're taking a look at the players who went from overlooked prospects to potential first-round selections.
Big Ten Whiffed on Gardner
There were 162 cornerbacks rated ahead of Ahmad Gardner in the Class of 2019 when he was coming out of Martin Luther King High School in Detroit. Gardner was rated as the 1.836th player in his recruiting class according to the 247sports.com database.
Now, the NFL Draft odds give him a chance to be one of those rare defensive backs to go in the top five. At 6-foot-3, 200 pounds with top-end speed and athleticism, Gardner has all the attributes NFL teams are looking for in a shutdown cornerback.
Consider this a swing and miss by the Big Ten recruiters who saw Gardner land at Cincinnati and have an incredible run with the American Athletic Conference powerhouse.
Receivers Caught on Later
While Garrett Wilson was a top-20 recruit when he headed to Ohio State, many of the other receivers likely to go in Thursday's first round weren't as highly touted coming out of high school.
Wilson's Ohio State teammate, Chris Olave, was the 68th-rated receiver in his class, Jameson Williams had 12 receivers with better recruiting grades than him in the Class of 2019. USC's Drake London barely cracked the top 250 national rankings when he was a high school senior, and Treylon Burks of Arkansas finished just outside of the top 100 among the Class of 2019.
Penn State's Jahan Dotson had 35 receivers ranked ahead of him. Despite playing in football-crazy Central Florida, Christian Watson had 500 receivers with better grades than him in the Class of 2017.
No Safety Valve for Lloyd
California native Devin Lloyd was a 215-pound safety when he committed late in the 2017 recruiting cycle. There were 1,630 players in the class of 2017 rated ahead of him, including 121 safeties. Lloyd now ranges from 237-240 pounds and is viewed as perhaps the top linebacker available according to the 2022 NFL Draft preview. Lloyd is listed at -550 to be the first linebacker selected.
Lloyd could rush the passer from time to time, but he doesn't figure to approach the sack total of 2021 Defensive Rookie of the Year Micah Parsons of the Dallas Cowboys.
Parsons was a steal with the 12th overall pick, and Lloyd could end up going around the same spot even though he plays a position that tends to be undervalued in the top half of the first round.
Quarterbacks Defying Odds
Many of the quarterbacks available in the 2022 NFL Draft were not considered can't-miss prospects heading off to college.
There were 32 pro-style quarterbacks ranked ahead of Pittsburgh's Kenny Pickett in the Class of 2017. It is hard to argue with the top player on that list: Davis Mills was one of the most productive rookie quarterbacks in the NFL in 2021 while Mac Jones, now the starting QB in New England, was 18th on that list. Most of the top pro-style quarterbacks in the 2019 recruiting rankings will be available in future drafts.
Liberty's Malik Willis, who is expected to be the top challenger to Pickett to be the first quarterback selected in the 2022 draft, wasn't even listed as a quarterback in many recruiting databases. He was rated as the 368th-best player in the Class of 2017 and 21st-best athlete, which has always been a bizarre position to list since every player on these lists are outstanding athletes. It does cover the recruiting gurus if a talented high school quarterback moves to receiver or defensive back.
The NFL Draft preview considers Willis (-200) as having the top odds to be the first quarterback chosen followed by Pickett at +200.
Cincinnati's Desmond Ridder was also listed as an "athlete" in the 247sports.com Class of 2017 database. There were 115 players with that characterization ranked ahead of him in his recruiting class and he was player No. 1,657 in that class.
Ole Miss' Matt Corral, who has a chance to sneak into the first round, was the closest thing to a blue-chip prospect among the quarterbacks with a chance to go in the first round. Corral was the No. 4-rated pro-style quarterback in the Class of 2018 and the No. 63 overall player.
Sam Howell out of North Carolina was a top-100 recruit in the Class of 2019 and he will also be on the radar of teams in need of a quarterback. When looking at the top pro-style quarterbacks in the Class of 2018, it would take a significant amount of scrolling to locate potential second-day draft pick Carson Strong out of Nevada. Strong is the 76th-rated player on that list and the No. 2171 overall recruit.
Some Top Recruits Live Up to Hype
Not all the elite recruits peak in high school.
Three of the top-10 rated recruits in the Class of 2019 could land in the top 10 on Thursday night, according to the NFL Draft preview.
Oregon defensive end Kayvon Thibodeaux was rated second, one spot ahead of LSU cornerback Derek Stingley Jr., while Alabama offensive tackle Evan Neal was the seventh-ranked player.
Many of the top players in that class will be available in next year's draft thanks to the flood of transfers impacting college football and all college sports.
Michigan defensive back Daxton Hill and Texas A&M offensive lineman Kenyon Green might have the best chance to go closer to where they were rated out of high school. Hill was the 14th-ranked prospect in the Class of 2019 — one spot ahead of Green — while Georgia linebacker Nakobe Dean, Ohio State wideout Wilson and Clemson defensive back Andrew Booth were all top-25 recruits.
Follow us on Twitter