Player of the Week: Russell Wilson NFL Stats Improve
The Broncos QB is Ballin' Out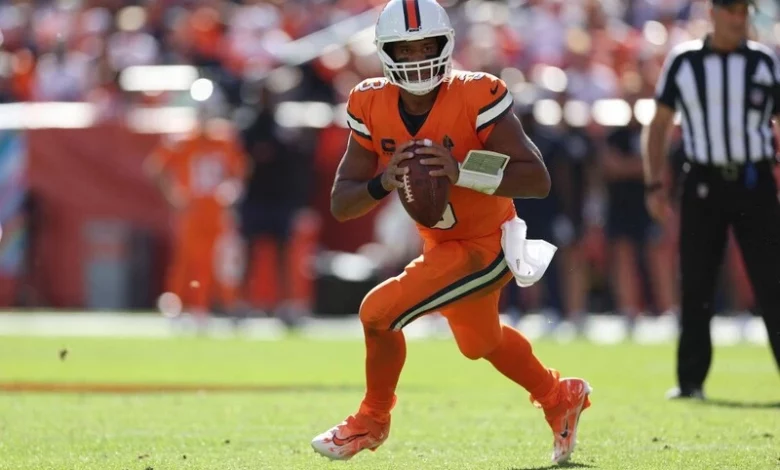 Russell Wilson
Full Name:
Russell Carrington Wilson
---
Russell Wilson NFL stats took a step in a positive direction this week when he led the Denver Broncos to victory against the Kansas City Chiefs.
The Broncos haven't been overly impressive in 2023, but after consecutive wins, largely thanks to Wilson, they're starting to believe.
Wilson Overcomes Sacks
Wilson has always been an unprotected quarterback in the pocket. It was the same in Seattle, and it's even worse in Denver.
Despite having an impressive passer rating of 119.3 on Sunday against the Chiefs, Wilson suffered six sacks.
To go 12-19 for 114 yards wouldn't usually make Wilson our Player of the Week, but to compete at 63.2 percent and throw three touchdowns despite being under duress qualified him.
The 24-9 victory was more about the Broncos' defense, but Broncos' fans can no longer blame their troubles on Wilson.
Despite a slow start to his Denver tenure, he has played better than many NFL quarterbacks.
It broke a 16-game losing streak to the Chiefs, so it was a monumental victory for the home side.
Russell Wilson NFL stats show he's 21st in quarterback rating, but that doesn't tell the full story. He has 16 touchdowns and only four interceptions, so he's taking care of the ball and scoring.
Redemption for Wilson
It was only three weeks ago when Wilson was criticized for his poor play against the Chiefs in a 19-8 loss.
He had a QBR of 10.5 after going 13-22 for 95 yards. Therefore, the win against the Chiefs on Sunday was a story of redemption.
"Offensively, we struggled throwing the ball, our third-down numbers were poor," coach Sean Payton said. "We had a game where we certainly played well enough defensively, but offensively … from a third-down perspective, keeping drives going, we struggled until late in the game … To win in our league, you've got to be better throwing the ball. I don't think the wind was that big of a factor."
That would have been hard for Wilson to hear. His coach blamed his throwing ability for the loss, so it was good to see Wilson bounce back with consecutive victories.
He has only two interceptions from his last five games, including 10 touchdowns. We don't think the Russell Wilson NFL stats are being too kind to the 34-year-old, who is now playing his way to a contract extension.
The Stats Don't Lie
Wilson sits in fourth for total touchdowns behind only Tua Tagovailoa, Kirk Cousins, and Josh Allen.
That's not bad, considering he's playing for the Broncos, who don't particularly have a wealth of talent in the receiving corps.
He also ranks highly in interceptions, and he currently has four fewer interceptions than Jalen Hurts, who is supposed to be a quarterback who takes care of the ball.
Russell Wilson NFL stats show he has been sacked 26 times in 2023, which ranks him third behind Sam Howell and Daniel Jones. We don't put this on Wilson, who is good at escaping the pocket.
We put it on his offensive line, so if he had more time in the pocket to throw the ball, his stats would be even more impressive.
He's our player of the week for that reason. Wilson makes the most of what he can with the tools he's given.
---
Can't get enough? Here's more!