Super Bowl Path: Buffalo Bills Future Betting Odds
Can Buffalo Finally Win The Super Bowl as Odds Suggest?
Welcome your 2022-23 NFL Super Bowl favorites, the Buffalo Bills. The powerhouse team sees short odds on their Buffalo Bills' future betting odds. This implies that Buffalo, which has fallen short despite dominant regular season performances, is ready to win the big one. Pointspreads takes a look at these odds and many more player totals in our Buffalo Bills' future betting-odds cheat sheet.
The Bills fell just one win short of going over their expected regular-season win total of 11.5, finishing 11-6. The team also almost did not win the AFC East despite being a heavy favorite to do so. Buffalo enters the 2022-23 season with a tougher schedule, one that includes 12 games against teams that had a winning record in either 2020 or 2021.
Team Odds
Buffalo Bills Future Betting Odds to win the Super Bowl LVII
| | | |
| --- | --- | --- |
| ROT | ODDS TO WIN SUPER BOWL LVII | MONEYLINE |
| 101 | Buffalo Bills | +600 |
| 102 | Tampa Bay Buccaneers | +750 |
| 103 | Kansas City Chiefs | +1000 |
| 104 | Los Angeles Rams | +1100 |
| 105 | Green Bay Packers | +1200 |
| 106 | Los Angeles Chargers | +1400 |
| 107 | San Francisco 49ers | +1400 |
| 108 | Denver Broncos | +1600 |
| 109 | Dallas Cowboys | +2000 |
| 110 | Cleveland Browns | +3300 |
| 111 | Baltimore Ravens | +1800 |
| 112 | Cincinnati Bengals | +2000 |
| 113 | Indianapolis Colts | +2500 |
| 114 | Arizona Cardinals | +2800 |
| 115 | Tennessee Titans | +3000 |
| 116 | Miami Dolphins | +3000 |
| 117 | Philadelphia Eagles | +3000 |
| 118 | Las Vegas Raiders | +3000 |
| 119 | New Orleans Saints | +4000 |
| 120 | New England Patriots | +4000 |
| 121 | Minnesota Vikings | +4000 |
| 122 | Pittsburgh Steelers | +6000 |
| 123 | Washington Commanders | +8000 |
| 124 | Chicago Bears | +12500 |
| 125 | Seattle Seahawks | +12500 |
| 126 | New York Giants | +12500 |
| 127 | Atlanta Falcons | +15000 |
| 128 | Carolina Panthers | +12500 |
| 129 | Detroit Lions | +15000 |
| 130 | Jacksonville Jaguars | +12500 |
| 131 | New York Jets | +15000 |
| 132 | Houston Texans | +25000 |
---
Buffalo Bills Future Betting Odds to win AFC Conference
---
Buffalo Bills Future Betting Odds to Win the East Division
---
Buffalo Bills Future Betting Odds to win the Regular Season
---
Buffalo Bills Future Betting Odds to Make the Playoffs
| | | |
| --- | --- | --- |
| ROT | BUFFALO BILLS – 2022-2023 NFL REGULAR SEASON WINS | MONEYLINE |
| 1301 | Over 11½ Wins | -140 |
| 1302 | Under 11½ Wins | +110 |
---
The Bills' regular-season win total is set at the same line it was before. Predictably, the over is juiced as Buffalo improved in the offseason by acquiring Von Miller. The seven-time All-Pro will boost the Bills' already-vaunted defense and give them another weapon in the pass rush. Buffalo also bolstered the offensive line by signing 2021 Pro Bowl guard Rodger Saffold.  He should help improve the running game, which in turn will make Buffalo's offense more dynamic.
Josh Allen Is Always An MVP Candidate
Josh Allen
Passing Yards: 4450.5
Passing Touchdowns: 35.5
Interceptions: 11.5
Rushing Yards: 550.5
Rushing Touchdowns: 6.5
Josh Allen went into the 2021 season with plenty of expectations. He was one of the favorites to win MVP after finishing as a runner-up the past season. While Allen played admirably and put up lofty Buffalo Bills stats, he fell a bit short of the expectations. He threw more picks and had a lower passer rating. This year, he's once again expected to maintain his prolific passing numbers as he pushes for MVP.
The 26-year-old is expected to throw around 4,450 yards. He threw for 4,544 in 16 games in 2020 and for 4,407 in 17 games in 2021. He averages 271.2 passing yards per game in these two seasons. The projection of 4,450 is just short of this average at 261.8.
This isn't a knock on Allen but more because the Bills may focus on running the ball more. The team drafted James Cook with their second-round pick and signed Saffold. The Bills ranked in the top-10 in rushing stats because Allen did a lot of it himself. But this year, the Buffalo Bills' future betting odds have him reeling on this.
Allen rushed for 763 yards last season, which was the third-most by a quarterback. It was also significantly more than the 421 yards he rushed for in 2020. The 550.5 rushing yards is a conservative estimate for Allen, who has rushed for an average of 38 yards a game (647.7 yards in a 17-game season) in his career. But at 6.5 rushing touchdowns, Allen is still expected to be a weapon when the Bills are in the red zone.
In fact, Allen's 35.5 passing touchdowns are also one of the highest projections for a quarterback. Allen is behind only Justin Herbert for the NFL Future odds' to lead the league in passing scores. Combined with his rushing TDs, Allen may just lead the league in touchdowns from the QB position. He is the MVP frontrunner for a reason.
The Three-Headed Monster At Receiver
Allen wouldn't be the MVP favorite if he did not have the conditions to succeed. His career took off when the Bills acquired Stefon Diggs. The two have been one of the best quarterback-to-receiver tandems. And beyond Diggs, Allen has a wealth of weapons to pick from. Gabriel Davis and Dawson Knox are the two most popular right now.
Diggs Wants To Win At All Costs
Stefon Diggs
Receptions: 99.5
Receiving Yards: 1200.5
Receiving Touchdowns: 8.5
As the Bills' leading receiver, Diggs is also one of the team's leaders. Reports broke out that he was getting heated against Kaiir Elam, the Bills' top rookie cornerback. It shows how fiery Diggs is and why, as long as he stays healthy, he's constantly projected to have lofty receiving totals.
Diggs finished 2021 with 1,225 receiving yards and 10 touchdowns. The former is a decrease from his 2020 totals but it was expected as defenses cued on Diggs a lot more. His catch percent and yards per target also dropped. His current projects have his production going down even more as 1,200 yards would be his lowest per-game average since 2018. It is likely due to the addition of Cook and the rise of another receiver…
Davis Can Be The Bills' Top Dog
Gabriel Davis
Receptions: 60.5
Receiving Yards: 850.5
Receiving Touchdowns: 7.5
Gabriel Davis maybe this year's breakout star. The 23-year-old lit up the Kansas City Chiefs in the playoffs, recording career highs in receiving with 201 yards and four touchdowns. The current Buffalo Bills' future betting odds have that breakout performance as the start of a prolific season for Davis with his receptions, receiving yards, and receiving touchdowns totals all going up.
Drafted in the fourth round in 2020, Davis will now become the Bills' de factor number-two option with the likes of Emmanuel Sanders and Cole Beasley gone. The Bills signed Jamison Crowder but he is a third option at best. Davis has a career catch rate of 56 percent (76.9 percent in the playoffs). Assuming this holds, Allen will need to target him around 109 times to hit his 60.5 receptions total. This is possible as Allen targeted him an average of 7.4 times a game (126 times in a 17-game season) when he began starting late in 2021.
Dawson Knox
Receptions: 52.5 (-125o)
Receiving Yards: 550.5
Receiving Touchdowns: 6.5
Knox was another standout from last season. The tight end endeared himself to "Bills Mafia" with his improved play on offense as he set career-highs in receptions (49), receiving yards (587), and receiving touchdowns (9). The sportsbook projects Knox to take a step back just like Diggs. While he may be targeted by Allen more, gaining that many yards and touchdowns seem harder to replicate.
If you're an optimist, his current lines are too low. But the Bills did sign O.J. Howard, who has some ability as a pass-catching TE and Cook is an outstanding receiver from the backfield. Isaiah McKenzie could also have a bigger role with Beasley gone. The 5-foot-8 receiver has proven invaluable, hence why he signed a two-year extension with Buffalo. Still, Knox could be breaking out this season just like Davis.
James Cook Could Be The Backfield's Catalyst
While the Bills have a rich crop of receiving talent, the backfield has left plenty to be desired… until this season. James Cook, Dalvin Cook's brother, joins Devin Singletary to form the one-two of the team. It's unclear who becomes the Bills' top choice or if they share the rock. But the betting lines on Singletary indicate that he's in for a challenge.
Devin Singletary Is The Prohibitive 'Lead Back'
Devin Singletary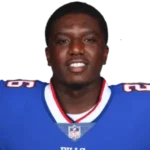 Rushing Yards: 750.5 (-125o)
Rushing Touchdowns: 5.5
Devin Singletary has shown plenty of flashes in his three seasons with the Bills. But despite his potential, he has yet to eclipse the 1,000-yard mark for rushing. He averages a decent 4.7 yards per attempt and has a career of 51.8 rushing yards per game. That's around 880.6 rushing yards in a 17-game season. His current line indicates he's rushing for much fewer than that likely because of Cook.
The Bulldog rushed for 728 yards and seven touchdowns in his senior year at Georgia. He does not appear to be a running back who will be a bell cow for Buffalo, but he will feature plenty in the offense thanks to being a dual-threat. Cook may get the lion's share of third-down opportunities, which limits Singletary to being a two-down back for many situations.
Buffalo Bills Future Betting Odds FAQs
What are the odds of the Buffalo Bills winning Super Bowl LVII?
As of the preseason, the Buffalo Bills are priced at +650 to win
Super Bowl
LVII.
How many games are the Buffalo Bills expected to win for the 2022-23 season?
The Buffalo Bills are expected to win 11-12 games for the upcoming season. The oddsmakers have set the total at 11.5 on the online sportsbook.
Which Buffalo Bills player has the best chance to win the 2022-23 regular-season MVP award?
The Bills' best
player
to win the 2022 NFL MVP award is quarterback Josh Allen. Currently, he is priced at +700 to win the MVP.
Follow us on Twitter