Super Bowl Path: Carolina Panthers Future Betting Odds
Lots of Questions for the Panthers and the 2022 season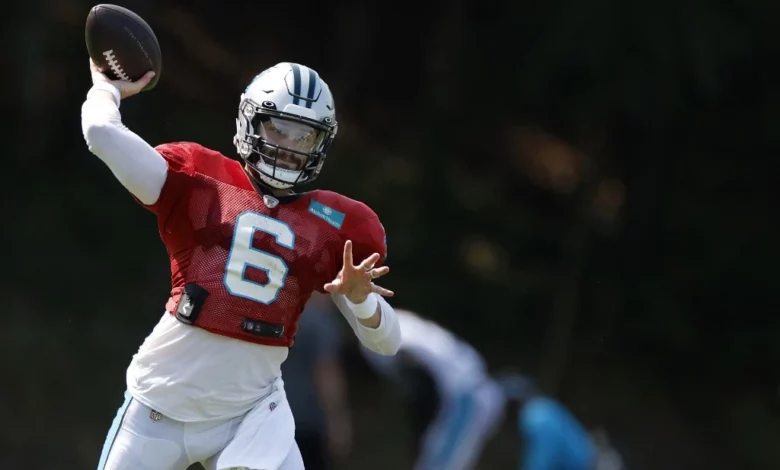 It's safe to say that the 2022 season could be a rough one for the Carolina Panthers. After going 5-12 in 2021, in large part due to really bad quarterback play from Sam Darnold and Cam Newton, the Panthers brought the embattled Baker Mayfield in after his disastrous exit from the Cleveland Browns. Now, Carolina has a lot of options under center with none of them being particularly desirable. That's why the Carolina Panther's future betting odds are so pessimistic about how the Panthers will fare this year.
Carolina was very close to eclipsing its 5.5 wins over/under the total in 2021 but came up just short. The Panthers' total has been bumped up a win, to 6.5 wins, for 2022 which is likely due to how mediocre the NFC South is looking outside of the Tampa Bay Buccaneers. With the Carolina Panthers' stats being toward the bottom of the league in many categories a season ago – particularly those on the offensive side of the ball – Matt Rhule's team has a lot of work to do if it wants to inch back toward respectability.
Take a look at the PointSpreads page, and keep updated with the NFL news, and many more player totals in our Carolina Panthers stats.
Team Odds
Carolina Panthers Future Betting Odds to Win the Super Bowl LVII
---
Carolina Panthers Future Betting Odds to Win the NFC Conference
---
Carolina Panthers Future Betting Odds to Win the South Division
---
Carolina Panthers Future Betting Odds to Win the Regular Season
| | | |
| --- | --- | --- |
| ROT | CAROLINA PANTHERS – 2022-2023 NFL REGULAR SEASON WINS | MONEYLINE |
| 1401 | Over 6½ Wins | -115 |
| 1402 | Under 6½ Wins | -115 |
---
Carolina Panthers Future Betting Odds to Make the Playoffs
---
Can Baker Bounce Back?
Baker Mayfield
Passing Yards: 3800.5 (+110o)
Passing Touchdowns: 22.5 (-115o)
Interceptions: 12.5 (-110o)
As of right now, Baker Mayfield looks like the Panthers' Week 1 starter even though a lot can change between now and early September. With how bad Darnold was in 2021 and considering that Carolina went out and traded for Mayfield, this appears to be Baker's job to lose. Injuries and inconsistency doomed Mayfield's final year with the Browns as he threw for just 3,010 yards and had a 17:13 touchdown/interception ratio.
The former No. 1 overall pick seems healthy, and has a lot to prove so things probably can't get much worse.The issue is that there's almost no way to predict how he'll perform with a new team and such a short offseason. The NFL future odds are expecting a bounce back with a change of scenery, which is definitely a reasonable expectation.
Things got toxic for Mayfield in Cleveland toward the end and, even though the Panthers have won five games in each of the past three seasons, they have an offensive-minded head coach and two elite skill-position players in Christian McCaffrey and D.J. Moore. It's also a much lower-pressure situation where Mayfield could thrive. Look for him to get back to his 2018 or 2020 levels of performance as long as he can avoid the nagging injuries that buried him in 2021.
McCaffrey Has To Stay Healthy
Christian McCaffrey
Rushing Yards: 900.5 (-110o)
Rushing Touchdowns: 8.5 (+110o)
Playing the what-if game with Christian McCaffrey is, unfortunately, too easy with how his last two seasons have gone. When the former 8th overall pick is on the field, he's an unstoppable weapon on the ground and in the air. But, he has played just 10 total games since 2019 and hasn't been 100% percent when he has been in the lineup for the Panthers.
He ran for just 442 yards with one rushing touchdown last season so he'll probably need to play at least 12 games or so to come close to running for over 900 yards and eight scores.
The Carolina Panthers' future betting odds are relying heavily on McCaffrey returning to form because, if he doesn't, there isn't much help behind him at running back. Chuba Hubbard is a capable backup and did contribute in McCaffrey's absence in 2021 but he isn't nearly as explosive and isn't as useful as a pass-catching option. D'Onta Foreman had a good year with the Tennessee Titans as Derrick Henry's No. 2 but he too can't be relied on to be a lead back. The Panthers need McCaffrey to reclaim his throne as the NFL's best two-way running back.
Moore Looks Like A Superstar
D.J. Moore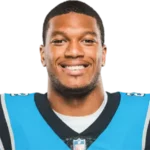 Receptions: 85.5 (-120o)
Receiving Yards: 1100.5 (-115o)
Receiving Touchdowns: 5.5 (-105o)
The unquestioned main bright spot in the last couple of disappointing Panthers seasons has been D.J. Moore, whose rise from late first-round pick to elite wide receiver has been a swift one. He caught 93 passes for 1,157 yards and four touchdowns in 2021 despite having to deal with Carolina's quarterback carousel. Moore should definitely benefit from having Mayfield be the lead signal-caller, at least to start the season. He also had a ridiculous 163 targets last year, which signals just how critical he is to the offense.The Carolina Panthers' future betting odds expect Moore to have a monster year, heavily due to how much he's likely to be targeted by Mayfield.
Targets are one of the more reliable indicators for future NFL success for wide receivers and, with Moore leading a relatively weak receiving core, he's going to be the clear focal point once again. The former Maryland product has posted over 1,100 receiving yards for three-straight years and he looks primed to do so again.
Carolina Panthers Future Betting Odds FAQs
What are the odds of the Carolina Panthers winning Super Bowl LVII?
As of the preseason, the Carolina Panthers are priced at +12500 to win
Super Bowl
LVII.
How many games are the Carolina Panthers expected to win for the 2022-23 season?
Oddsmakers have set the Carolina Panthers' regular-season win total at 6.5 wins for the 2022-23 season.
Which Carolina Panthers player has the best chance to win the 2022-23 regular-season MVP award?
Running back Christian McCaffrey tops the MVP regular-season odds board among Carolina Panthers players, paying out at +10000 to win the award.
Follow us on Twitter