Super Bowl Path: Houston Texans Future Betting Odds
Houston Remains Moribund Despite Offseason Changes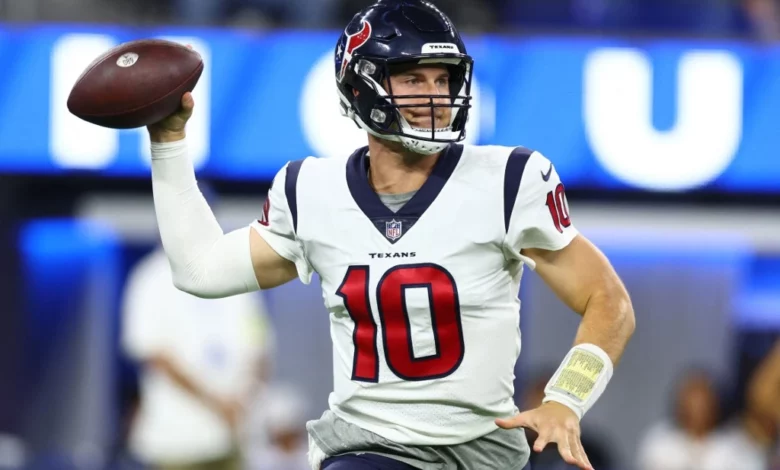 It says a lot about how bad the Texans are that winning four games in 2021 was considered a decent outcome. Following the Deshaun Watson debacle, the Texans have been a dumpster fire of a franchise. The team swapped head coaches and several key players. Regardless, the Houston Texans' future betting odds remain grim and almost similar to last season's.
But good luck to any non-diehard Texans fan to name more than five players on the roster right now. Davis Mills and Brandin Cooks are the most notable players on offense. They should lead the Houston Texans stats while Derek Stingley Jr., the team's first-round pick this year, should be a star player for the defense. However, three players can only do so much for the hapless organization.
Take a look at the PointSpreads page, and keep updated with the NFL news, and many more player totals in our Houston Texans stats.
Team Odds
Houston Texans Future Betting Odds to Win the Super Bowl LVII
---
Houston Texans Future Betting Odds to Win the AFC Conference
---
Houston Texans Future Betting Odds to Win the South Division
---
Houston Texans Future Betting Odds to Win the Regular Season
| | | |
| --- | --- | --- |
| ROT | HOUSTON TEXANS – 2022-2023 NFL REGULAR SEASON WINS | MONEYLINE |
| 2101 | Over 4½ Wins | -115 |
| 2102 | Under 4½ Wins | -115 |
---
Houston Texans Future Betting Odds to Make the Playoffs
---
The 4.5 wins is a slight improvement over the 4 wins line the Texans got last preseason. But Houston is still expected to be bad – the worst in the NFL, in fact, with a line of +300 to finish with the fewest wins for 2022. Smith will have his hands full as the new coach as even the Jacksonville Jaguars, who Houston beat twice in 2021, have improved.
Mills is a Game Manager Playing Hero
Davis Mills
Passing Yards: 3700.5
Passing Touchdowns: 21.5 (-105o)
Interceptions: 14.5
Mills was a surprising rookie last season. Drafted in the third round, Mills took over for a hurt Tyrod Taylor and put up respectable stats: a 66.8 percent completion rate, 16 touchdowns to 10 interceptions, and an 88.8 passer rating. He also set a few franchise records including the highest completion rate and passing yards (2,664) as a rookie.
While Mills is a serviceable quarterback, he's better suited to be a game manager. He does not have the arm strength to threaten defenses with deep throws. Mills is also ill-suited to carry a team offensively or to engineer come-from-behind wins. This means the defense, which is Smith's forte, should play better than its 27th-ranked finish last season.
Bettors are already fading Mills by betting on him to have fewer than the 21.5 touchdowns the sportsbook has lined him at. Mills had 16 touchdowns in 13 games in 2021. That averages to 21 if he were to play all 17 games. The Texans were a middle-of-the-pack team when it came to run/pass splits, which is conspicuous. They were the worst defensive team among the 16 teams that averaged the fewest passing plays.
That speaks to how little faith the coaching staff had in Mills and the Texans' quarterbacks. Considering Mills isn't even listed in the NFL future odds for MVP, expect modest stats for the sophomore quarterback. He will have a subpar offensive line to work with but next-to-no viable options outside of Cooks at receiver. The running backs are also a collection of banged-up veterans and fourth-round pick Dameon Pierce.
Cooks is the Only Receiver of Note
Brandin Cooks
Receptions: 82.5
Receiving Yards: 950.5
Receiving Touchdowns: 7.5 (+110o)
Cooks is likely the biggest name of the Texans' offense. The 28-year-old put up his sixth season with 1,000+ receiving yards in 2021. He caught a career-best 90 catches but also because he was targeted 134 times. The Houston Texans' future betting odds expect him to regress as his receiving yards total is not even at the 1,000-yard mark.
The star receiver's concussion history may have an impact here. He's only missed two games as a Texan but his play visibly diminished with the Rams after taking that helmet-to-helmet hit in 2019. But there aren't too many options outside of Cooks so Mills should be throwing the ball to him an inordinate amount of times.
John Metchie, a second-round pick, is on the reserve list for an illness. The Texans signed a few journeymen at wide receiver while Brevin Jordan should see a bigger role at tight end. He caught three touchdown passes despite playing in just nine games and starting a pair. Jordan could get most of the looks at the red zone, hence why Cooks' touchdown total is being faded. Rex Burkhead will once again be the lead back as he figures to also be involved in the passing game.
Can Stingley Be "The Man" For the Defense?
Derek Stingley Jr.
On the defensive side of the ball, Stingley looks to make an impact as a rookie. He has the potential to be a generational player even if was injured at LSU. It's also interesting how the Texans took him when Smith's system tends to not feature cornerbacks too often. The Texans will still need to rely on up front, which is why Stingley's interceptions totals are quite low.
Stingley will be tasked to cover the opposing team's best receivers. Steven Nelson and Desmond King, the other top corners in Houston, are pedestrian at best. Eric Murray and Jalen Pitre will man the safety spot. Pitre, in particular, could also impress as a rookie.
The Texans have a decent pass rush. They signed Mario Addison and Ogbonnia Okoronkwo to bolster it, though Houston may still struggle to pressure quarterbacks behind above-average offensive lines. That will give the better QBs ample time to shred the secondary, which puts Stingley in an unenviable position. But if he is as talented as he's expected to be, he could just pick off a few errant throws. Two picks are not too high of a number and he'll need more to garner any Defensive Rookie of the Year votes as he is a long shot at 12-1.
Houston Texas Future Betting Odds FAQs
What are the odds of the Houston Texans winning Super Bowl LVII?
At 250-1, the Texans have the longest odds of winning
Super Bowl
LVII. For the second consecutive season, Houston is considered the worst team in the NFL.
How many games are the Houston Texans expected to win for the 2022-23 season?
Houston is expected to win four to five games per their Houston Texans' future betting odds. The Texans won four games in 2021.
Which Houston Texans player has the best chance to win the 2022-23 regular-season MVP award?
The only Texans' player listed on the regular-season MVP odds board is Brandin Cooks at 300-1 (+30000). This is still not long enough as Houston will be one of the worst
NFL teams
.
Follow us on Twitter