Super Bowl Path: Jacksonville Jaguars Future Betting Odds
Trevor Lawrence Needs to Bounce Back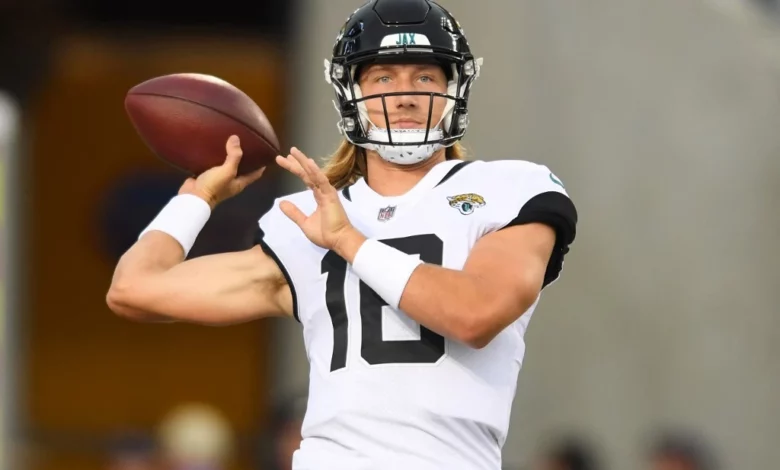 The 2021 season was an unmitigated disaster for the Jacksonville Jaguars from the Urban Meyer saga, to the on-field struggles of 1st overall pick Trevor Lawrence, and Jacksonville's continued inability to be competitive in the relatively weak AFC South. So, with new coach Doug Pederson in charge and Travis Etienne back from injury (and with Lawrence having some NFL experience under his belt), there's the reason for the Jacksonville Jaguars' future betting odds to be a little more optimistic in 2022.
Still, though, the Jaguars are a very young team even with the big free agent pickups of Christian Kirk and Brandon Scherff on offense and Darious Williams on defense. Lawrence and Etienne – as well as first-round defensive picks Travon Walker and Devin Lloyd – have plenty of development left and it's likely that things won't come together as quickly as win-starved Jacksonville fans might hope. So, don't expect the Jacksonville Jaguars stats to be particularly impressive this season as a foundation for (hopeful) future success is built.
Take a look at the PointSpreads page, and keep updated with the NFL news, and many more player totals in our Jacksonville Jaguars stats.
---
Lawrence Hoping for Sophomore Surge
Trevor Lawrence
Passing Yards: 4000.5 (-115o)
Passing Touchdowns: 22.5 (-110o)
Interceptions: 14.5 (-110o)
Trevor Lawrence's second NFL season can't get much worse than his first one. He went 3-14 as a rookie, throwing just 12 touchdowns compared to 17 interceptions. Of course, he didn't necessarily have a ton of help either from his coaching staff or his supporting cast of players – but for a guy like Lawrence who rarely lost in college, it was definitely disappointing. The good news is that Lawrence can only go up from there and he should be much better in 2022, notably with a healthy Travis Etienne (his college running back) and some offensive reinforcements.
The Jacksonville Jaguars future betting odds are expecting Lawrence to take a huge step forward across all categories. He threw for 3,641 yards as a rookie but would need just under 400 more yards this season for his over to him. The same goes for touchdowns and interceptions as he really needs to cut down on the turnovers while bumping up the touchdown totals. Having Christian Kirk and Zay Jones on the outside will help too, as will having Brandon Scherff blocking for him. Lawrence will still have to break some bad habits but he should improve a lot.
Jags Are Ready for Etienne's Debut
Travis Etienne
Rushing Yards: 705.5 (-115o)
Rushing Touchdowns: 5.5 (-115o)
When the Jaguars took Etienne with the No. 25 pick in the 2021 draft, 24 picks after Clemson teammate Lawrence… they expected to recapture the magic from their respective college days. But, he suffered a season-ending foot injury during the preseason and still hasn't taken the field in a meaningful NFL game. He's still an incredibly explosive player, and should form a great backfield duo with James Robinson. The issue is that it's very hard to tell just how he'll be used as a rookie.
The NFL future odds like Etienne's chances to have a very productive season even though he'll be sharing touches with Robinson. But, he was used heavily as a pass-catcher with Clemson where he caught 48 passes for 588 yards during his senior year, so he might not be relied on for a ton of carries. While he should definitely come close to eclipsing 1,000 yards from scrimmage and reach the end zone fairly often, value is likely to derive from receptions and reception yardage which won't help you if you have bets on his rushing yards and scores.
Kirk is Being Paid Like a No. 1 Receiver
Christian Kirk
Receptions: 69.5
Receiving Yards: 850.5 (-105o)
Receiving Touchdowns: 5.5 (-155o)
Christian Kirk's talent has always been undeniable even if the on-field production has not necessarily been the most consistent. Now, signing with the Jaguars after starting his career with the Arizona Cardinals team, Kirk has a big-money contract and is the clear-cut top receiver for Trevor Lawrence. It remains to be seen how he'll handle dealing with No. 1 cornerbacks but, with his speed, he has every reason to come close to his career-high 77 catches and 982 yards from 2021.
The Jacksonville Jaguars future betting odds are depending on Kirk to be worth the four-year, $72 million deal he signed this offseason. That's a lot to live up to, however, especially with Lawrence trying to bounce back from a tough rookie campaign and a lot of new faces on offense. Kirk is going to have to stay healthy and be a leader. His 2021 campaign was the only one of his NFL career, so far, in which he played more than 14 games. If he avoids injury and can play 15+ games, he should be able to eclipse his over/under stats.
Jacksonville Jaguars Future Betting Odds FAQs
What are the odds of the Jacksonville Jaguars winning Super Bowl LVII?
As of the preseason, the Jacksonville Jaguars are priced at +12500 to win
Super Bowl
LVII.
How many games are the Jacksonville Jaguars expected to win for the 2022-23 season?
Oddsmakers have set the Jacksonville Jaguars' regular-season win total at 6.5 wins for the 2022-23 season.
Which Jacksonville Jaguars player has the best chance to win the 2022-23 regular-season MVP award?
Quarterback Trevor Lawrence tops the MVP regular-season odds board among Jacksonville Jaguars players, paying out at +8000 to win the award.
Follow us on Twitter