Vikings, the NFL's Hottest Team, Rely Heavily on T.J. Hockenson
T.J. Hockenson Stats: Tight End's 100-Yard Day Spurs Minnesota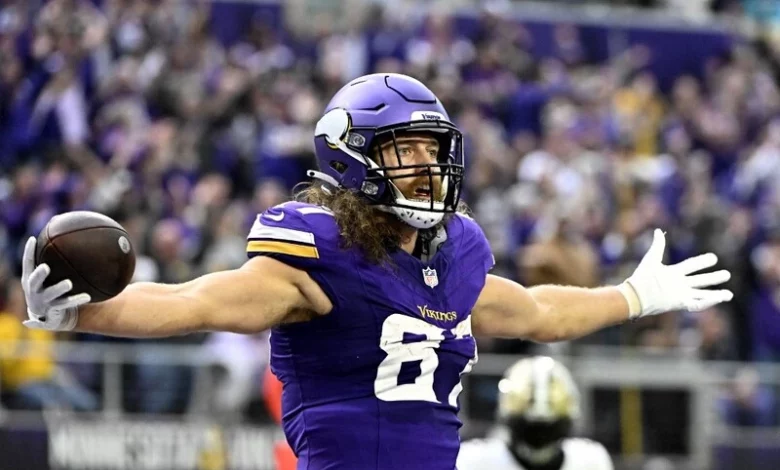 T.J. Hockenson
Full Name:
T.J. Hockenson
Age:
26 years old (7-3-1997)
Nationality:
Des Moines, Iowa, USA
Winners of five straight, the Minnesota Vikings are the hottest team in the NFL. Their Week 10 victory over the New Orleans Saints was spurred by star tight end T.J. Hockenson, who connected with Josh Dobbs 11 times for 134 yards and a touchdown.
Now 6-4, the Vikings remain on the heels of the 7-2 Detroit Lions atop the NFC North. The teams are slated to play twice over the final three weeks of the regular NFL season, giving Minnesota ample opportunity to leapfrog its rival if it can take care of business.
Undoubtedly, Hockenson will have a big say in that matter. With that in mind, let's break down T.J. Hockenson stats.
Big-Time Production
T.J. Hockenson's stats — 11 catches for 134 yards and a touchdown — were a big factor in Minnesota's mini-upset of New Orleans in Week 10. A 2-point underdog, Minnesota staved off the Saints 27-19 to collect its fifth straight win. Hockenson's 28-yard touchdown grab, his fourth this season, gave the Vikings (6-4) a 24-3 in the waning moments of the first half.
Josh Dobbs, making his second start for Minnesota since being acquired at last month's trade deadline, finished with 268 yards on 23 of 34 passing. He also ran for 44 yards and a score.
Hockenson, 26, now has 71 catches for 681 yards on the season, most of any Minnesota Vikings players. Both categories also lead all NFL tight ends. Sunday was Hockenson's first 100-yard game this season.
While the Vikings are without quarterback Kirk Cousins, the four-time Pro Bowler who tore his Achilles, they remain proficient offensively. The Vikings are third in the NFL in average passing yards (272.4) and 12th in scoring (23.3 PPG).
Odds Outlook
Hockenson isn't in consideration for NFL Offensive Player of the Year, nor is he listed on any other odds boards. That's not necessarily surprising, as tight ends tend to get less attention in these markets than quarterbacks and other skill players.
At the very least, Hockenson, 26, is a good bet to make the Pro Bowl. He's done so twice previously, first with Detroit during the 2020 COVID season and again in 2022 following a midseason trade to Minnesota.
As for Minnesota, oddsmakers remain a bit skeptical despite its recent surge. The Vikings own the second-best odds in the NFC North (+650) but are still well behind first-place Detroit (-1000). The more likely path to the NFC playoffs is through the wild card, of which they hold one of the final spots.
Accordingly, Minnesota is now listed -200 to make the playoffs. Those odds should only continue to grow if the Vikings are able to knock off Denver on Sunday Night Football in Week 11 (8:20 p.m. ET, NBC). The Vikings are currently 2.5-point underdogs (-110) and +120 on the moneyline per NFL betting lines.
History is not exactly on Minnesota's side. Since 1979, only six teams have overcome a 0-3 start to make the playoffs. The last team to do so were the 2018 Texans, who ended up finishing 11-5 and winning their division. But the Vikings are well-situated in the grand scheme of things. That's something to consider when making your NFL picks.
For T.J. Hockenson stats, NFL betting news, analysis and more, visit Point Spreads Sports Magazine
---
Can't get enough? Here's more!