Maple Leafs vs Lightning Betting Preview
Toronto Takes Four-Game Win Streak into Tampa Bay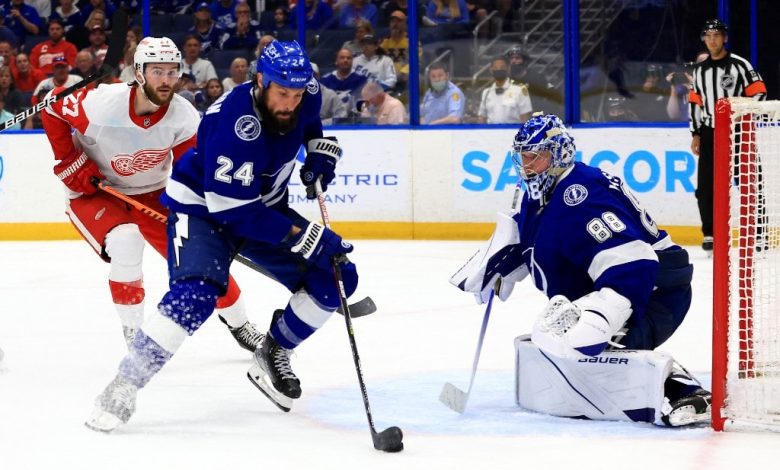 Huge Atlantic Division Showdown
Could Thursday's game between the Toronto Maple Leafs and Stanley Cup champion Tampa Bay Lightning be a playoff preview? The Maple Leafs vs Lightning matchup has huge implications for both teams.
Toronto is closing in on clinching second place in the Atlantic Division, which would give the Maple Leafs home-ice advantage against either Tampa Bay or Boston in the first round of the playoffs. Tampa Bay is just a point ahead of Boston in the race for third place with six games left for both teams.
The Maple Leafs became the second team this season to score 300 goals so there have been plenty of highlights as they try to secure second place in the Atlantic Division. The Maple Leafs have scored more goals on the road (153) than any other NHL team and also lead the league in shots per game in road contests. Tampa Bay is sixth in the NHL in goals allowed per game (2.58) at home so something will have to give.
The Maple Leafs vs Lightning betting preview is calling for another close one between the division rivals.
Game Information
Team records: Toronto 51-20-6 (second in Atlantic Division); Tampa Bay (46-22-8, third in Atlantic).
Date: Thursday
Television: ESPN
Location: Amalie Arena, Tampa, Fla.
All Eyes on Toronto's Matthews
Everything was going just perfectly for a Toronto Maple Leafs team that has been underachieving in recent years.
Toronto was surging up the standings, moving by Tampa Bay and playoff nemesis Boston before injuries to key players increased the degree of difficulty.
First, it was star goalie Jack Campbell who missed nearly a month of action. After a slow start, without their No. 1 goalie, the Maple Leafs ended up going 6-3-1 while Campbell was sidelined.
Now, Auston Matthews is the one dealing with an injury. Matthews, who leads the NHL with 58 goals, has missed the last two games and he is questionable for Thursday's content. The Maple Leafs vs Lightning betting preview will certainly be impacted by Matthews' status.
The schedule maker was kind to the Maple Leafs. The two games that Matthews missed were against the New York Islanders and Philadelphia Flyers, who both have been eliminated from playoff contention. Toronto won both of those games. However, beginning with the matchup with Tampa Bay, four of the final games of the regular season are against playoff-bound teams.
Lightning Trying to put it Together
The Tampa Bay Lightning have already hit the 100-point mark for the seventh time in franchise history, so they have nothing for which to apologize. However, the last six times that Tampa Bay was in the playoffs, the Lightning finished either first or second in the division, meaning at least one round of home-ice advantage. Barring some unforeseen circumstances, that won't happen this season as Toronto leads Tampa Bay by eight points in the Atlantic Division standings.
Some moves made as a result of the salary cap, as well as the Seattle Kraken expansion draft, took away some of the Lightning's scoring depth. With Alex Killorn and Corey Perry the only forwards to play all 76 games, it has forced under-the-radar players to step up with varying results.
Tampa Bay is just 4-4-1 in the month of April and that is not exactly what one would expect from a team trying to win its third straight Stanley Cup. Goalie Andrei Vasilevsky is 0-4-1 in his last six appearances with a 3.66 goals-against average and a save percentage of .866. There isn't much time for him to return to the form that saw him star in the last two playoff runs, because those numbers will result in an early postseason exit if they don't improve.
Maple Leafs vs Lightning Betting Guide
Toronto has won four of the last five meetings with Tampa Bay, including a 6-2 road win on April 4. The other three wins were all by one goal and that is the way this game could end up as well.
Tampa Bay has scored three goals or less in each of the last five meetings with Toronto, which is something to consider when looking at the Maple Leafs vs Lightning betting preview.
The last three games for the Lightning came against teams not in playoff position, with Tampa Bay going 2-0-1 in those contests.
Tampa Bay's Steven Stamkos needs a point to break the career franchise scoring record that he currently shares with Martin St. Louis.
Toronto has picked up eight points on Tampa Bay since the start of March. The Maple Leafs are the second-highest scoring team in the league during that span.
Veteran defenseman Jake Muzzin is questionable for Toronto after missing the last three games.
The Maple Leafs vs Lightning predictions is calling for an offensive showcase. The total of seven goals is an indication that this has the potential to be a high-scoring affair.