NHL Games Review: NHL's Shot Callers for February 20th, 2023
Crazy Action on President's Day Monday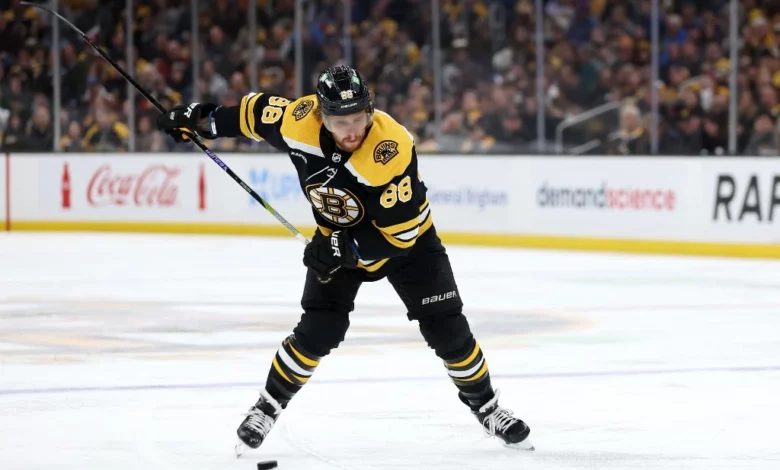 NHL NIGHT IN REVIEW: February 20th, 2023
The National Hockey League celebrated President's Day in the United States and Family Day in parts of Canada with most of the Monday slate coming in the afternoon. With six games in total on tap, NHL Games Reviews saw plenty of solid NHL Public Betting action. Let's take a look at yesterday's NHL scores games in review.
The Boston Bruins pick up their fourth consecutive victory with a 3-1 home matinee win over the Ottawa Senators. Forward David Pastrnak now sits with 41 goals on the season after scoring a pair in the contest. Winger Jake DeBrusk scored his second goal since returning to the lineup after recovering from a small fracture in his fibula and defenseman Charlie McAvoy notched three assists. Goalie Linus Ullmark continues his hot run, making 30 saves on 31 shots faced for his 29th victory of the season. With the regulation loss, Ottawa had their four-game point streak snapped, while Boston picked up their first win against the Senators in three meetings.
Goaltender James Reimer picked up just his forth home victory with a 42-save shutout performance as the San Jose Sharks beat the Seattle Kraken 4-0 as +130 underdogs. It's just the sixth win at SAP Arena for the Sharks, who snapped a three-game losing streak. Forwards Logan Couture and Evgeny Svechnikov each had a goal along with an assist, while Michael Eyssimont, who moved up to the top line to fill Timo Meier's spot, who is day-to-day with a lower body injury, scored his fourth goal of the season late in the contest.
The New York Islanders pick up just their second victory in the last six games as they beat the Pittsburgh Penguins 4-2, beating the club for the second time in the last four days. Forward Brock Nelson scored a pair of goals while Bo Horvat scored a goal and notched an assist. Goalie Ilya Sorokin picked up his 19th victory of the season with a superb game, making 45 saves on 47 shots faced. The Penguins have now lost three consecutive games and four of their last five overall. They will have a couple days off before they prepare to host the Edmonton Oilers on Thursday night in Pittsburgh.
Forward Mark Scheifele scored two goals while Kyle Connor scored a goal and notched two assists as the Winnipeg Jets head to Madison Square Garden and beat the New York Rangers 4-1 on the second night of a back-to-back for the Jets. Defenseman Josh Morrissey picked up two assists, which puts him third amongst National Hockey League defensemen in total points. Winnipeg snaps a brief two-game losing skid and have now won four of their last six games, while picking up their first road victory since January 22nd at Philadelphia. The Rangers have now dropped back-to-back games after going on a seven-game winning streak.
Other News & Notes Around The League
The Florida Panthers overcame a 2-0 first period deficit to beat the Anaheim Ducks at home 4-3 in overtime. Forward Carter Verhaeghe scored his 30th goal of the season less than 90 seconds into the extra frame. The 27-year old Toronto native leads the club in goals. The brother duo of Eric Staal and Marc Stall also score goals for the Panthers, who have now alternated wins and losses in their last six games overall.
Goaltender Samuel Ersson won his sixth straight start for the Philadelphia Flyers, who beat the Calgary Flames 4-3 to snap a four-game losing streak. The rookie netminder made 42 saves on 45 shots faced as forward Wade Allison scored the go-ahead goal in the third period after Calgary rallied back to tie the game with goals from Andrew Mangiapane and Tyler Toffoli.
Thank you for reading Monday's NHL Recap. Check out all the updated National Hockey League NHL Score Predictions, standings, lineups, future odds, team stats, recent news, picks and parlays and betting tips, right here at Point Spreads.
Follow us on Twitter
---
Can't get enough? Here's more!