NHL Playoffs Game 6: Oilers vs Knights Preview
Home Teams Hold Serve After Knights 4-3 Win at T-Mobile Arena, Lead Series 3-2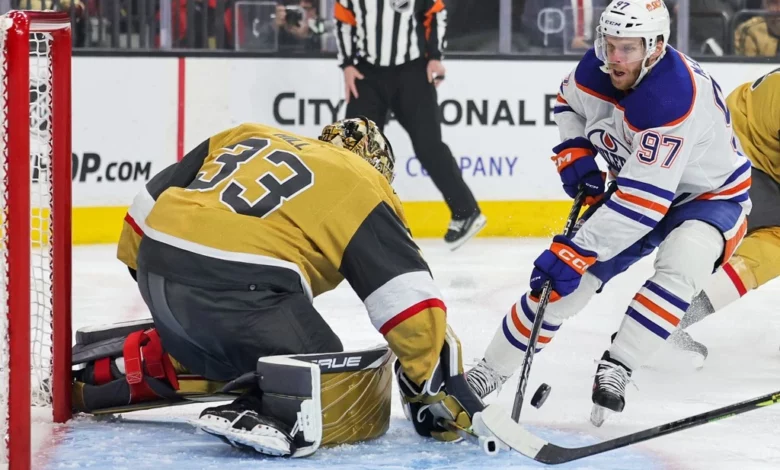 Our Oilers vs Knights preview starts with a look back at game five, where Edmonton head coach Jay Woodcroft and Vegas' Bruce Cassidy teams continue their heavyweight fight. It's been punch and counter-punch the entire series for both coaches who have managed to hold serve on home ice. That bodes well for the Knights who own a home-ice advantage, but before putting the spotlight on a potential game seven, VGK can keep Canada's last hope at home for the Summer with a victory on Sunday. The Knights received another incredible performance from an improbable playoff starter after goaltender Adin Hill stopped 32 of 35 Edmonton shots. As expected, Edmonton opened as a -190 favorite with the total at 6.5 (o -135). The game time is TBD.
Location: Rogers Place
Day/Time:
Oilers Show Off Power Play Except When it Mattered Most
The Edmonton Oilers raised their postseason power play success rate to 47.4% after three more tallies in four chances. Unfortunately, when it mattered the most, the arsenal ran out of bullets. Vegas started the third period with the task of killing off 4:37 of a five-minute major after a late second-period boarding call on Keegan Kolesar evolved into a game misconduct.
Connor McDavid's power-play goal cut the lead to 4-3 at the 2:40 mark, but Vegas would shut the door the rest of the way. Of the 42 goals Edmonton has scored this postseason, 18 have come with the man advantage or 23.3% of their offense. It's a fair question to ask if Edmonton can beat Vegas five on five considering nine of their 17 total goals have come with an extra attacker.
VGK has outscored the Oilers 13-8 with both teams at full strength. We talked about depth in previous previews, especially the Oilers vs Knights preview where we predicted Vegas in six. 58.82% of the Edmonton offense in this series has come from either Connor McDavid or Leon Draisitl. That won't get the job done against Vegas who has had scoring contributions from all four lines in this series in addition to 10 points from defensemen. Edmonton hadn't dropped a regular season contest to Vegas in 2023 (3-0-1), another reason why daily NHL scores and standings have no place in handicapping playoff hockey.
Oilers Missing Killer Instinct
Continuing our Oilers vs Knights Preview, it's apparent that the Oilers have without question the speed advantage. We were reminded of that when Connor McDavid turned Mark Stone around at the blue line and then beat Brayden McNabb and Zach Whitecloud to the front of the net after being caught flat-footed in their defensive zone to bring the Oilers to within a goal (4-3). When McDavid started the possession Vegas defenders had position by 10 feet, but with the combination of 26-year-old speed and McNabb's inability to establish outside position, the road was paved for McDavid to have so much room in the crease that he was able to gather in a rebound to poke it home after Hill made the initial save, all within 50 feet.
Edmonton's top line is a flashy car that almost was able to catch the Knights at the regular season finish line, but in the postseason it's the club with a killer instinct that is ultimately able to hoist the Cup. Whether it's the Knights five on five success or the Oilers' inability to wash down a convincing 4-1 win in game four with a win at the Fortress, this is a team that has yet to display enough playoff fortitude to confidently put our bankroll behind despite bookmakers making Edmonton a large home favorite. We conclude our Oilers vs Knights preview with a look at a couple of series trends followed by our betting recommendation.
No Jumping Off Now
As mentioned, our Knights vs Oilers series preview predicted Vegas in six. It felt abrasive to send that out, but winners usually come from wagers placed on outcomes that are not based on the common sense of the average player. Most NHL betting trends will tell you that Edmonton (-190) is the proper betting side in game six, but there are a few trends we can't overlook that favor Vegas.
We go back to VGK's incredible 44-19 (.698) mark over their last 63 games when coming off one day's rest, in addition to their 20-7 record against clubs with a winning record. We wrote plenty about killer instinct, these two numbers point to a team that is destined to reach the Western Conference Final they can just keep the Oiler's tires punctured for one more game. Take the Knight in games six and seven (if necessary) as a plus-money dog.
Follow us on Twitter
---
Can't get enough? Here's more!