Pavelski Carries Dallas to First Win; Long Road Ahead
Overtime Penalty Cost Golden Knights, Series Heads Back to The Fortress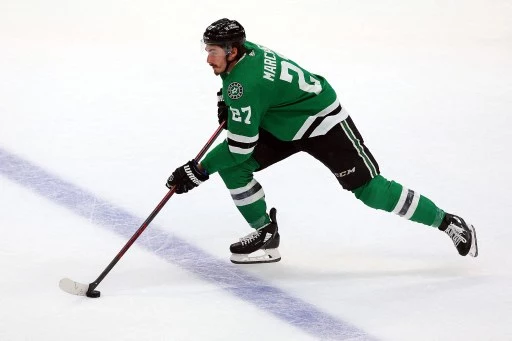 With the Dallas Stars getting on the board in the series, the Stars vs Knights Conference Final odds have shifted some. Vegas is now -325 to win the series by at least two games (Dallas + 1.5, +250) and +325 to win in exactly six games. Dallas winning the series in seven games is +650 if you'd like to take a shot with that.
The total games odds are still sitting at a healthy -350 (under 6.5) and +275 (over 6.5). The Knights are the Stanley Cup favorite (-110) followed by the Florida Panthers (+110) and the Stars (+1400). Let's continue our Stars vs. Knights conference final odds breakdown with a look at both teams followed by today's NHL prediction for game five.
Stars Get One More Boost Of NOS In OT
With the Stars just three points behind the Golden Knights in the 2022-23 NHL standings, this was more of what most expected this series to be. Joe Pavelski scored a power-play goal at the 3:18 mark of overtime to keep the Stars' Stanley Cup hopes alive for a couple more days.
The Golden Knights still lead the series 3-1 and are still the odds-on favorite to win the Stanley Cup but for one night Dallas proved they could pin a loss on Vegas.
Jake Oettinger made 37 saves after getting pulled at the 7:10 mark in game three. Give head coach Pete DeBoer credit, we speculated that they would go with backup netminder Scott Wedgewood after playing well in game three.
DeBoer decided that if his team was going to get swept that it would be with their #1. Dallas brought a physical mindset with them, outhitting VGK 46-23. With the win, Dallas climbed over .500 in the postseason with a 9-8 overall record but still remains in the red for bettors with 186 units lost based on a $100 wager.
Knights Won't Blink Over One Loss
The Stars vs Knights conference finals odds suggested that this series would end in Vegas and it looks like that may be the case, even if we suggested that it would be in seven games. Despite the loss, there was nothing to suggest that the Stars have uncovered something about Vegas that they can exploit moving forward. Adin Hill snapped a five-game win streak but was terrific, making 39 saves.
William Karlsson and Jonathan Marchessault added scores, showing off their star power and depth once again. Bruce Cassidy's team just has to continue playing their game and they'll find themselves in the Stanley Cup Final for the second time in six years. With the loss, the Knights are 11-4 in the postseason with 723 units won, second best in the postseason. We conclude our Stars vs Knights conference final odds preview with our official selection.
Vegas Are On Their Way to The Finals
In some ways, a game-four loss works out well for the Knights. Owner Bill Foley gets to have one more gate before the finals while one of the best base in the NHL, if not thee best, will have a chance to witness the Knights finish off a Dallas Stars, a team who has to be running on fumes. The Golden Knights are 5-1 as a postseason favorite and 6-2 at T-Mobile arena.
Vegas is 10-4 against teams playing .550 hockey or better in playoffs. There is very little reason to not put our money behind the Knights in game five, but we're going puckline (-1.5, +185) as we anticipate a three-goal Vegas win and a date with the Florida Panthers. That wraps up our Stars vs Knights conference final odds preview, we wish you the best with your Golden Knights wagers.
Follow us on Twitter
---
Can't get enough? Here's more!