National Bank Open odds: No. 1 Medvedev Favorite in Montreal
A Potential Medvedev-Kyrgios Matchup Awaits in the Second Round in Montreal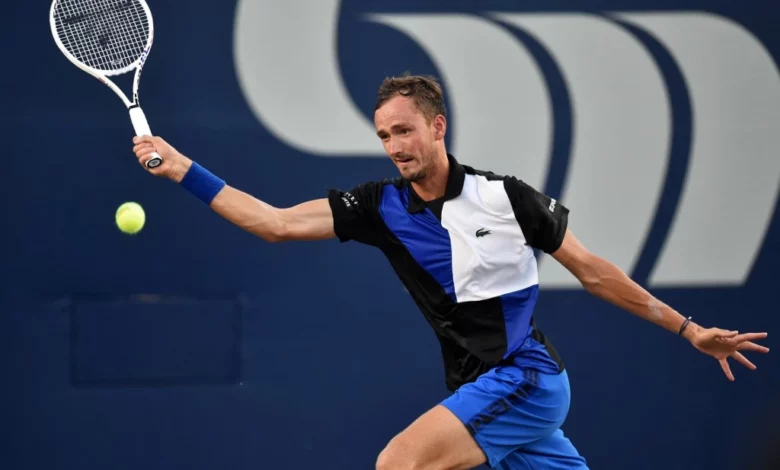 Montreal Field Loses Some Star Power with Nadal's withdrawal
The field in Montreal lost a big hitter with the withdrawal of Rafael Nadal. The tournament was already considered to be wide open before that news so this could be an unpredictable week of tennis when looking at the National Bank Open odds.
The men's singles draw includes a pair of players coming off titles with Nick Krygios winning in Washington, D.C., and World No. 1 Daniil Medvedev winning in Los Cabos.
Medvedev and Carlos Alcaraz give Montreal the No. 1 and 4 ranked players in the world. However, with the No. 6 seed being Canadian Felix Auger Aliassime, that is a storyline worth watching. The ATP tennis betting odds could shift in his favor if he makes a deep run in this week's event.
Medvedev Looks to Keep Rolling
Last week's title run could be just what Medvedev needed to get his mojo back. His last five tournaments ended with losses to players ranked outside the top 10.
Now he prepares for his first North American event since falling to Hubert Hurkacz in the quarterfinals in Miami back in early April
Medvedev is a two-time finalist at the Canadian-based U.S. Open Series event. He fell to Nadal in the 2019 title match before winning the 2021 championship with a 6-4, 6-3 win over Reilly Opelka.
According to the National Bank Open odds, Medvedev is the current favorite at +250 to win the title.
Alcaraz is Ready to Win Again in North America
The last time Alcaraz played a tournament in North America, he dropped just one set en route to winning the ATP Masters 1000 event in Miami. Since that time he won a couple of titles in Spain and also reached title matches in tournaments held in Germany and Croatia.
He has only played one top 10 players since his loss in the quarterfinals at the French Open and lost that match to Jannik Sinner in Umag, Croatia. He figures to see at least one top 10 player at this event.
He is listed at +400 to win the title according to the National Bank Open odds.
Watch out for Kyrgios and Sinner
Kyrgios is letting his tennis do his talking for him as the current bad boy on the ATP tour. After his run to the finals at Wimbledon, he followed that up by winning the title in Washington, D.C. He lost just one set in his six matches to win the Citi Open title. He looks to build on his recent win but will have to do it once again as an unseeded player. He has lost his last four matches in the Toronto/Montreal event.
Sinner nearly came up with a win to top all wins when he took the first two sets of Novak Djokovic in the quarterfinals at Wimbledon but he couldn't seal the deal. After a couple of weeks off, he flipped the script by topping Alcaraz in the Umag final despite losing the first set.
Kyrgios and Sinner both come in at +1000 to win the championship.
If Kyrgios defeats Sebastian Baez in the first round, he would meet top-seeded Medvedev in the second round. When looking at the betting numbers, the tennis spread betting has a -425 Moneyline for Kyrgios to set up that enticing matchup with Medvedev.
Looking at the Other Contenders
Stefanos Tsitsipas (+1100) is flying a bit under the radar as the No. 5 ranked player in the world. He already has more than 40 match wins, including three victories against top-10 players in 2022.
He reached the finals in Toronto in 2018 and made it to the 2021 semifinals so success on Canadian soil is nothing new for Tsitsipas. American Taylor Fritz (+1500) is making a move as is Felix Auger Aliassime, who has recently seen his odds go from +2000 to +1500.
Matteo Berrettini (+1500), Andrey Rublev (+2000),  and Cam Norrie (+2000) are other top contenders for the men's singles title.
Rublev, No. 8 in the latest ATP rankings, has never won more than one match in this event, but he is dangerous whenever he enters any tournament.
Auger-Aliassime will have fan support as the No. 9 ranked player in the world is the top Canadian player in the field. He has a 3-3 career mark in this tournament, however, this will mark the first time he played in Canada as a top-10 player. He is one of four players from Canada in the men's singles draw.
One of those Canadian hopes will lead off Monday's night session when Denis Shapovalov faces Alex de Minaur. The most intriguing matchup on Monday could be a showdown between Andy Murray and Fritz. The Moneyline is at -250 for Fritz to take down the veteran Murray.
Follow us on Twitter