The Iron Lady of the UFC: Polyana Viana's Stats Can Improve
Despite Being a Gatekeeper, Viana Remains a Top UFC Asset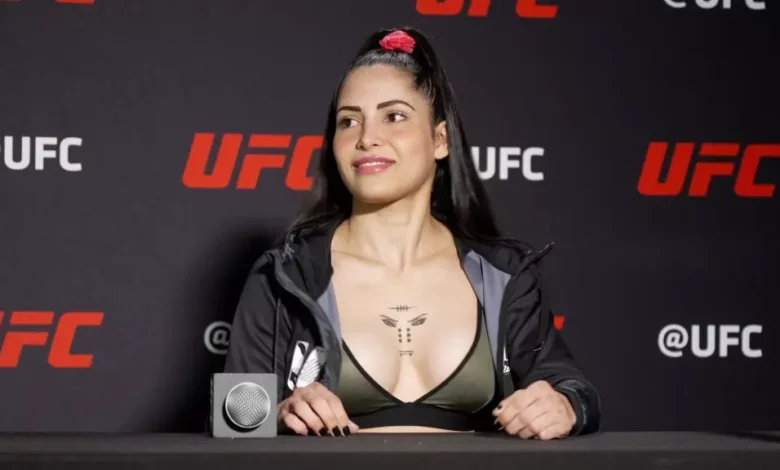 You don't have to be a championship-caliber fighter to be popular in the UFC. That's certainly the case with Polyana Viana, a strawweight fighter with a 4-4 record in the promotion. Still, Viana is an exciting fighter and has won three of her last four fights by finish per Polyana Viana's stats. She'll continue to thrill fans both in and outside the octagon.
Polyana Viana: Who is She?
Viana is Popular Both as a Fighter and as a Personality
Not every UFC fighter can become famous simply by winning all the time. Polyana Viana has a .500 record in the UFC but is among the most popular UFC fighters. This is partly due to her fighting style: an aggressive striker with a penchant for submissions and partly due to her physical "assets".
In a largely male-dominated sport, Viana stands out as both a fiery competitor and an attractive woman. She's used her UFC winnings to not only sharpen her skills but augment her appearance.
The 30-year-old also had an OnlyFans account and has made mainstream news by beating up muggers in her country of Brazil. She has lived up to his moniker, Dama De Ferro ("Iron Lady" in English).
Polyana Viana's Fighter Profile & Stats
Viana is a Brazilian MMA fighter who made her pro debut in 2013, the same year she started training in Brazilian Jiu-Jitsu (BJJ). She compiled a 10-1 record in the regional promotions and even holds a knockout win over top-10 contender Amanda Ribas in 2015.
She also became the Jungle Fight Champion, one of Brazil's more notable MMA promotions. In 2018, she debuted in the UFC and submitted Maia Stevenson. She lost her next three fights but has gone 3-1 since.
PROFILE
Height: 5'5"
Weight: 115 lbs.
Reach: 67"
Stance: Orthodox
Date of Birth: June 14, 1992
Viana's All-Time UFC Stats
Polyana Viana's stats are far from mind blowing. But she's still in the positive as she tends to land more significant strikes than she absorbs. Her weakness could be in grappling, despite her brown belt in BJJ. Still, Viana is well-rounded enough to compete even against the ranked fighters in her division.
STRIKING:
Significant Strikes Landed per Minute: 3.50
Striking Accuracy: 41%
Significant Strikes Absorbed per Minute: 2.86
Striking Defense: 54%
TAKEDOWNS:
Takedown Average: 0.80
Takedown Accuracy: 33%
Takedown Defense: 50%
Submissions Average: 2.4
Viana's scheduled bout with Emily Ducote, one of the better upcoming UFC fights, was scrapped as Viana got injured. It could get rescheduled or Viana fights another opponent. She has yet to fight in 2023 but went 1-1 in 2022.
Viana's UFC Career Trajectory
Given Polyana Viana's stats, she is unlikely to become a UFC champion. However, we cannot rule out this possibility entirely. Viana is relatively young and can keep improving. Given more time and training, Viana could become a consistent top-15 fighter and carve out a long UFC career.
Follow us on Twitter
---
Can't get enough? Here's more!