UFC 277 – Pena vs Nunes Odds Preview: A Dog Versus a GOAT
Pena Defends Title in Highly-Anticipated Rematch Against Nunes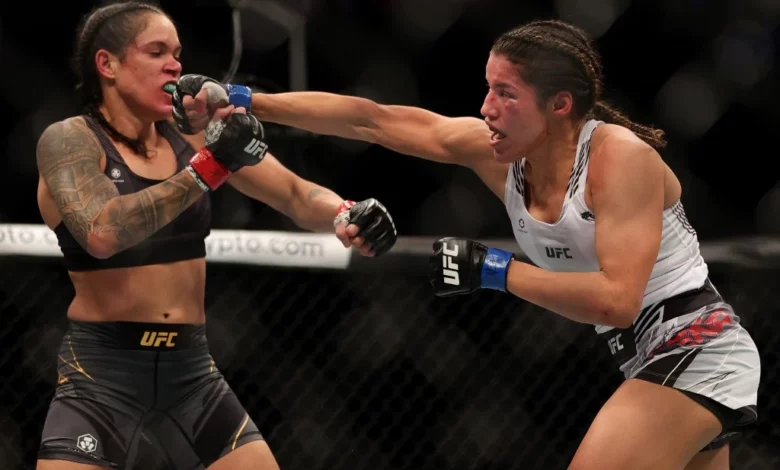 Can she do it again? That's the hot question when UFC Women's Bantamweight Champion Julianna Pena fights former champion, Amanda Nunes, for a second straight time. The Pena vs Nunes odds sides with the latter again although she is not as significant of a favorite as she was the first time. The pair have been mild, even amicable, during the filming of The Ultimate Fighter. They are focused and ready to let their fighting do the talking.
Pena vs Nunes Fight Info
Fighters: Julianna Pena (c) (11-4-0) vs Amanda Nunes (21-5-0)
Location: American Airlines Center
Day/Time:
Broadcast: Pay-per-view
The Underdog Champion
Whenever we talk about "underdog champions", a few names come to mind: Frankie Edgar and Matt Serra. They won their championships as massive underdogs facing legendary fighters in B.J. Penn and Georges St-Pierre, respectively. Both champions were sizable underdogs in the rematch. Edgar beat Penn even more definitively while Serra was finished by St-Pierre. Which will be Pena's fate?
Pena defeated Nunes by outlasting her in their first bout. The Pena vs Nunes odds had the Venezuelan as high as a 6-1 favorite and for the moment, it played out that way. Nunes blitzed Pena and tried to get her out fast. But the challenger did not fold and as Nunes started to slow down, Pena broke her with a rear-naked choke.
Obviously, not many are giving Pena the credit she deserves. Otherwise, the UFC 277 betting odds would be lined more tightly. Instead, Pena's line at 2-1 implies a 31.6 percent probability of winning. Many are dismissing Pena's win as a one-off. Valentina Shevchenko, who fought Nunes twice, blames it more on Nunes:
"I actually think Amanda [wins]," Shevchenko said on The MMA Hour. "I felt like in her last fight against Julianna, she didn't look like herself. I don't know if so many factors like affected that. I don't know what is; family, training camp, friends at the gym, or whatever. She didn't look the same way when we fought together."
Of course, Shevchenko last fought Nunes five years ago. Since then, Nunes had gone on to fight six more times across two different divisions. We've seen it before where long-reigning champions are weighed down by the pressure of being a champion. Rose Namajunas and even St-Pierre made such a claim.
With the odds and opinions favoring Nunes like before, Pena walks into the octagon with less pressure despite being the champion; as she proved in the first fight, there is nothing more dangerous than a fighter with nothing to lose.
The Best Thing to Happen to Nunes
For the first time since July 9, 2016, Nunes walks into a fight without the title and all the pressures that come with it. The Brazilian is widely claimed as the greatest female fighter in the world or the "GOAT". She's dispatched every big-name challenger from Ronda Rousey to Cris "Cyborg" Justino. There was a time when nobody thought she would lose, especially not to an unheralded challenger like Pena.
But the weight of being a champion did slow Nunes down. There was evidence of it. She struggled in spots against Germaine de Randamie and she could not put Raquel Pennington away. Nunes's endurance has typically been an Achilles Heel for her. She's just been so dominant that everyone seemed to forget. Now that she's not the champion, Nunes appears "lighter" heading to her rematch.
"Everything about that fight was very good for me," Nunes said during Laura Sanko's One on One show. "Of course, I lost my belt. I don't want to lose my belt. But it kind of took the pressure a little bit (off) me, too.
With less pressure, Nunes has recommitted herself to training. Many of those close around her have quipped that she "lives in the gym." A rededicated Nunes is scary as the Pena vs Nunes odds indicate – those who bet on UFC fights can double down on her at a more affordable price.
"That fight kind of brought that fire back," Nunes continued. "After the fight, everything was like, 'You know what? I cannot leave my belt. I cannot go away (and travel) like that.' That fight, I pretty much wasted. I have to get 100%."
UFC greats like Edgar and St-Pierre avenged losses in their career. Now, Nunes can do the same.
Follow us on Twitter