UFC 286 Betting Odds Preview: The Rocky Trilogy in London
U.K. Fighters Face Favorable Odds But The Main Event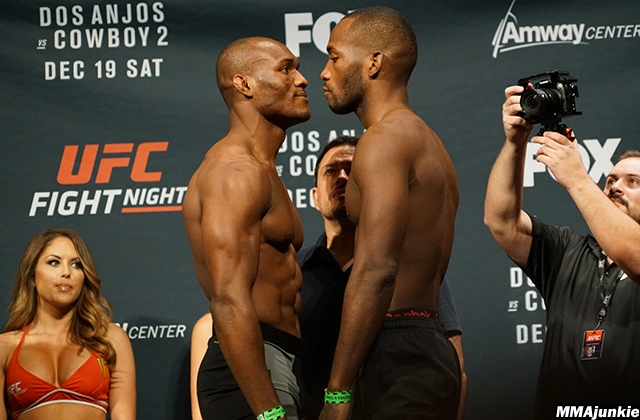 Edwards Headlines as an Underdog in his Own Town
In the sequel to last year's miraculous upset, Leon Edwards has to play "Rocky" again as he looks to defend his title from Kamaru Usman. The UFC 286 betting odds peg Edwards as a 2-1 underdog even if he did knock Usman out. To the former champion's defense, he was on his way to winning a clear-cut decision until the head kick in the final minute of the fight. The fight shifts to Edwards's home country in what should be an even bigger event.
Edwards vs Usman
Date, time:
Location: O2 Arena, London, England
Broadcasts: UFC Fight Pass/ESPN+, ESPN, Pay-per-view
Can Edwards Shock the World Again?
It was the head kick that threw the entire MMA world into a frenzy. Edwards, down on the scorecards with less than a minute remaining, ended Usman's three-and-half-year reign as champion. Almost everyone, including some of the commentators, saw Edwards as a dejected challenger on his way to losing yet another fight to Usman.
"My coach told me and I knew that I needed to go out there and get the finish. I was down three rounds," Edwards told Sun Sport."
Some may consider Edwards's "Hail Mary" a lucky shot. But it was far from it even if the Edwards vs Usman odds have him as another sizable underdog.
"That technique, we drilled in camp. We were using it," Edwards continued about his head kick." I could hear them [my corner] shouting it. 'Head kick head kick'. I could hear them in the corner. But I was also waiting for the perfect moment to throw it. "
Indeed, landing a head kick flush on Usman is not something one simply does on luck. This is the pound-for-pound best fighter who knocked out Jorge Masvidal, a knockout artist, and prior to that, finished both Gilbert Burns and Colby Covington.
Usman went down but is far from out. He himself picked London as the scene of this hotly anticipated rematch. The "Nigerian Nightmare" is favored by the UFC 286 betting odds to become just the fourth fighter to recapture his title by beating the same man who knocked him out. The three to do it before him? Cain Velasquez, Stipe Miocic, and the former welterweight king himself: Georges St-Pierre.
U.K. Prospects and Fan Favorites are in "Favorable" Fights
Before Edwards enters the cage, a slew of local fighters will get the crowd fired up. Casey O'Neill of Scotland takes on Jennifer Maia in a flyweight contenders' bout. The unbeaten O'Neill is favored (-170) to beat Maia, who is a former UFC title challenger and Invicta champion. A win for O'Neill could see her come within one win of a title shot. However, Maia did just win her last bout as an underdog.
Another unbeaten prospect from the U.K. is Muhammad Mokaev. At -800, he is another massive favorite and the biggest of the night. He's kept a busy UFC schedule even if he is coming back from a shoulder injury. Jafel Filho (+500) makes his UFC debut and is a product of the Contender Series from 2022.
Also on the prelims is featherweight Jack Shore from Wales. At lines as short as -500, he is the second-largest favorite of the evening as he looks to blow past Makwan Amirkhani (+350). Shore is coming off his first defeat against Ricky Simon and he'll need to watch out for "Mr. Finland's" Anaconda Choke, which is a maneuver he's used in his last three victories.
Gaethje and Fiziev Exchange Fire in Co-Main Event Slot
In the co-main event is a fight that cannot be boring as former two-time title challenger Justin Gaethje faces Rafael Fiziev. The UFC 286 betting odds expect this bout to end in a finish (-220) with total rounds at 1.5. While Gaethje has the more prestigious resume, it is Fiziev that is favored at -230.
That's likely because Fiziev is considered the more polished striker here. Fiziev has starched every opponent he's fought since he suffered his only defeat in 2019. Gaethje has absorbed plenty of damage over his career and while he is infamous for his iron chin, Fiziev may just crack it.
Follow us on Twitter
---
Can't get enough? Here's more!