Sudden Deaths in Race Horses: The Result of Doping Practices?
The Ugly Racehorse Deaths Truth No One Is Talking About…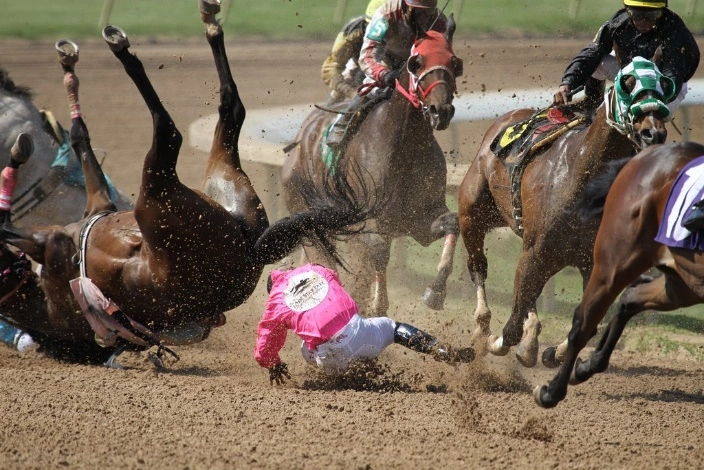 In the glamorous, money-shaking world of horse racing, the quest for victory often comes with a price, sometimes even the ultimate one: Death.
Untimely racehorse deaths like the one Practical Move and Medina Spirit suffered in recent years have once again drawn attention to the issue of sudden deaths in these majestic animals, casting a shadow over the sport and prompting questions about their well-being.
All of which point a finger at doping practices, of course…
Not a New, and Not an Isolated Issue
Sudden deaths in racehorses are not a new thing. In fact, this has been going on since the inception of organized horse racing. These enigmatic fatalities have cast a pall over the track, leaving us to wonder when, why, and how this heartbreaking trend started taking a serious turn for the worst and left off being an isolated issue in the horseracing realm. In fact, the deaths we're including here are from high-profile horses that triggered worldwide awareness of sudden deaths in racehorses. All of which, invariably, started pointing toward the root of the matter in the form of a doping problem that took its toll on otherwise healthy animals.
Nowadays, it's not an isolated issue anymore. In California, where many high-profile races take place, sudden horse deaths accounted for 13 percent of the 71 racing fatalities in one year. Such occurrences are often difficult to explain, as international studies show that determining the exact cause of death is challenging in a significant percentage of cases. This inconclusiveness leaves owners, trainers, and the horse racing industry in a state of uncertainty.
Let's look at a couple of the most prominent cases of the huge and unsettling number of racehorse deaths, from 2018 to date:
November 2023
Practical Move, a promising 3-year-old colt, was preparing for a high-stakes race at the Breeders' Cup in Arcadia, California. Tragically, he suffered a suspected cardiac event during a routine gallop, abruptly ending his career and shattering the hopes of his trainers and owners. Fortunately, the rider escaped unharmed, and a team of veterinarians rushed to the scene to offer immediate assistance.
Still, the sudden and unexpected death of such a talented horse left a void in the racing world, reminding everyone of the inherent risks in this high-stakes industry.
February 2022
Medina Spirit's story dates back to February 2022, when the Kentucky Derby winner died following a workout at the Santa Anita Park racetrack.
A necropsy report conducted at the University of California, Davis, was inconclusive, leaving many to wonder about the precise cause of his death. While his necropsy indicated common conditions found in sudden racehorse deaths, like swollen lungs, foam in the windpipe, and an enlarged spleen, it couldn't definitively pinpoint the cause of death. Still, the horse had previous reports of usage of a banned substance.
Banned Substance: Medina's Derby Victory Disputed
His victory in the 2021 Kentucky Derby had previously been marred by a post-race drug test failure. Questions about his Derby victory linger, with a post-race drug test revealing the presence of betamethasone, a banned substance.
While it remains unresolved whether his Derby victory will be upheld, it's no secret that the stakes for that Derby victory are not only high in competition but also in financial and reputational terms.
For example, Medina's owner, Amr Zedan, stands to lose the Derby's $1.8 million first-place prize, and the trainer, Bob Baffert, faces suspension and bans from racing tracks. Baffert, a prominent figure in the industry, is battling legal issues while preparing his other potential Derby contenders, who are currently not eligible due to Churchill Downs' refusal to award qualifying points to his horses.
Bob Baffert's Weight in the Industry
In the world of horse racing betting, few names carry as much weight as that of Bob Baffert. Known for his trademark white hair, sunglasses, and a penchant for producing champion racehorses, Baffert has become an iconic figure in the sport. With a career spanning decades, his ability to train and nurture equine talent has made him a true legend in the world of horse racing.
Baffert's resume boasts an astounding seven Kentucky Derby wins, two of which were achieved with American Pharoah in 2015 and Justify in 2018. These victories ended long-standing Triple Crown droughts and solidified Baffert's reputation as a master trainer. His keen eye for talent and his exceptional training methods have allowed him to consistently produce racehorses of unparalleled caliber. Among his notable trainees are horses like Silver Charm, Real Quiet, and War Emblem, all of whom achieved fame and glory under Baffert's guidance. He has developed a reputation for bringing out the best in his horses, coaxing them to perform at their peak when it matters most.
This is why Medina's controversial death involving being stripped of the 1st-place Derby victory and trying to pin a ban and suspension on her trainer are penalties that really hold their weight in water; drug-related scandals and medication violations have occasionally clouded Baffert's illustrious career. Yet, he remains a prominent and influential figure in horse racing, contributing to the ongoing discussions surrounding horse welfare and the integrity of the sport. This has triggered protests and intense criticism from animal rights activists, who have readily called Baffert a horse killer, a liar, and a cheater, due to being allowed to participate after a very short ban of one year from the New York Racing Association he completed in January and his ongoing ban at Churchill Downs, home of the Kentucky Derby.
JUNE 2019
Santa Anita Park's Struggle with Racehorse Deaths
In June 2019, Santa Anita Park, one of the most prominent horse racing tracks in the United States, faced a grim reality as the 29th horse since December 2018 died on its premises. The distressing situation prompted animal activists to gather at the track once again, demanding action and accountability for the mounting fatalities.
The tragic incidents continued as two more horses met their end in consecutive days.
Truffalino, a 3-year-old filly, tragically collapsed during the final stages of a race on the turf and succumbed to a heart attack. Trained by Hall of Famer Richard Mandella and ridden by Joe Talamo, Truffalino had one win in her six career starts.
On the preceding day, Formal Dude had suffered a catastrophic breakdown nearing the finish line during the 10th race and was subsequently euthanized. The 4-year-old gelding, ridden by Tiago Pereira and trained by Phil D'Amato, had failed to secure a victory in his six career starts.
The crisis attracted widespread attention, with news media and local investigations shedding light on the alarming number of horse deaths at the racetrack. Reports revealed that over 60 horses had lost their lives at Santa Anita Park since the start of 2018, raising concerns among both the public and the racing community. The Los Angeles County District Attorney's office had even initiated an investigation into the surge of horse fatalities at the racetrack.
Call for Action To Address the Santa Anita Crisis
The mounting fatalities raised serious concerns, with calls for immediate action to address the ongoing crisis. The California Horse Racing Board (CHRB) had recommended that Santa Anita suspend the remainder of its current meet, which was scheduled to conclude on June 23. The CHRB's objective was to allow for the full implementation of safety initiatives in the industry. The recommended course of action was to suspend racing while permitting horses to continue training, creating additional time for safety measures to be effectively executed.
However, the CHRB did not have the unilateral authority to suspend a race meet or alter the race dates without the consent of the track operator or conducting a public meeting with a 10-day notice. Thus, despite the CHRB's suggestion, Santa Anita Park's management opted to keep the racetrack operational, leading to renewed protests from animal activists. The decision generated concerns regarding the efficacy of the current rules and regulations governing horse racing and the need for stricter safety measures.
Death Toll Soars in Australia Between Sudden Racehorse Deaths and Injuries
In a damning report by the Coalition for the Protection of Racehorses, the harsh and painful reality of horse racing in Australia was exposed. Over a one-year period from August 2022 to July 2023, the coalition compiled data from official race day reports from every state and territory in Australia, revealing that at least 168 horses had met a tragic end on Australian racetracks. This stark revelation is equal to one horse losing its life every two days, all in the name of profits.
Not All Deaths Reported
What makes these statistics even more chilling is that they represent only a fraction of the true extent of the problem. Many more horses are quietly taken away from the racetrack and euthanized behind the scenes when it becomes evident that their injuries are beyond salvation.
This means that, while the findings are already distressing, they are still a significant understatement of the actual death toll. These revelations have fueled calls for increased transparency within the racing industry, with a petition directed at state and territory Ministers for Racing, demanding a change.
The key findings from the report paint a harrowing picture of the Australian horse racing industry:
The death toll on race days for the last racing year reached 168 horses, marking the highest number since the Coalition for the Protection of Racehorses began recording race day deaths in 2014. This figure is 29 deaths higher than the previous year, indicating a disturbing upward trend.
Tragically, six horses died in their very first race, highlighting the risks young horses face when pushed into competition.
A concerning 51 horses lost their lives after crossing the winning post, revealing that many were subjected to distressing injuries while being pushed beyond their limits in the pursuit of victory.
Shockingly, ten horses were two years old or younger at the time of their racing-related deaths, indicating the high toll this sport takes on young and inexperienced animals.
Of the horses that suffered fatal injuries, 60 had been raced as two-year-olds, further raising concerns about the pressures imposed on young racehorses.
Racing Victoria was singled out as the biggest culprit in failing to report the cause of death of a horse, with a staggering 16 instances of non-disclosure. The report also highlighted how Racing Victoria edited racing replays to conceal horse injuries and deaths more frequently than any other state racing authority.
New South Wales recorded the highest number of deaths, with 53 horses losing their lives, followed by Queensland with 40 and Victoria with 39.
The racetracks with the highest recorded deaths included Thoroughbred Park in Canberra, ACT, with six confirmed fatalities, followed by Aquis Park in the Gold Coast, Queensland, and Ascot in Perth, Western Australia, each with five recorded deaths.
These grim findings paint a disturbing picture of the Australian horse racing industry, raising serious questions about animal welfare and the practices within the sport.
The Coalition for the Protection of Racehorses's report underscores the urgent need for change and greater transparency in the industry to prevent further unnecessary horse suffering and loss of life.
Other Tragedies Due to Injuries and Euthanasia
Deaths/Euthanasia Cast a Shadow Over the Kentucky Derby
The Kentucky Derby, one of the most anticipated events in horse racing, was marred by a series of fatal incidents in May 2023. A total of seven horses had tragically lost their lives in the days leading up to the event, and the favorite, Forte, was scratched from the race due to an injury, leaving a somber atmosphere among the Derby-goers.
Chloe's Dream and Freezing Point, both 3-year-old horses, were the latest casualties in a string of horse fatalities at Churchill Downs. Chloe's Dream suffered a severe right front knee injury during the second race on Derby day and was euthanized. Freezing Point, on the other hand, sustained a left ankle injury during the Pat Day Mile and had to be euthanized as well. The sudden losses of these young horses deeply affected the racing community.
Concerns among racegoers grew as they grappled with the tragic events. The deaths added to the sport's woes, already reeling from doping suspensions and other high-profile breakdowns.
In May 2023, new anti-doping and medication rules were set to be enforced by a central governing body, aiming to enhance the safety and integrity of the sport. In the 10 days leading up to the Derby, seven horses had already died at Churchill Downs. By May, 136 thoroughbreds had died, and last year, 901.
That's over two per day. Something's got to be getting done wrong here.
Scientific Outlook on Sudden Cardiac Death in Racehorses
A Consequence of Several Factors?
The tragic loss of Bobby Abu Dhabi during a training session in the summer of 2018 not only brought heartbreak to his connections but also shone a spotlight on a perplexing aspect of equine fatalities – sudden deaths. The initial belief that Bobby Abu Dhabi suffered cardiac arrest raised questions about these sudden deaths, leading experts to search for answers in an area where definitive conclusions remain elusive.
Sudden racehorse deaths represent a complex and multifaceted problem. The lack of information surrounding these cases further complicates efforts to understand and address the problem.
Defining "Sudden Death"
Sudden death in racehorses is characterized as the sudden collapse and death of a seemingly healthy horse during or within an hour after exercise. It encompasses a range of causes, not solely related to cardiac issues. While sudden cardiac death is one component, other factors, such as massive bleeding in the lungs or abdomen, fractures of the skull or neck, and hemorrhaging from pelvic fractures, can mimic cardiac problems in their rapid fatality.
Swift post-mortem examinations are crucial to identify the specific cause of these deaths. Unfortunately, not all jurisdictions mandate comprehensive necropsies for fatally injured horses, leaving many sudden deaths unexplored.
Furthermore, even when post-mortems are performed, heart pathologists frequently struggle to find lesions, ruptured arteries, or damaged heart tissue that could definitely explain why the heart stopped.
Experts Speculate on Causes
Electrical Irregularities
Sudden cardiac death in racehorses lacks the clear causes often seen in human heart attacks, such as cholesterol buildup or blocked arteries. The equine heart's large size makes it susceptible to electrical irregularities, including arrhythmias (irregular heartbeats) and heart murmurs (abnormal heart sounds).
While electrical irregularities are common among racehorses, their presence alone doesn't necessarily indicate an imminent crisis. Atrial fibrillation, a specific type of arrhythmia, can impact performance but isn't consistently linked to sudden death in horses.
Recent research has shown that around 18% of Standardbreds exhibited significant rhythm disturbances after racing. Thoroughbreds displayed similar issues but with less frequency. Notably, these disturbances tend to peak when heart rhythms return to normal after exercise, a critical area of interest in understanding sudden cardiac deaths. The challenge lies in the fact that necropsies often reveal no signs of recent electrical issues in the heart, making it challenging to diagnose.
Other Factors: Toxicology & Genetics
Toxicology and medication use are also areas of concern. Certain drugs, like clenbuterol, have been associated with cardiac muscle changes. The administration of multiple drugs, like calcium, magnesium, and stimulants in close proximity to a race, can disrupt the autonomic nervous system, affecting heart rate recovery after exercise. The impact of cobalt on cardiac arrhythmias is also under scrutiny.
Genetics represents a relatively uncharted area in understanding sudden deaths in racehorses. Unlike in humans, where specific genes are linked to heart disease, equine genetics in this context remain unexplored.
Future Understanding of Sudden Deaths
The identification of biomarkers related to specific conditions that don't leave visible evidence in the heart could be a breakthrough. Furthermore, standardizing autopsy techniques could help correlate findings in live and deceased animals, bringing more clarity to the issue. It is clear that the sport's stakeholders must remain committed to solving this complex puzzle.
Summary
As the sport grapples with these challenges, it remains clear that the safety and well-being of these magnificent animals should be at the forefront of the industry's concerns.
True, there could be a host of different factors that have a direct influence on the sudden organ failure of horses on the track, but there is no doubt whatsoever that doping practices have a big part in the number of sudden deaths occurring. Clusters of deaths before the races, sudden and injury-wise, have a say in these numbers and have been taken into account for the controls to be established, for a reason.
There was a cluster of seven in a month at Laurel Park some years ago. Later, a string of seven at Churchill Downs. There has to be a commonality in those clusters, and there's an imperative need to find it out. Or rather confirm it…
The industry apparently has something called HISA, the Horse Racing Integrity and Safety Authority. Here's hoping it will be like the central office for Florida racing, much like there's a Commissioner's office for baseball, football, hockey, and basketball. It will be a centralized office to oversee pre-race and post-race testing. They will be doing extensive out-of-competition testing, too, plus there will be a set level of standards to be adhered to. Also, set procedures for when there's a positive test for quicker notification.
At the moment, there are some states as well as an organization representing about 30,000 U.S. trainers and owners who have filed many lawsuits against HISA, claiming violation of constitutionality. These groups would rather have racing officials elected by the states mandate what goes on instead of turning the power over to the higher instance approved by Congress.
Other Entities Dedicated to Racehorse Welfare
The Jockey Club: Founded in 1894, The Jockey Club is one of the oldest and most influential organizations in American horse racing. They are responsible for maintaining the American Stud Book, a registry of Thoroughbred horses. The Jockey Club also provides support to various initiatives focused on horse health and safety, including the Equine Injury Database, which collects and analyzes injury information to improve horse racing safety.
The American Association of Equine Practitioners (AAEP): Comprised of equine veterinarians, the AAEP plays a pivotal role in racehorse welfare by setting guidelines and advocating for the ethical treatment of horses in the racing industry. They work on issues related to medication, surgery, and overall equine health, promoting responsible horse care practices.
The Thoroughbred Aftercare Alliance (TAA): This organization is dedicated to providing a secure retirement for Thoroughbred racehorses once their racing careers come to an end. TAA accredits and supports aftercare facilities, ensuring that retired racehorses receive proper care and attention, and are not left in vulnerable or neglectful conditions.
The Racing Medication and Testing Consortium (RMTC): The RMTC focuses on the development of uniform medication and drug testing policies across different racing jurisdictions. Their aim is to create consistent rules and regulations that protect racehorses from the misuse of drugs and substances that may jeopardize their well-being.
The Coalition for Horseracing Integrity (CHRI): This organization advocates for the establishment of a national regulatory authority for horse racing in the United States. By promoting uniform medication and drug testing rules, CHRI aims to raise the bar for horse welfare and ensure fairness and integrity within the sport.
State Racing Commissions: Each state in the U.S. has its own racing commission responsible for regulating and overseeing horse racing within its borders. These commissions implement rules, conduct investigations, and enforce penalties to maintain the integrity and ethical treatment of racehorses.
Horsemen's Benevolent and Protective Association (HBPA): Representing horsemen at racetracks across the country, the HBPA plays a significant role in advocating for the welfare of racehorses. They work closely with racetracks, regulatory bodies, and other industry stakeholders to address issues that affect both horses and the individuals who care for them.
In spite of so many entities dedicated to ensuring the welfare of racehorses, the problem is escalating unbridled and unchecked (at least not sufficiently). As the industry confronts these challenges, the spotlight remains on the need for strict measures to safeguard the health and lives of these noble beasts.
Wouldn't be a bad thing, though, to dedicate as much energy to this problem as the authorities dedicated to curbing and regulating horse racing betting… don't you think?
YEAR TOTAL RACEHORSE DEATHS (INJURIES/SUDDEN DEATHS)

| | |
| --- | --- |
| 2018 | 119 |
| 2019 | 186 |
| 2020 | 116 |
| 2021 | 149 |
| 2022 | 139 |
| 2023 | 168 |
For horse racing news, horse racing schedules, analysis, and more follow Point Spreads Sports Magazine.
---
Can't get enough? Here's more!