NASCAR Cup Series: Federated Auto Parts 400 Odds & Betting Analysis
Can Hamlin Repeat at Richmond?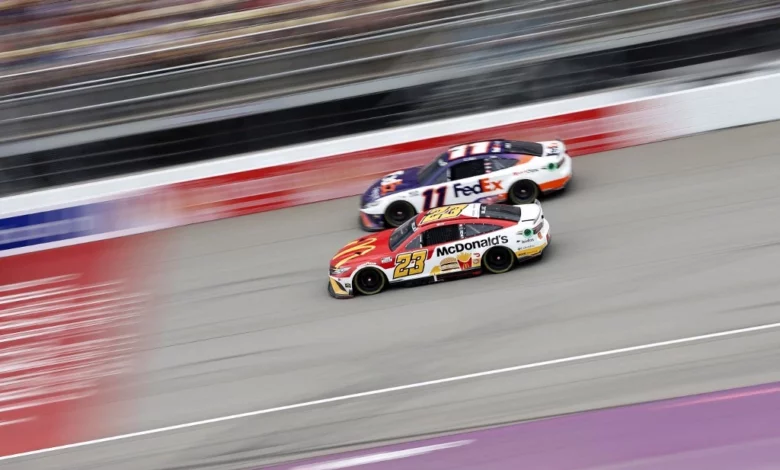 The NASCAR Cup Series heads to Virginia for the Federated Auto Parts 400, the second Cup Series race of the season at Richmond Raceway. Denny Hamlin won the last time out and is one of the two wins he has on the season. With just a few weeks left before the Round of 16, can Hamlin make a run starting with a premier outing at Richmond?
Track info
Richmond Raceway is commonly known as "America's premier short track" at just 0.75 miles long. Drivers will race 300 miles on the "D-shaped" track on an asphalt surface for a total of 400 laps.
Who are the favorites?
Martin Truex Jr. and Hamlin each enter tied as the favorite at +600 among the Federated Auto Parts 400 odds. While Truex has yet to enter Victory Lane this season and has just three top-five finishes, he currently sits fourth in the Cup Series standings. How? He has the most stage wins of any driver this season.
Truex has also dominated at Richmond lately. In his last six races there he has an average finish of 2.3 and three wins. The three he didn't win? He still placed in the top five, including a second-place finish. He placed fourth in the race back in April, so there shouldn't be any new surprises for him on the track.
Tied with Truex at +600 is his Joe Gibbs Racing teammate Hamlin. Over the last six races at Richmond he has five top-five finishes and a win with an average finish of 4.2 over that span. Over 31 career races at Richmond, Hamlin has placed in the top 10, 20 times and in the top five, 16 times; not to mention he's the active leader in laps led at Richmond.
His last three times out at Richmond, he hasn't finished worse than second and has only finished outside of the top 10 twice in 13 races and outside of the top five in just four of the 13. Despite sitting 17th in the driver standings, he sits seventh in the playoff standings. This would be an ample opportunity for Hamlin to get a good result on the board and get into form with the playoffs approaching.
Entering at +700 on the Federated Auto Parts 400 odds board is Kyle Busch. At 6.9, Busch has the best average finish at Richmond among active drivers. He's placed in the top 10, 26 times in 33 races with 26 top-10 finishes and 18 top-five finishes.
Over the last six races at Richmond, he's finished in the top 5 only once but managed to finish in the top 10 in 12 of the last 13 races. He swept at Richmond in 2018 and will likely be on the hunt all day. He may not be the one in Victory Lane, but he'll have a nice showing nonetheless.
Tied at +900 on the Federated Auto Parts 400 odds board are Christopher Bell and Chase Elliott. Bell enters with just four Cup Series starts at Richmond, but has performed well. In the April race, he placed sixth after leading 63 laps and finishing second at the end of Stage 2. He finished third in the September race last year and fourth in the spring race.
When Bell raced at Richmond as part of the Xfinity Series, he was utterly dominant; winning three times in five races with a sixth-place finish and a 16th-worst finish. After a DNF last week at Michigan, Bell could be in for a big week at Richmond.
As for Elliott, he comes in with the odds of +900 largely because he's atop the points standings. There are plenty of places Elliott has had success, but this might not be one of them. He has just four top-five finishes in 13 races. His best result was a second-place finish back in 2018 but has since finished outside of the top 10 more times than not. This may not be the week to back Elliott.
Best of the Rest
Ryan Blaney enters at +1200 following a solid outing at Michigan. Blaney has two top-10 finishes in his last six races at Michigan. However, in the April race, he managed to get out front and lead 128 laps. Blaney has had a fast car in many races this season and has been good enough to win. Despite not having a win, he still sits second in the point standings and could end up in Victory Lane.
Joey Logano enters at +1500 off a fourth-place finish at Michigan. In his last six starts at Richmond, Logano has placed in the top five four times including two third-place finishes and a second-place finish. In 26 career races, he's finished in the top 10, 15 times and the top 5, 12 times. Even if not on an outright bet, there's likely some meat on the bone to take Logano in some fashion this weekend.
Where's the Value?
Last week in this section, we mentioned Kevin Harvick being one of the best value picks across the board, that +2000 was too high, and to look to play him as a top-10 or top-five finisher if you weren't comfortable with the longshot. As it turns out, Harvick went on to cash all of those tickets with a win. If you think Harvick will run toward the front off his strong win at Michigan, you can get him at +200 to finish in the top five, something he's accomplished in nine of his last 15 Richmond starts.
However, it's two Chevrolet drivers that could prove to hold the most value this week. Alex Bowman enters with +3000 odds to pull off the win. He's finished in the top 10 in three of his last four Richmond starts, including a win in April of last season. He may not get the magic necessary to pull off another win, but even odds on a top-10 finish is good value.
Austin Dillon enters with +5000 odds to win. These odds are relatively tentative, as they will likely change after qualifying when we have the official Federated Auto Parts 400 starting lineup. In his last seven races at Richmond, he's finished in the top 10 five times, missing out on a sixth by just one spot. To be fair, he finished exactly 10th in two of those. But +350 is too much value to not play Dillon at that number.
Follow us on Twitter