NBA Central Preview: Bucks Primed for Big Step with Lillard
New-Look Milwaukee Seeking Sixth Straight Division Title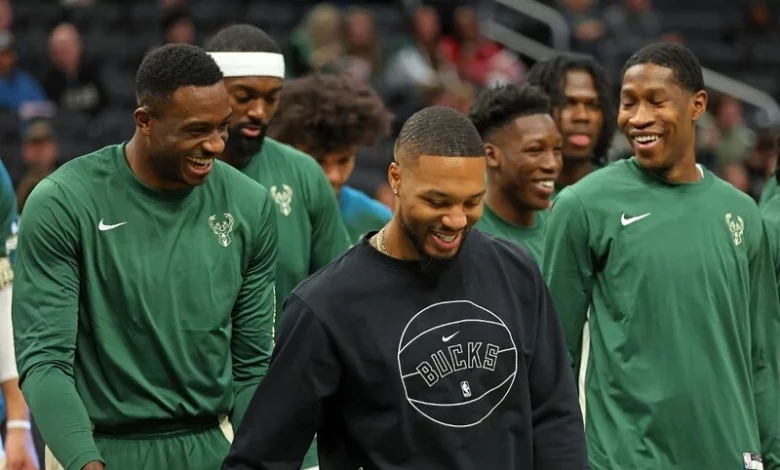 The Milwaukee Bucks won the offseason. Will it translate to another NBA title?
At the very least, the Bucks look like a good bet to continue their reign atop the Eastern Conference's Central Division. The Bucks are a heavy -350 favorite to win the division for a sixth straight year, ahead of the Cleveland Cavaliers (+275).
Let's look at how the rest of the division shakes out. Read on for our NBA Central Division Preview.
THE FAVORITE
Milwaukee Bucks (-350)
Milwaukee made one of the biggest moves of the offseason, acquiring seven-time All-Star Damian Lillard in a three-team deal. Adding Lillard should take some of the pressure off Giannis Antetokounmpo, a +550 pick for NBA MVP.
Mike Budenholzer won the Central Division in all five seasons as head coach, but his inability to get the Bucks over the hump in the playoffs the last two years sealed his fate. That responsibility now falls on former NBA forward and Raptors assistant Adrian Griffin.
Milwaukee may miss Jrue Holiday, but the impact of Lillard can't be overlooked. Lillard was third in the league in scoring (32.2 points per game) last year. He makes the Bucks +450 co-favorites to win the NBA title, according to NBA odds.
TOP CONTENDER
Cleveland Cavaliers (+275)
Cleveland remains the biggest threat to supplant Milwaukee in this NBA Central Division Preview. The Cavaliers have a pure No. 1 scorer in Donovan Mitchell, who averaged a healthy 28.3 points last year, not to mention a formidable wingman in Darius Garland.
The Cavaliers won 51 games in 2022-23 and led the NBA in scoring defense (106.9 points allowed per game), but their early playoff exit raised some alarms. Can they take the next step on the NBA schedule?
Cleveland improved its perimeter shooting by trading for Max Strus (career 37.1% from 3), but it has more work to do to get on Milwaukee's level.
NEXT IN LINE
Chicago Bulls (+3300)
Chicago has a solid one-two scoring punch in DeMar DeRozan and Zach LaVine but little else. Coming off a 40-42 finish in 2022-23, the Bulls are projected for only 37.5 wins (-110 Over, -110 Under).
The Bulls were shrewd to bring back Nikola Vucevic, who averaged 17.6 points and 11 rebounds, but it's still hard to see them making much noise. They've missed the playoffs five of the last six seasons.
Indiana Pacers (+3300)
The Pacers have averaged just 31.3 wins over the last three seasons per NBA scores. Tyrese Haliburton is a bona fide star, and was rewarded in July with a five-year extension worth up to $260 million.
Indiana is expected to take a step forward. That means pushing .500 and contending for the play-in tournament. Signing a versatile veteran in Bruce Brown should help matters. Still, the Pacers aren't anywhere near ready to compete with Milwaukee and Cleveland atop the division. The odds say as much.
Detroit Pistons (+25000)
Injuries have limited Cade Cunningham to 76 games over his first two seasons. If healthy, the Pistons are likely to improve on their 17-65 finish. But they still have a ways to go to climb back in the hunt for the playoffs. Since making the postseason in 2018-19, the Pistons have topped 20 wins just once.
Rookie Ausar Thompson, the No. 5 pick in June, will need to make an immediate impact for the Pistons to have any shot at surpassing their projected total of 28.5 wins (-110 Over, -120 Under). They're easily the biggest longshot in this NBA Central Division Preview.
For NBA betting news, today's NBA games, and more, visit Point Spreads Sports Magazine.
---
Can't get enough? Here's more!