Wisconsin vs Ohio State Betting Odds: Big Ten Championship Game Preview?
Plenty of Eyes on Star Running Backs Allen and Henderson in Wisconsin-Ohio State Matchup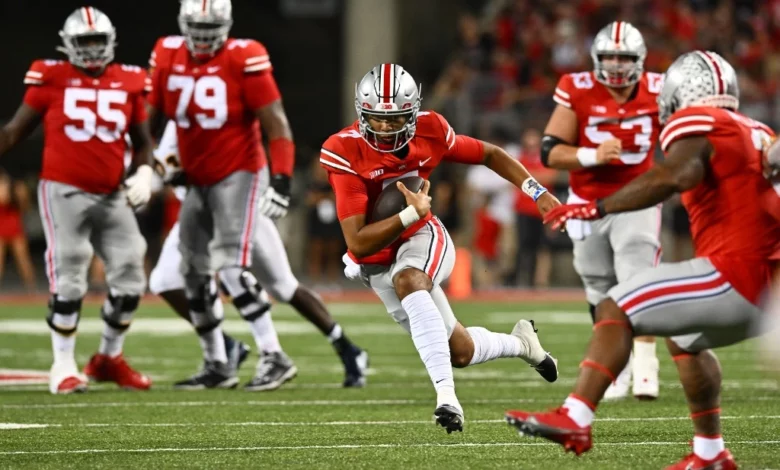 Wisconsin Looking to Author Upset Win in Trip to Columbus
This could be a dress rehearsal for the Big Ten title game and the Badgers and Buckeyes were the favorites to emerge as the division winners coming into the season.
Plenty of eyes will be on running backs Braelon Allen of Wisconsin and TreVeyon Henderson of Ohio State. They began the 2022 campaign as two of the top Heisman Trophy candidates among running backs. Allen has been solid in the last two weeks with 184 yards and three TDs, but he is capable of so much more. Henderson was knocked out of last week's game. He is listed as probable for this one.
The Wisconsin vs Ohio State betting odds favor the host Buckeyes on the strength of Ohio State's star-studded offense led by quarterback and Heisman Trophy front-runner C.J. Stroud.
Ohio State (-225) remains the heavy favorite to win the Big Ten championship with Wisconsin coming in at +1200.
According to the college football playoff odds, Ohio State (+275) is third, while Wisconsin in tied for 21st with +20000.
Wisconsin vs Ohio State Game Information
Game: Wisconsin Badgers 2-1 vs Ohio State Buckeyes 3-0
Location: Ohio Stadium, Columbus, Ohio
Date/Time:
TV: ABC
Wisconsin Badgers
At first glance it would seem as if Wisconsin's running game has taken a step back since Allen hasn't had a breakout game. The truth is that the Badgers are averaging 218.3 yards per game on the ground and 5.2 yards per carry and both of those marks are better than what Wisconsin averaged a season ago. Still, according to the Wisconsin vs Ohio State betting odds, there is much for the underdog Badgers to prove.
Graham Mertz is showing growth at quarterback. After completing less than 60% of his passes a season ago, he is at 71% so far in 2022. The Badgers are more explosive in the passing game with the yards per catch jumping from 11.8 to 16.3.
The quartet of Chimere Dike, Skyler Bell, Clay Cundiff and Keontez Lewis 28-537 six TDs.
Nick Herbig is a disruptive force on defense once again. After leading the Badgers with 14.5 tackles for loss and nine sacks in 2021, he already has five tackles behind the line of scrimmage and four sacks this season.
Ohio State Buckeyes
All the focus coming into the season was on the trio of quarterback C.J. Stroud, running back TreVeyon Henderson and receiver Jaxon Smith-Njigba. Stroud hasn't disappointed. He is second nationally with a passer rating of 208.7. In three games he is completing 73% of his passes for 941 yards with 11 touchdowns and no interceptions. However, after Henderson left last week's game early and thar was Ohio State football news land, Miyan Williams is the top rusher for the Buckeyes 207 yards.
Smith-Njigba is sixth on Ohio State with four catches and 36 receiving yards. The duo of Marvin Harrison Jr. and Emeka Egbuka have combined for 38 receptions and eight touchdowns while each of the sophomores are averaging more than 100 receiving yards per game. Their emergence is a reason why the Buckeyes are favored so heavily in the Wisconsin vs Ohio State betting odds.
Michael Hall leads the defense with five tackles for loss and he is one of three players with at least two sacks while Tommy Eichenberg is the team leader with 19 tackles.
Wisconsin vs Ohio State Injury Report
For Wisconsin, Taner Bortolini (leg), receiver Stephan Bracey (leg), tight ends Cam Large (leg) and Jack Pugh (leg), linebacker Spencer Lytle, offensive lineman Riley Mahlman (leg), cornerback Semar Melvin (leg), defensive end Isaac Townsend (leg) and kicker Jack Van Dyke are questionable. Defensive back Alexander Smith (hamstring) is doubtful while safety Travian Blaylock (leg) is out for the season.
Ohio State running back TreVeyon Henderson is probable. Also, defensive backs Jantzen Dunn, Jordan Hancock and Lloyd McFarquahar, linebacker Teradja Mitchell and tight end Joe Royer are questionable. Receiver Kamryn Babb (knee) is out indefinitely.
Wisconsin vs Ohio State Head to Head
Ohio State has won the last eight meetings against Wisconsin. Five of the first six games during that streak were decided by seven points or less. However, the last two meetings were decided by an average of 22 points. In the most recent meeting, Ohio State outscored the Badgers 27-0 in the second half en route to a 13-point win in the 2019 Big Ten title game.
Wisconsin's last win at Ohio State came in 2004.
Wisconsin vs Ohio State Betting Preview
If Wisconsin wants to make a run at the Big Ten title, there is no time like the present.
Following a season-opening win over Notre Dame, Ohio State barely broke a sweat in wins over Arkansas State and Toledo. Wisconsin bounced back from a loss to Washington State by putting 66 points up on New Mexico State.
Points figure to be harder to come by after the conference rivals combined for 143 points and 1,358 yards in victories against overmatched opponents in Week 3.
Wisconsin has covered in just two of its last six games. Listed by the NCAAF odds as the 18.5-point underdog, perhaps that will change on Saturday. The Badgers have covered in six of the last nine games on the road.
Ohio State has covered against the spread in each of the last five home games against the Badgers.
Follow us on Twitter