Farewell, Captain? A Retrospective on Jonathan Toews Stats
Longtime Blackhawks Captain Contemplating Retirement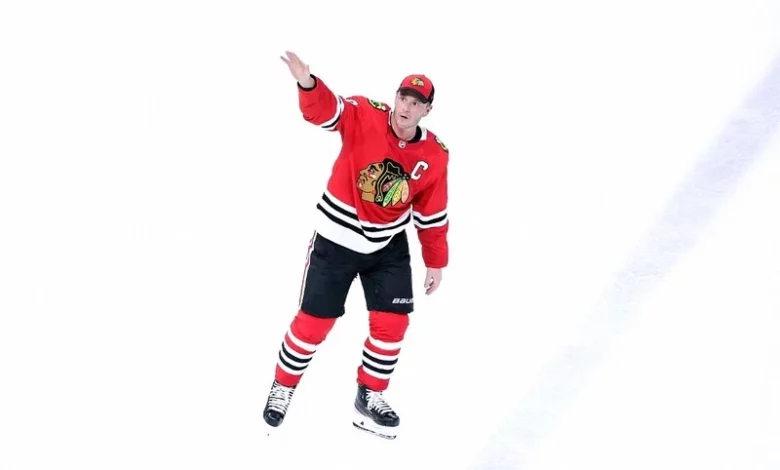 With over 1,200 NHL games under his belt, former Chicago Blackhawks captain Jonathan Toews could be hanging it up. The 35-year-old mutually parted ways with the franchise at the expiration of his contract this 2023. While Jonathan Toews stats are already prolific, his greatest achievement is being a winner: three Stanley Cups, two Olympic gold medals, and a World Championship.
Jonathan Toews' Career
Resurrecting the Blackhawks' Franchise
Toews will go down as one of the hockey's best leaders. Nicknamed "Captain Serious", Toews led the Blackhawks to their first Stanley Cup in 49 years. By the time he was 22 years old, Toews became the youngest player to join the Triple Gold Club with a Stanley Cup, an Olympic gold medal, and a world championship.
Chicago won three Stanley Cups in five seasons with Toews as the leading center. He also won a Conn Smythe Trophy in 2010 as the playoffs MVP, the Frank J. Selke Trophy in 2013 as the league's best two-way player, and the Mark Messier Leadership Award in 2015 as the best leader.
And yet, Jonathan Toews' stats appear modest in comparison. He hit the 80-point mark just once and never scored more than 35 goals in a season. His running mate, Patrick Kane, was more proficient statistically. But the franchise will never be the same without Toews' presence.
Jonathan Toews's Player Profile & Stats
The Blackhawks selected Toews third overall during the 2006 NHL Entry Draft. He made his NHL debut during the 2007-08 season and was named a Calder Trophy finalist after scoring 54 points in 64 games. The following season, he was named team captain and became the second-youngest in NHL history to garner the honor.
Career Stats
With over 1,500 hockey games under his belt, Toews has accumulated quite a bit of stats. In the NHL, he is one of under 400 players to have played over 1,000 games.
REGULAR SEASON

| Jonathan Toews | Stats |
| --- | --- |
| GP | 1,067 |
| G | 372 |
| A | 511 |
| P | 883 |
| +/- | +148 |
| GWG | 69 |
| PIM | 607 |
PLAYOFFS

| Jonathan Toews | Stats |
| --- | --- |
| GP | 137 |
| G | 45 |
| A | 74 |
| P | 119 |
| +/- | +12 |
| GWG | 11 |
| PIM | 84 |
If Not Retirement, What is Next for Toews?
More than likely, Toews will retire from the NHL. At 35, he's endured plenty of injuries and has health issues. It's impressive then with Jonathan Toews stats of 31 points in 53 games this past season. But should Toews choose to continue, a few teams could avail of his services.
Edmonton and Boston both make sense for Toews as far as contenders are concerned. The Oilers struggle with depth and continue to fall short in the postseason. Toews could anchor their 3rd or 4th line and provide that veteran leadership. As for Boston, the losses of Patrice Bergeron and David Krejci leave it thin in the middle. Toews can help with that in a bottom-six role.
Toews could also return to his home city in Winnipeg. The Jets need all the leaders they can get in this re-tooling phase. The six-time All-Star can help with Winnipeg's morale, which will be more vital than the hockey scores.
For NHL betting news, odds analysis, and more, visit Point Spreads Sports Magazine.
Follow us on Twitter
---
Can't get enough? Here's more!