Wembanyama Debut Is Big in Regular Season, But Doncic Steals the Show!
Rookie Jitters and a Doncic Dagger Took Over in NBA Kick-Off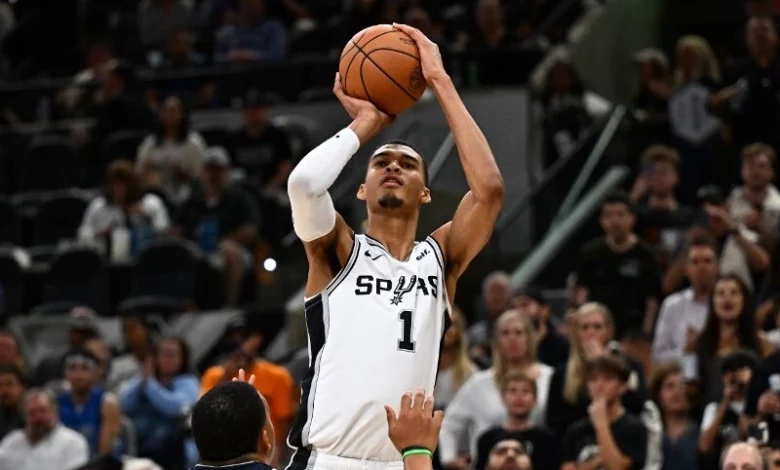 Victor Wembanyama, the rookie everyone's been buzzing about, had a ball game full of ups and downs against the Mavericks. He might have been on thin ice with fouls, but this top pick managed to sink nine points even with five fouls to his name. Talk about making a splash in this Wembanyama debut! The NBA schedules will be fiery hot from now on, with Wembanyama's NBA player stats!
Highlights and Low-lights
San Antonio Spurs' Wembanyama had a rocky start, getting his fifth foul early on. But like a star quarterback in the final quarter, he bounced back, lighting up the scoreboard and the crowd with nine of his 15 points in just a short span.
With dunks that sent shockwaves and jumpers reminiscent of Tim Duncan, Wembanyama sure knows how to put on a show. But, like a fish out of water, he also made the typical rookie mistakes in this amazing Wembanyama debut. The Spurs fell to the Mavericks in this opener, though.
Doncic Steps In
Luka Doncic didn't miss a beat, leading the Dallas Mavericks to victory like a seasoned pro. Scoring a whopping 33-point triple-double, he was the real MVP, alongside Kyrie Irving who pitched in a cool 22 points. Plus, the Mavericks had another ace up their sleeve, rookie Dereck Lively II, who dazzled with 16 points and 10 rebounds.
Doncic was so pumped, he even let an f-bomb slip on live TV! Of course, this kicked away almost all the Wembanyama debut hype Victor had managed to muster up.
A Texas Standoff Begins
All in all, it seems we've just witnessed the beginning of a sizzling Texas rivalry. With Wembanyama and Doncic going head to head, and possibly between Wembanyama and Lively too, we're sure in for some action-packed games down the road. Suit up, this season's going to be a doozy!
You can suit up, too, with Point Spreads NBA news! Get into some cool betting action with NBA spreads today!
---
Get into the field and play with more related info: