Opetaia vs Thompson Odds: Aussie Picked in Title Fight
IBF World Cruiserweight Title Fight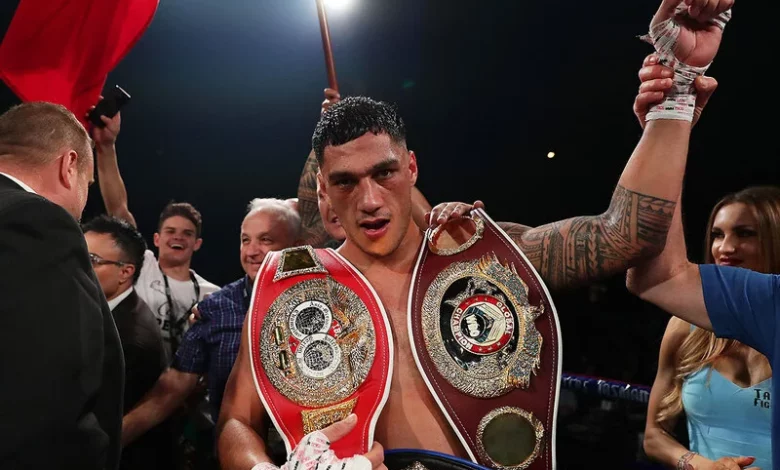 Jai Opetaia defends his IBF World Cruiserweight title at Wembley Stadium on Saturday, and Opetaia vs Thompson odds expect him to win.
The Australian faces UK hopeful Jordan Thompson, who is a perfect 15-0 after facing much lower-ranked fighters.
It's one of the biggest boxing events of the week, as when unbeaten fighters collide, it's always exciting.
🥊 Opetaia vs Thompson 🥊
Date & Time:
Location: Wembley Stadium
Streaming: DAZN

Opetaia Passes First Test
The Sydney-based fighter hadn't fought anyone of note before winning the title against Mairis Briedis last year.
He came of age with the unanimous decision victory against the 28-1 fighter, so now he's looking to defend his belt for the first time.
Going the full 12 rounds could be crucial for the champion on Saturday, as he's fighting in enemy territory, and winning in the UK is never easy for the visitor.
However, according to the latest boxing news, Opetaia is ready for war.
"That's just my mindset. I'm not coming in for an easy fight, I'm coming to earn the respect of the fans. I know I'm not that well known over in England and Jordan Thompson is a great opponent so with us two showcasing our best, we will only earn respect," Opetaia said.
"It's a huge opportunity for me. I'm excited about this professional UK debut because I love the fans, and I love the support. I want people to say 'that's a great fighter' when I leave there."
We love that attitude, and it's why Opetaia vs Thompson odds have him favored at -500. He is the best fighter in this bout, and he only needs to cope with the pressure of fighting away from home to win.
He also has the power to show off. 17 of his 22 wins have come by knockout, including three consecutive TKO wins in Australia.
Reality Hits for Thompson
We're not going to rule out Thompson's chances of winning, but reality could set in for the 30-year-old.
He has been given an easy boxing schedule so far, which is common for unbeaten fighters rising the ranks. However, Opetaia is a massive rise in class, and we're not sure if Thompson will handle it.
The +350 underdog has only two two-star fights on his record, and it was only a couple of years ago when he fought an opponent with 51 losses on his record.
In 2017, he fought a guy with 80 losses on his record, so he hasn't been put to the test, and fighting under the bright lights at Wembley Arena won't help his cause.
Boxing promoter Eddie Hearn expects Thompson to be the number one cruiserweight in the world following a win.
"He looks fantastic, he speaks very well and he punches really hard. He's also a tremendous athlete. I see him moving up to heavyweight," Hearn said.
"I was thinking I will give him two fights and then get him in contention for a world title."
We're not sure what speaking well has to do with boxing, just ask Mike Tyson. However, Hearn is backing his fighter and we're not surprised.
Opetaia Lands KO Blow
Opetaia vs Thompson odds have the total rounds at 10.5, and it's worth taking the under.
We can't see Thompson going deep into the fight, and Opetaia could land the knockout blow in the middle stages of the fight.
He has the power to end the fight early, so bettors should jump on the under and Opetaia to knockout Thompson.
He should work the body in the opening rounds, which could see his live betting odds firm considerably, before going head hunting in the middle rounds. If Thompson isn't careful, he'll get rocked.
Thompson is likely to fight aggressively because it's his first time on the big stage, but Opetaia has the experience edge, and Thompson will drop his hands at some stage.
For more boxing odds, betting analysis, and more, visit Point Spreads Sports Magazine.
---
Can't get enough? Here's more!