Scotney vs Griffa Odds Preview: Can Champ Put on a Show?
Scotney Should Beat Griffa From Pillar to Post To Move the Needle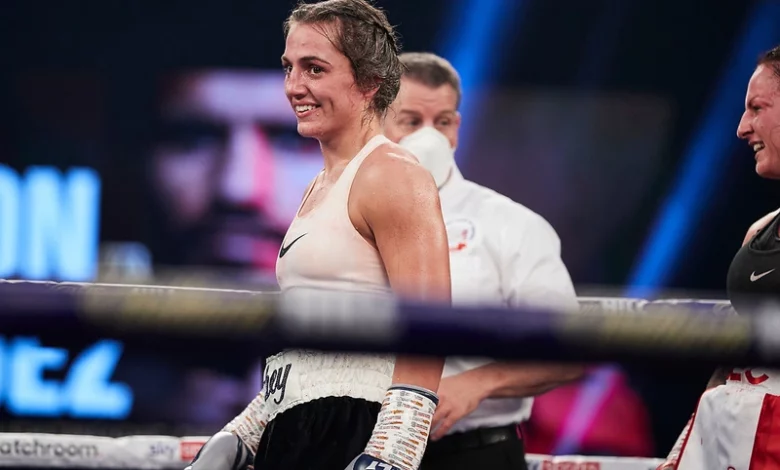 Boxing Odds Have Scotney Heavily Favored
Ellie Scotney has an opportunity to brighten her star further. She's heavily favored at -1665 per the Scotney vs Griffa odds as the co-headliner in the Opetaia vs Thompson card this Saturday.
It's on the same day as the super fight between Canelo Alvarez and Jermell Charlo. Consider it an early appetizer. And the new champion gets a chance to deliver the most impressive performance. But anything outside of a butt-whooping will be nothing to write about.
🥊 Ellie Scotney vs Laura Soledad Griffa 🥊
Fighters: Ellie Scotney (C) (7-0-0, 0 KOs) vs Laura Soledad Griffa (20-8-0, 1 KO)
Location: OVO Wembley Arena, London, U.K.
Day/Time: Saturday, 3:00 P.M. ET
Title: IBF World Super Bantamweight (122 lbs)
Scotney Should Have Chip on Her Shoulder
It must feel a specific type of way when Ellie Scotney's weigh-in with Cherneka Johnson, the woman she beat for the title, is dominating search-related things about her. Johnson wore a rather risque outfit to the weigh-in, and it's all they ever show. Never mind that Scotney outclassed her and is now the rightful champ. Now, she's got to emphasize that.
Being a -1665 favorite per the Scotney vs Griffa odds, the Briton should dominate. Nobody wants to see her play Paddy Cake and outpoint her experienced albeit outmatched opponent. With the big boxing events happening this weekend, it is easy to be glossed over. If Scotney wants to get her name out there, she'll need to go outside of herself and whoop some ass.
Against Johnson, Scotney put on a show. However, it was the champion who was the one pushing the action. Scotney matched Johnson and beat her punch-for-punch. Now as the champion, will Scotney channel that aggression and blow Griffa out of the water?
"There's a new kid on the block now," Scotney told Boxing Scene following her victory. "I'll be honest… that was probably one of my bad performances but I got the job done. "(Johnson) come and showed how tough she really is. She got a bad cut like she did in her last fight. She carried on and full credit to her."
If that was a "bad performance", then we should be thrilled if Scotney can recapture her better version. This may be a clinic as she brutalizes her journeywoman of an opponent. And when she does, Scotney should make boxing news as one of the fastest-rising stars out of the region.
Barring an Upset, Scotney Could Pursue Unification Bouts
Promoter Eddie Hearn is already touting big fights for the IBF champion. The state of the super bantamweight division means there is room for someone to rise and become the one true champion.
"I think she can go through all the other champions," Hearn said. That's the great thing about women's boxing. They fight champion after champion after champion. There's no reason why within eighteen months she can be fighting for the undisputed title."
The other champions in the division include Yamileth Mercado, the WBC champion, Segolene Lefebvre for the WBO, and Mayerlin Rivas for the WBA. There is also Mea Motu who is the IBO champion.
Yamileth Mercado defended her title this March while Mayerlin Rivas may have to rematch Nazarena Romero following a draw this June. Scotney could then be on a collision course with Lefebvre.
Scotney makes her first title defense against Griffa who just lost to Lefebvre. It was a rather one-sided decision as all three judges gave the French champion all but one round.
Lefebvre will defend her belt later in November per the boxing schedule. Scotney isn't just defending her belt but could also be "auditioning" to have a unification bout with her fellow unbeaten prospect (assuming she does not lose to Tysie Gallagher).
The Scotney vs Griffa odds are one-sided so this should be a "tune-up fight" for the 25-year-old.
For more boxing odds, betting analysis, and more, visit Point Spreads Sports Magazine.
---
Get the feel of sports & betting with these other articles: