Aces vs Liberty Betting Odds: NY Gets New Hope for Game 4
Momentum Shifts for Liberty in 2023 WNBA Finals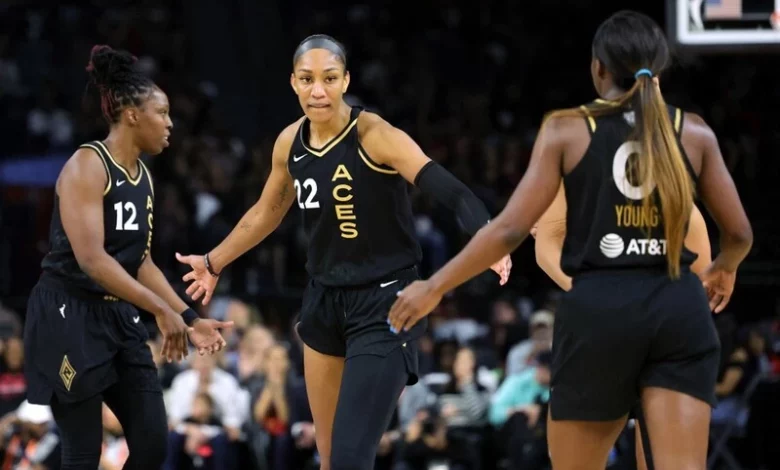 Liberty Now Slightly Favored on the WNBA Lines
New York overcame the Aces vs Liberty betting odds, shut Las Vegas down, and extended the 2023 WNBA Finals to a Game 4. "We took it personally," Liberty forward Jonquel Jones said as New York held the Aces to 73 points and handed them their first postseason loss. Now, the Liberty have momentum, and with Chelsea Gray injured for Las Vegas, the oddsmakers now favor New York with a 1.5-point spread. Can it force Game 5?
🏀 Las Vegas Aces vs New York Liberty 🏀
Day/Time:
Location: Barclays Center, Brooklyn, NY
Streaming: ESPN

Las Vegas Now Faces Steeper Odds Without Gray
The Aces got their butts kicked in Brooklyn. To add insult to injury, Chelsea Gray left the game with an injury. The WNBA Finals MVP had to be helped back to the locker room with a foot injury.
"I can't give you an update, I'll let you know when we know," Aces head coach Becky Hammon said during the post-game press conference.
Gray had 34 points and 20 assists in Las Vegas's first two games against New York. For the postseason, she's averaged 16.3 points, 7.4 assists, and 2.4 combined steals and blocks. As a prolific two-way player, Las Vegas's defense has been five points better when she's on the floor.
"She's our point guard, she's our leader," Aces star A'ja Wilson said. "Chelsea's important to us."
Indeed, with Gray potentially missing Game 4, the Aces vs Liberty betting odds now have Las Vegas as underdogs. This is just the second time this season. The only time they were was in their last game in New York during the regular season. New York beat Las Vegas 94-85.
Now, without Gray, things get tougher for Vegas. "Shuffle (Kelsey Plum) over and Jackie (Young) gets some duties. Maybe we see Syd (Colson)," Hammon said in regards to how the Aces adapt to Gray's absence. "Do it by committee."
Fortunately for the Aces, the next game is not till Wednesday so this gives Gray a few days to recover. Folks betting online should keep checking the injury updates. If she's given the green light, the Aces vs Liberty betting odds may just trend for Las Vegas. Stay tuned.
New York Should Keep It Personal
Jones and the Liberty felt some type of way about Las Vegas and they showed it. New York locked the Aces down and held them to just 33.3% shooting for the game. Wilson, Gray, and Jackie Young combined to make just 10 field goals on 37 attempts. Kelsey Plum scored a game-high 29 points. But New York would have her score 40 if it meant winning.
Now, the Liberty has the Aces on the ropes. They should expect a friskier Las Vegas, especially if Gray is out. It may be a "grindy" type of game where each team struggles to score. And that could benefit the Liberty. They won 15 of the last 17 games that went under the total. Against Las Vegas, they were 2-1 when the total went under.
Given these WNBA teams' potent offenses, the total remains high at 171.5. That's a one-point dip from 172.5 from a Game 3. But the Liberty unlocking their defense is a great sign.
The Liberty solidified its spot in the WNBA standings by having a stretch during the regular season where they played elite two-way basketball. However, the Liberty finished fifth in defensive rating at home (100.6) overall.
But the Liberty can look to outscore the Aces. New York's 100.6 offensive rating at home slightly trumps Las Vegas's 109.9 on the road (regular season). Without Gray, New York might fancy its chances. The total has gone over in five of its last six games on the WNBA schedule. It's a trend to scrutinize.
For WNBA betting news, odds analysis, and more, visit Point Spreads Sports Magazine.
---
Can't get enough? Here's more!