College Football Player of the Week: Clemson's Phil Mafah
The Phil Mafah College Stats Shows That He Tied A Clemson Record in Win over Notre Dame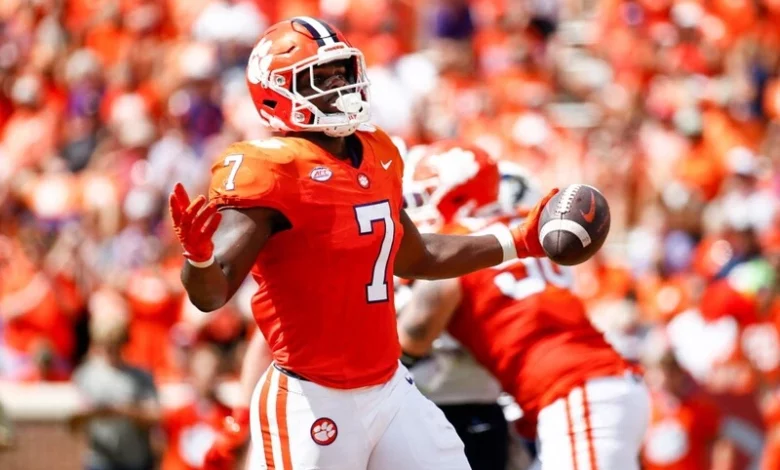 Phil Mafah
Age:
21 years old (10-24-2002)
Height:
6 ft 1in/185.42 m
Nationality:
Loganville, GA, USA
---
With Classmate Will Shipley Injured, Clemson's Mafah Hit the Ground Running
There might be some people outside the Clemson program who wondered why Phil Mafah stuck around since he is in the same class as fellow Clemson running back Will Shipley. However, a quick look at Phil Mafah's college football stats shows he has more rushing yards than Shipley, the Clemson back who began the college football season as a Heisman Trophy candidate.
Mafah played a starring role as the Tigers upset Notre Dame to improve to 5-4 as Clemson beat a ranked team for the third season in a row.
Mafah is coming off his second career 100-yard game at Clemson as he earned Player of the Week honors to give a struggling Clemson team some much-needed confidence.
When looking at the college football scores and odds, Clemson is tied with Pittsburgh with a 3-6 mark against the spread this season. That is the worst mark in the ACC.
Mafah Hits Paydirt
Notre Dame was out to an early lead before Mafah ripped off a 41-yard scoring run midway through the first quarter to give the Tigers a lead they would never relinquish.
He added a 1-yard scoring run in the third quarter as Clemson came away with the 31-23 win.
Notre Dame outgained Clemson through the air and on the ground, but when it comes to Phil Mafah's college football stats, Mafah rushed for 186 yards and two touchdowns, it was enough for Clemson to silence the doubters and naysayers for the time being.
With Shipley missing the game due to injury, Mafah carried the ball 36 times against the Fighting Irish.
The only drawback was that he fumbled twice during the game. Still, he flirted with a 200-yard game and proved that Shipley is not the only dynamic running back on the Clemson roster. Mafah posted his second straight game with a pair of scoring runs.
How He Got Here
Mafah was the No. 11 rated running back in the Class of 2021 out of Grayson High School in Loganville, Georgia.
Tennessee, Baylor and Georgia Tech all offered Mafah scholarships, as did Florida State and Texas A&M.
He committed to Clemson on Aug. 29, 2019, with Shipley committing to the Tigers more than six months later to give Clemson two of the top running backs in the Class of 2021.
Mafah did not play in the first four NCAA football games of the 2021 season before running eight times for 58 yards in a win over Boston College. His first career touchdown came in a loss to eventual ACC champion Pittsburgh.
He has already established career highs for rushing attempts, rushing yards, rushing touchdowns, and receptions.
Disappointing Season for the Tigers
Clemson has won seven of the last eight ACC championship games after topping North Carolina 39-10 in the 2022 title contest.
Clemson was tied for the sixth-best odds to win the national title coming into the season and edged out Florida State +140 to +160 in the odds to win the ACC title. A quick look at the NCAA football standings shows that Clemson was overrated coming into the season.
Clemson is currently in 10th place in the ACC standings with a 2-4 record, with three losses by eight points or less.
The Tigers will become bowl-eligible with their next win, but the NCAAF bowl game Clemson will go to probably won't be the high-profile contest the Tigers are used to being a part of.
What's Next?
Regarding the upcoming NCAAF schedule, Clemson welcomes Georgia Tech to town before wrapping up conference play at home against North Carolina in a rematch of the 2022 ACC title game.
Clemson must win both games to avoid posting a losing record in conference play for the first time since Dabo Swinney became Clemson's head coach in 2008. The Tigers have lost as many ACC games so far this season as they did in the previous six years combined.
The regular season ends with the annual grudge match with South Carolina and, most likely, a bowl game. Mafah has rushed for 85 yards and a touchdown in two career games versus South Carolina.
Assuming he plays in all four games, Mafah would need to average 93.75 yards per game to reach the 1,000-yard mark.
The list of recent 1,000-yard rushers at Clemson is an impressive one that includes Shipley, Travis Etienne, and Wayne Gallman. It would be quite the feather in his cap for Phil Mafah's college football stats to include a 1000-yard season.
Mafah is seventh in the ACC with 625 rushing yards and tied for fifth with eight scoring runs.
Mafah is second only to Louisville's Jawhar Jordan among ACC players for the most running plays of 30 yards or more, and his four runs of at least 40 yards is tied with Jordan and Florida State's Trey Benson for the most in the ACC.
A Look Back
Mafah's 36 carries against Notre Dame tied the program record that was set by Jim Shirley versus North Carolina State in 1951, matched by Ray Yauger in a 1969 contest against Wake Forest and again by Raymond Priester versus Maryland in 1997.
He was named the ACC Running Back of the Week for the first time in his career.
For NCAAF betting news, NCAAF spreads, and more, visit Point Spreads Sports Magazine.
---
Can't get enough? Here's more!