Pac 12 Week 10 Odds: Conference Title Contenders are Expected to Keep on Rolling
First-Place Oregon Favored Big Against Pac-12 Doormat Colorado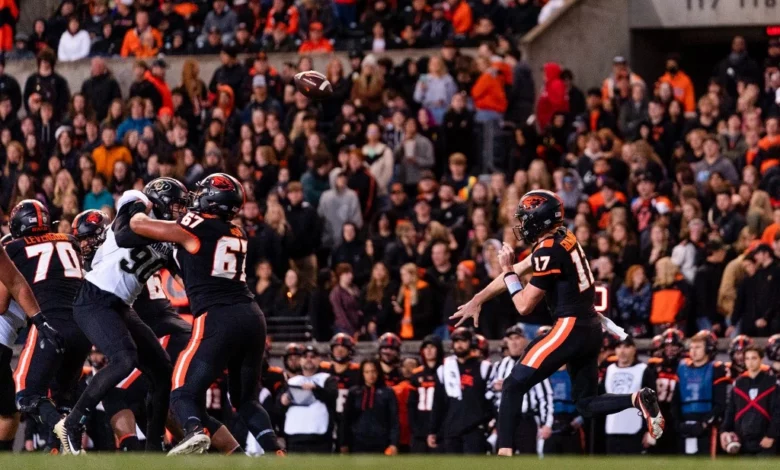 Friday Night's Oregon State-Washington Showdown Could be Top Game of Weekend
When looking at the Pac 12 Week 10 odds, it is all about the top teams staying in contention for the conference title game.
When looking at the NCAAF schedule, Oregon, UCLA, USC and defending champion Utah are all favored by more than 10 points so a stumble this week could do serious damage to their conference championship hopes.
Oregon (even-money) has the best odds to win the Pac-12 title according to the sportsbook followed by USC at +250. Utah and UCLA are priced at +425.
Oregon remains at No. 8 and USC is ranked ninth in both national polls, UCLA is 10th in the Associated Press poll and 11th in the American Football Coaches Association ranking while Utah comes in at No. 12 in both polls.
Game of the Week
Oregon State Beavers vs Washington Huskies
Date, time (TV):
Line: Washington -4.5
Consider this an elimination game when it comes to the Pac-12 title game and when looking at the Pac 12 Week 10 odds, this could be the most competitive of the matchups.
Both teams have 6-2 overall records and are 3-2 in conference play so the loser will be two games out of a spot in the Pac-12 title contest.
Oregon State is one of two Pac-12 teams with more interceptions than touchdown passes allowed while Washington features Michael Penix Jr., the conference leader with 2,934 passing yards, 230 completions and 339 passing attempts.
Washington's Rome Odunze leads the Pac-12 with an average of 108 receiving yards per game.
Washington's Bralen Trice and Jeremiah Martin have combined for 12.5 sacks and they will look to disrupt the Oregon State passing game.
Oregon State's Jaydon Grant and Ryan Cooper Jr. each have three interceptions.
The Beavers snapped a nine-game losing streak to Washington with last year's 27-24 win. Oregon State has covered in four of the last six games against Washington.
Rest of the Schedule
Oregon Ducks vs Colorado Buffaloes
Date, time (TV):
Line: Oregon -31.5
Oregon (7-1, 5-0 in the Pac-12) leads the conference in total offense, averaging 526 yards per game while Colorado allows 483.8 yards, the most in the conference so the Buffaloes have some work to do.
Oregon quarterback Bo Nix leads the conference with a passing rating of 169.7 as he has completed 72.3% of his passes with 20 TD passes and five interceptions. His passing efficiency and completion percentage numbers are slightly better in conference play.
Tony Franklin and Chase Cota, Oregon's top two receivers are both questionable for the game.
Colorado (1-7, 1-4) allowed Arizona State to throw for 435 yards and three TDs the last time out.
Colorado has covered in two of the last three meetings, even though the Buffaloes own one win against Oregon since 2000.
When looking at the college football point spreads, Oregon has failed to cover in each of the last three conference games when favored by at least 20 points.
Washington State Cougars vs Stanford Cardinal
Date, time (TV):
Line: Washington State -5.0
Stanford (3-5, 1-5) is allowing the second-fewest passing yards in the Pac-12 with opponents completing just 58.8% of their passes. The Stanford defense will look to slow down Cameron Ward and the Washington State offense.
Although Ward has thrown the most interceptions in the conference, he has just one in 117 passing attempts over the last three games.
Washington State (4-4, 1-4) is looking to snap a three-game losing streak and it has been the offense that has come up short as the Cougars have allowed 41 points over those three contests.
Stanford's offense took a hit with the recent injury to running back Casey Filkins.
Washington State has won five games in a row against Stanford and covered against the college football betting lines in the last six meetings.
Arizona Wildcats vs Utah Utes
Date, time (TV):
Line: Utah -17.5
Utah quarterback Cameron Rising, one five Pac-12 players averaging more than 300 yards of total offense per game, was a late scratch in last week's hard-earned win over Washington State. Rising, leading rusher Tavion Thomas and star tight end Dalton Kincaid are questionable for the contest.
Keep an eye on key player's status as Utah could put up some big numbers playing against an Arizona defense that is allowing opponents to complete 70.8% of their passes.
Arizona (3-5, 1-4) is second in the conference with 340.1 passing yards per game. Jacob Cowing and Dorian Singer are first and third in the Pac-12 in receiving yards.
Utah (6-2, 4-1) has won five games in a row against Arizona with the average margin of victory being 18 points.
The Wildcats haven't won at Utah since 2014.
UCLA Bruins vs Arizona State Wildcats
Date, time (TV):
Line: UCLA -10.5
UCLA quarterback Dorian Thompson-Robinson was limited to 199 passing yards with no touchdowns in last week's win over Stanford. There was little reason to throw the ball with Pac-12 rushing leader Zach Charbonnet averaging 9.4 yards per carry and rushing for 198 yards in the game.
Arizona State's Xazavian Valladay is tied for second in the conference with 760 rushing yards.
Arizona State (3-5, 2-3) has been pretty solid against the pass, allowing 10 TD passes while intercepting nine passes. However, they are facing a Bruins offense that has scored at least 30 points in every game this season.
UCLA (7-1, 4-1) has covered against the college football odds in four of the last five games in the series.
California Bears vs Southern California Trojans
Date, time (TV):
Line: USC -21.5
Cal (3-5, 1-4) has allowed more passing yards per game than any other conference team and now the Bears get to face USC quarterback Caleb Williams, who has 10 touchdown passes and no interceptions over the last three games.
USC's top receiver Jordan Addison didn't play last week so keep an eye on his status. Addison is questionable as is leading tackler Eric Gentry.
Travis Dye has run for more than 100 yards in two of the last three games for the Trojans (7-1, 5-1) while Cal's Jaydn Ott has rushed for 212 yards over the last four games since his 274-yard effort against Arizona.
Something to consider when looking at the Pac 12 Week 10 odds, six of the last seven games in the series went under the total.
Follow us on Twitter
---
Here's more!