Texas Christian vs Colorado Odds: The Sonny Dykes Era Kicks off on the Road
Colorado Trying to Improve After Finishing Last in the Pac-12 in Total Offense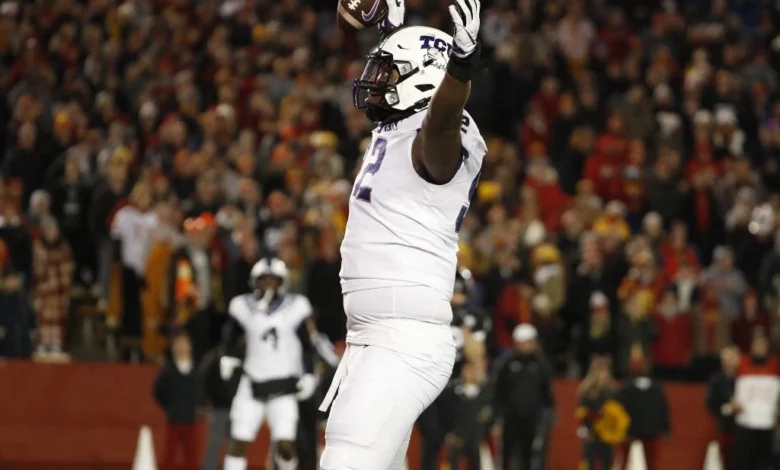 Plenty of Questions on Both Sides as Colorado Hosts TCU
The Sonny Dykes era begins at Texas Christian with the Horned Frogs set to play Colorado for the first time with the Texas Christian vs Colorado odds favoring the visiting Horned Frogs.
Dykes comes in from nearby Southern Methodist after the school parted ways with veteran coach Gary Patterson. Patterson's background came on the defensive side of the ball while Dykes earned his reputation working with quarterbacks so it will be interesting to see how things look different at TCU. This will be TCU's first game played in the state of Colorado since a win over Air Force on Sept. 10, 2011.
Dykes has a 1-1 career record against the Buffaloes with both games coming when he was the head coach at California. The NCAA point spreads have Dykes' Horned Frogs listed as a 13.5-point favorite.
Colorado is looking to bounce back after its offense went from averaging 414 yards during the 2020 season to put up just 258 yards a game a season ago.
TCU (+1000) has the fifth-best odds to win the Big 12 title while Colorado (+25000) is tied with Arizona for the longest odds to win the NCAA Pacific-12 Conference football standings.
Texas Christian vs Colorado Game Information
Matchup: Texas Christian 5-7 (3-6 in the Pac-12 in 2021) Colorado 4-8 (3-6 in the Pac-12 in 2021)
Location: Folsom Field, Boulder, Colorado
Date/Time:
TV: ESPN
New faces abound at TCU
Dykes is not the only newcomer to the TCU program.
The Horned Frogs were active on the transfer portal with plenty of talent both coming into the program and heading elsewhere. The transfer drawing the most interest this week is former Colorado safety Mark Perry, one of six incoming transfers from Power-5 Conference teams. Perry was second on Colorado with  66 tackles to go along with a team-high three interceptions.
Receiver Quentin Johnson averaged 19.2 yards on 33 receptions last season while cornerback Tre'Vius Hodges-Tomlinson had two interceptions and 20 pass breakups over the last two seasons. They are both earning plenty of national attention during the preseason. They are two major reasons why the Texas Christian vs Colorado odds favor the Horned Frogs.
Nine of the 12 TCU players who recorded at least 20 tackles last season are back including top tackler Dee Winters.
Quarterback Max Duggan has thrown 41 touchdown passes over the last three seasons. In the last two years, Duggan has 26 TD passes and just 10 interceptions.
Few teams were as busy on the transfer portal as TCU.
According to the 247sports.com database, five of the top 25 players transferring into Big 12 programs chose TCU and that includes former SMU offensive lineman Alan Ali, Louisiana running back Emani Bailey (642 rushing yards), UConn defensive lineman Lwal Uguak (nine tackles for loss over three seasons), Texas linebacker Terrence Cooks and Louisiana-Monroe cornerback Josh Newton (three interceptions, 13 pass breakups over the last two years).
Plenty of Mystery Surrounding the 2022 Colorado Team
If you like surprises, Colorado is the team for you.
The depth chart leading into the season opener not only doesn't list a starting quarterback but also has multiple players as possible starters at tailback, center, right guard, inside linebacker, and edge rusher. That is not a good thing.
Alex Fontenot and Deion Smith combined for 518 rushing yards a season ago. They figure to top that mark following the departure of leading rusher Jarek Broussard.
Brendon Lewis had 10 touchdown passes and three interceptions as a freshman and he is one of five quarterbacks listed on the depth chart. Considering that Colorado ranked last among teams from Power-5 Conferences in passing yards per game in 2021, the nation is eagerly awaiting to find out who is going to be lining up at quarterback this season.
Tight end Brady Russell and receiver Daniel Arias were two of the top three pass catchers a season ago.
Leading tackler Isaiah Lewis returns to lead the defense. Colorado lost 11 players on offense and nine others on defense via the transfer portal. With that in mind, it is no wonder that the Texas Christian vs Colorado odds has the Buffaloes as a double-digit underdog at home.
Texas Christian vs Colorado Head to Head
This is the first meeting between the programs.
TCU has won its last eight games against Pac-12 teams, although the Horned Frogs are just 3-5 against the spread in those games. The most recent matchup against a Pac-12 team was a 34-32 win over California in 2021.
Six of TCU's last seven games against Pac-12 foes finished over the total.
Colorado has dropped its last three contests to Big 12 teams and that includes a 55-23 loss to Texas in 2020. The last win against the Big 12 for Colorado came in 2010.
Texas Christian vs Colorado Injury Update
For Colorado, linebacker Joshka Gustav is out indefinitely.
Texas Christian vs Colorado Betting Preview
There are so many players gone from both teams with TCU's leading rusher Zach Evans leading the list of transfers so this is going to be a difficult game to predict.
When looking at the NCAA and Pac-12 statistics, Colorado's offense showed signs of growth in 2021, averaging 22.3 points in the last seven games of the season compared to 8.5 against FBS competition in the first four games. The offense will need to be moving the ball because TCU should be able to move the ball with Dykes now in charge.
The total has gone over in five of TCU's last six games on the road. On the other side of things, the total has gone under in six of Colorado's last seven season openers.
Follow us on Twitter