The Demon Deacons Have More Motivation Against Notre Dame This Weekend
Check Out The Wake Forest vs Notre Dame Odds With Sam Hartman On The Other Side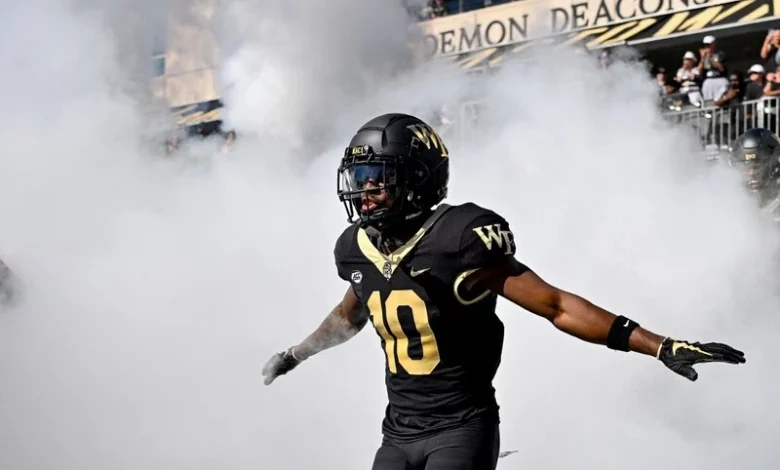 The Notre Dame Fighting Irish can still finish with a 10-win season. While the Fighting Irish won't play in the College Football Playoff, Notre Dame has two winnable games to finish the regular NCAAF season. They'll also earn a bowl game, giving themselves a chance at a ten-win season.
The first winnable game for Notre Dame is Wake Forest, which is coming up this weekend. The Wake Forest Demon Deacons need two wins to be bowl-eligible, but they're 24.5-point underdogs against Notre Dame this weekend on the road.
Meanwhile, the total is sitting at 46.5, implying sportsbooks don't believe Wake Forest is much of an offensive threat in this college football matchup.
Can the Demon Deacons at least earn a cover against the spread on Saturday?
Let's break down the Wake Forest vs Notre Dame odds for this ACC game in Week 12.
Day/Time: Saturday, November 18, 3:30 p.m. ET, 12:30 p.m. PT
Location: Notre Dame Stadium
Streaming: ESPN
Wake Forest vs Notre Dame Odds
The Wake Forest Demon Deacons have gone 4-6 straight up and 4-6 against the spread this season. However, they're on a three-game losing streak and just lost as two-point underdogs to North Carolina State, 26-6.The offense has struggled, which is also why the Demon Deacons have only hit the Over in two of ten games this season.
On the other hand, Notre Dame is 7-3 against the spread and 7-3 straight up. The Fighting Irish lost their last game against the spread, losing to Clemson on the road, 31-23 as three-point favorites. However, playing against Clemson on the road is never an easy task.
Wake Forest has never defeated Notre Dame in its history. Notre Dame has won five straight games since 2011, with the last win in September 2018, 56-27, as a six-point favorite.
Wake Forest Hoping For Revenge On Hartman
It's senior day at Notre Dame. That means Sam Hartman will walk out for his final time on home field. But the Notre Dame quarterback is taking on his former team, the Wake Forest Demon Deacons. Wake Forest made Sam Hartman who he is.Now, his former teammates will watch him as he gets celebrated by Notre Dame fans.
While Hartman didn't have the season he expected with Notre Dame, it was a quality move for Hartman, allowing him to play for something bigger. It just didn't work out how he expected. Some wonder if Hartman would've changed his mind looking back at how this year went. We're sure Wake Forest wants to do everything it can to prove to Hartman that he made a mistake this NCAA Football season, leaving the Demon Deacons.
Is 10-3 Acceptable For Notre Dame?
Typically, a ten-win season is terrific in college football.
While we don't want to get ahead of ourselves, if Notre Dame wins three straight to close out the season, the Fighting Irish will finish with ten wins. This would be one of the quietest ten-win seasons in program history.
The Fighting Irish lost to Ohio State at home and Louisville and Clemson on the road, giving them three losses on the year. None of the losses were "terrible" losses, but the Fighting Irish's best win probably came against USC, North Carolina State, or Duke.
Those games are expected to be wins for Notre Dame. Despite having an awesome schedule filled with potential, they didn't have any signature wins.
Notre Dame is going to get backlash for this year's season. But if Notre Dame finishes 10-3, you can't be that mad.
Is Sam Hartman Overrated?
Sam Hartman will either have a monster day under center against Wake Forest, or the Demon Deacons will know all his tendencies and make him pay.
Hartman's season wasn't encouraging this year.
He's thrown for 18 touchdowns and seven interceptions, with only 2,272 yards passing. He had 3,701 yards passing and 38 touchdowns with Wake Forest last year.
While Hartman is a terrific athlete and a great ambassador for Notre Dame, quarterback play wasn't always sensational this year. Notre Dame ran so much behind Audric Estime that Hartman had fewer completions than Estime's carries this season.
Last year, he completed 270 passes, and in 2021, he added 299 completed passes. He's only got 162 completed passes this year.
Hartman knew he was joining a run-first program. That took his potential out of the picture and led him to a down year compared to his other seasons. But without him, Wake Forest was left with nothing at quarterback. They've tried three guys at quarterback this season, and nothing has stuck.
Michael Kern is currently the guy running the show. But he's only got a QBR of 33 through two games.
Notre Dame's defense is terrific against the run and has a great secondary. But we also like Wake Forest's defense, which has held teams to under 25 points per game.
Wake Forest has scored 13 or fewer points in three of its last five games. Our NCAAF picks and predictions warn that we shouldn't expect a high-scoring matchup.
Currently, Notre Dame is No. 19 in the NCAA Football standings for the College Football Playoff. But you won't find any college football odds for Notre Dame to make the CFP with three losses.
After reviewing the Wake Forest vs Notre Dame odds, the Under 46.5 is the play.
For NCAA football news, odds analysis, and more, visit Point Spreads Sports Magazine.
---
We also thought you might like to check these out: