Blues Out to Make Quick Work of Sabres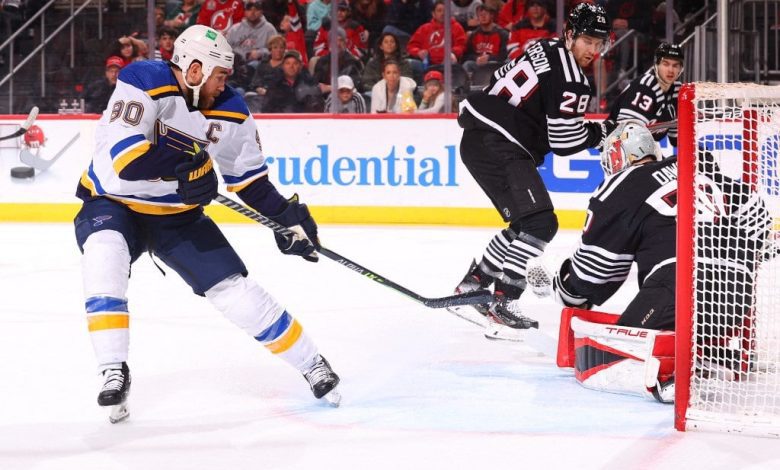 The St. Louis Blues are currently second in the Central Division. While they are going to struggle to catch up to Colorado, they are at a spot where they just need to maintain, which playing a team like Buffalo will definitely help in this Blues vs Sabres game.
The Sabres have struggled all season. They are in second to last place in the Atlantic Division and are currently on a three-game losing streak.
In their last ten games, Buffalo has managed moneyline victories for their bettors just three times. St. Louis has found a way to get their moneyline bettors six wins in their last ten games.
The Blues are going to be the moneyline favorite at every sportsbook. From skilled players to defensemen and goalies, the Blues have the upper hand.
In their last ten games, the Sabres have a 3-6-1 record. Of those seven total losses, the overtime game is the only loss that was by a single goal.
The Sabres offense is in the bottom 10 in the league, averaging 2.67 goals per game. In their last five games, that number has been inflated to 3.6.
Tage Thompson has been having a solid season for Buffalo. He is leading the team with 38 total points, scoring 20 goals, and assisting on 18 others.
Jeff Skinner is right behind him with 36 total points. He, too, has scored 20 goals but has only assisted on 16 others.
Dustin Tokarski is the main goaltender for the Sabres. He has a record of 5-7-4 and is giving up 3.35 goals per game.
This has been a little bit of a rollercoaster of a year for the Blues. They have been on huge winning stretches, as well as some tough stretches of losses, let's wait for this Blues vs Sabres game.
Carrying the Blues to this level of success has been their offensive production. Currently, fourth in the NHL, the Blues are averaging 3.54 goals per game.
The Blues injury report is finally clearing up, as they are down to just two players. At one point this season, the Blues were skating with multiple skaters that had no service time in the NHL.
The Blues have three players at the top of their stat leaderboards, all separated by just a single point. Vladimir Tarasenko, Pavel Buchnevich, and Jordan Kyrou are the three musketeers of the Blues' offense.
St. Louis has three other players who have hit 30 total points or more. This offense, in the last five games, is averaging 4.4 goals per game.
The hardest part for the Blues has been the goaltending situation. The Blues have Jordan Binnington, the 2019 Stanley Cup Winner, and Ville Husso, leading in wins and goals-against average.
The Blues will turn to Husso more than likely Friday night. He has a record of 12-3-1 and is only giving up 1.97 goals per game.
While Tokarski is their main goaltender, Craig Anderson may get a chance to see the ice Friday night. He has a record of 6-5 and is only giving up 2.91 goals per game.
The Blues should cruise to victory here. The Sabres are basically in rebuild mode as it is almost mathematically impossible for them to get to the playoffs.
When making your NHL picks, take the St. Louis Blues moneyline.