Astros vs Angels Game Analysis
LA Looks to Keep Offense Rolling in Houston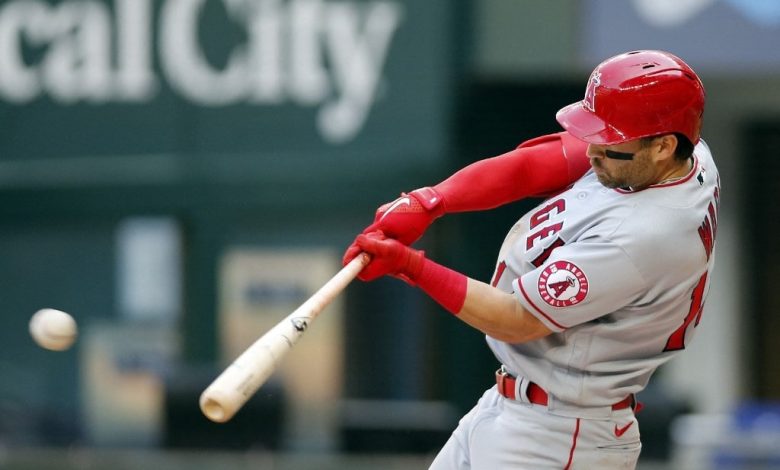 Trout on Mend Entering Series
If Los Angeles Angels outfielder Mike Trout didn't have bad luck, he wouldn't have any luck at all. Trout hasn't played more than 150 games in a season since 2016. He was struck in the left hand with a pitch over the weekend and is unlikely to play when the three-game series with the Houston Astros gets going on Monday.
Obviously, the absence of the former American League Most Valuable Player will impact the Angels vs Astros game analysis.
Game information
Team records: Angels 6-4; Astros 5-4
Dates: Three-game series starts Monday, 8:10 p.m. ET
Location: Minute Maid Park, Houston
Angels' Pitching Depth Tested
Starting pitcher Griffin Canning (back) as well as relievers Cooper Criswell (shoulder), Jose Quijada (oblique) and Chris Rodriguez (shoulder) are out of action. Quijada could return sooner rather than later, but the others have longer-term recovery times
Quijada is one of four relievers for the Angels with ERAs under 3.00, but the challenge will be to not overwork pitchers like Aaron Loup, Raisel Iglesias and Austin Warren until the bullpen is back to full strength.
Three of the starting pitchers, including reigning American League Most Valuable Player Shohei Ohtani, have ERAs over 5.00 and that is a recipe for disaster if that continues, considering the fragile state of the Los Angeles bullpen. The good news is that the Angels are in the top five in hits, runs and stolen bases. They have been rolling offensive recently and figure to continue on that path according to the Angels vs Astros game analysis.
Astros Set to Welcome Back Alvarez
Designated hitter Yordan Alvarez missed a week's worth of action after being placed on the COVID-19 list. The presence of a player who had 33 homers and 104 RBIs a season ago has been evident. Alvarez wasn't exactly in midseason form at the time of his unplanned time off as he was batting .143 in four games . The Angels vs. Astros game analysis will be impacted by his availability.
The good news is Alvarez could return to action as early as Monday. He is one of several returning players off to slow starts. Jose Altuve is hitting .156 while Kyle Tucker (.121), Aledmys Diaz (.182) and Yuli Gurriel (.167) are also hitting under .200. If not for the hot bats being swung by Jeremy Pena, Chas McCormick and Jose Siri, the Astros wouldn't be heading into the series vs. the Angels with a winning record.
The bullpen has taken a hit with the injuries to Lance McCullers Jr. and Ryan Pressly.
Who's Hot
Cristian Javier, Astros P: Javier hasn't allowed a run in two appearances out of the bullpen. He has allowed two hits with eight strikeouts in 4.2 innings. In his last outing, Javier pitched three hitless innings with five strikeouts.
Aaron Loup, Angels P: Loup hasn't allowed a hit or a run in four appearances. He has four strikeouts and one walk in five innings.
Jeremy Pena, Astros IF: Pena is hitting .345 with five extra-base hits. He already has three three-hit games.
Jared Walsh, Angels 1B: Walsh has five hits, including a homer, in his last three games. He is hitting .355 with two home runs and six RBIs.
Who's Not
Ronel Blanco, Astros P: Blanco has allowed three hits and three runs in his last two outings. In four games out of the bullpen, Blanco has a 7.71 ERA with six hits allowed in 4.2 innings.
Mike Mayers, Angels P: Mayers has allowed three hits, two home runs, five runs and three walks in three relief appearances.
Jose Rojas, Angels IF: Rojas is 1-for-15 in his last five games with no extra-base hits and five strikeouts.
Kyle Tucker, Astros OF: Tucker has one hit in his last 22 at-bats with six strikeouts and three walks over that stretch. He is hitting .121.
Injury Report
Here's a look at key injuries Houston Astros vs Los Angeles Angels series.
Astros first baseman Taylor Jones and outfielder Jake Meyers are on the injured list along with relief pitchers McCullers and Pressly. There is no return date for any of them at the current time.
Infielder David Fletcher is on the injured list for the Angels. Trout is day-to-day with a hand injury. Pitchers Canning, Criswell, Quijada and Rodriguez are out of action.
Astros vs Angels Starting Pitchers
Monday: Michael Lorenzen (Angels) vs. Luis Garcia (Astros)
Tuesday: Patrick Sandoval (Angels) vs. Framber Valdez (Astros)
Wednesday: Shohei Ohtani (Angels) vs. Jake Odorizzi (Astros)
Astros vs Angels Betting Guide
The Angels have scored at least five runs in each of the last four games, with a combined total of 50 runs (30 by Los Angeles) scored in those outings.
The Angels will be happy to avoid Justin Verlander in the series and that will help with the MLB odds of Los Angeles winning the series.
The Astros have scored two runs or less in four of the last five games.
The Astros have won seven of the last nine meetings, and in four of the last five matchups, there were five runs or less scored.