MLB Cy Young Award: American League Update
AL Field Looks Top-Heavy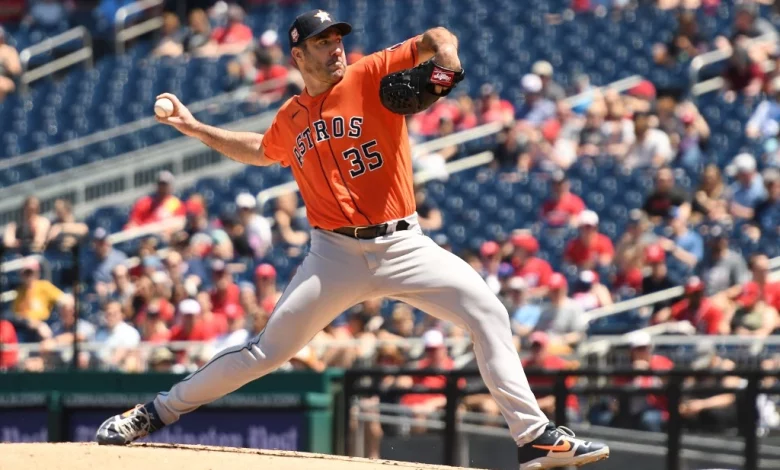 It's rare for a reigning MLB Cy Young Award winner to be on a new team at the start of the next season but that's the case for Robbie Ray, who parlayed his huge 2021 season with the Toronto Blue Jays into a lucrative contract with the Seattle Mariners.
Ray is up there in terms of the most likely picks to take home the award for the AL's top pitcher. The other top candidates are previous winners as well, from Justin Verlander to Gerrit Cole to Shane Bieber. There are some relative underdogs in the mix but, as compared to the National League, the American League race is a lot more contained in terms of who is a legitimate contender. Let's go through some of the more possible American League MLB Cy Young Award winners:
Gerrit Cole (+400)
Even though he got off to a slow start this season, Gerrit Cole is in a good position to claim his first-career MLB Cy Young Award. Cole has finished in the top-five in voting in each of the last four seasons but has never been able to get over the proverbial hump. Now, though, he headlines the rotation of a scorching-hot New York Yankees team and has a sub-3.00 ERA with his typically great strikeout numbers. There's a reason why Cole is the odds-on favorite.
Shane Bieber (+600)
Shane Bieber is still trying to replicate his nearly perfect 2020 season, in which he took home his first Cy Young. He was very good in an injury-shortened 2021 campaign and, despite a relatively high ERA through seven starts, Bieber has mostly been great once again in 2022. One poor showing against the explosive Toronto Blue Jays has skewed his stats a bit so Bieber is a solid pick for the AL award. Health is always a major concern for Bieber, though, so that's something to monitor with him.
Robbie Ray (+900)
As mentioned above, Robbie Ray will try to become the first pitcher since Greg Maddux to win the consecutive MLB Cy Young Award with different teams, which is an incredibly difficult feat to pull off. While he certainly isn't out of the running, Ray has gotten off to a slow start with the Seattle Mariners, so he has a lot of work left to do if he's going to make history. His walks are up and his strikeouts are down, which is never a great combination. It's too early to call Ray's 2021 season a one-hit wonder but, unless he turns things around soon, that's exactly what it might have been.
Lucas Giolito (+1000)
Lucas Giolito has missed a few starts already this season because he spent some time on the COVID-IL but he's back now and looking to continue a strong month-plus. Giolito has never finished above sixth-place in the AL Cy Young race, mostly because his ERA usually is in the mid-3s but, right now, it's an impressive 2.84. The issue with him is that his WHIP is a high 1.232 because his hits, walks and home runs allowed have all ticked up.
That could be a small blip or it could be a sign that ERA regression is about to hit him hard. From a pure stuff perspective, though, Giolito is a little undervalued in terms of the AL Cy Young odds.
Justin Verlander (+1200)
Last but not least on our short list of Cy Young contenders in the AL is the ageless wonder Justin Verlander, who has shown no ill effects from the Tommy John surgery that cost him the entire 2021 season. He currently has a 1.38 ERA and leads the Majors in both WHIP and hits per nine innings. His strikeout numbers are way down from two years ago but if he can keep preventing baserunners at such an elite level — and stay healthy, of course — he could certainly notch his third-career Cy Young Award at the age of 39.
---
Get the feel of sports & betting with these other articles: