2023 Xfinity 500 odds: Hamlin the favorite in Round of 8 finale
Two races remain in the 2023 Cup Series season, starting in the Round of 8 finale in Martinsville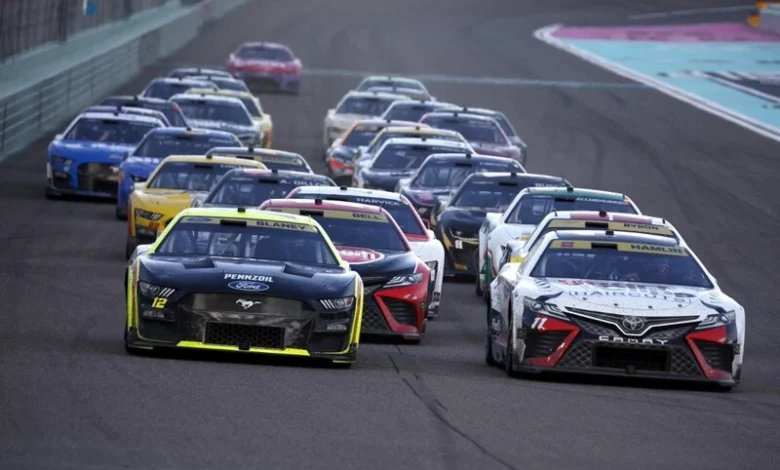 The 2023 NASCAR Cup Series season is down to the last two NASCAR races of the playoffs. It's been a long season since Daytona's opener, and this weekend marks some drivers' last chance to fight for a title. The Round of 8 comes to a close with the Cup Series' second visit to Martinsville for the Xfinity 500. One driver has a big lead in the 2023 Xfinity 500 odds and needs the win to make the Championship 4 finale in Phoenix.
2023 Xfinity 500 odds: favorites in Martinsville
Denny Hamlin (+275)
Hamlin's heavily favored for the win here, thanks to his track record in Martinsville. The Joe Gibbs Racing driver's five wins there are the most among active NASCAR drivers. The most recent of those wins came in 2015, though.
He raced to fourth in the first Martinsville race this season. If Hamlin wants to make the finale, he needs a win or an excellent result. He's managed just one top-10 result in the last three races and finds himself seventh in the playoff standings. This was a big dropoff from his early playoff pace when he finished in the top five four times in the five races. Two spots in the Championship 4 have been secured. Hamlin needs the win here to secure another spot.
Kyle Larson (+600)
Larson's win in Las Vegas secured a spot in the Championship 4 in Phoenix. That made him the first driver with two playoff victories following his win at Darlington in the playoff opener. He qualified in pole position last season and raced to second. Earlier in the 2023 NASCAR Cup Series schedule, Larson won the first race at Martinsville from 19th on the grid. Last week, he led the most laps and won stage 1 in Homestead. He's in great form and will likely be near the front again.
William Byron (+750)
Byron continued his pace as the most consistent playoff driver with fourth in Homestead. He doesn't have a spot in the Championship 4 secured but he's built a solid lead at the top of the standings.
Byron needs 36 points to secure a spot in the finale. He's done that in three of his last five races in Martinsville. He won the spring race there last season but only managed 23rd in the spring event his year. These NASCAR odds are more about his playoff form than his track record.
Brad Keselowski (+850)
Keselowski has the shortest odds for victory of any non-playoff driver. His inconsistent playoff season continued in Homestead with a 28th-place finish. That was preceded by fourth in Las Vegas, 18th in Charlotte, and 32nd in Talladega. He's won twice in Martinsville, but the most recent win came in 2019. In his last five races there, Keselowski's finished higher than 15th just once.
Martin Truex Jr. (+900)
The regular season champion continues to struggle in the playoffs. Pole position yielded 29th place after engine problems took him out with 25 laps to go. He's managed just one top-10 result in eight playoff races, the worst mark among anyone in the Round of 8.
Earlier this year, Truex Jr. raced to third in Martinsville. He's won three races at the short track, including this event in 2019. His most recent win was the spring race in 2021. He needs a turnaround in results this week to keep his title hopes alive, and has the track record to do it.
2023 Xfinity 500 odds: sleeper picks
Ryan Blaney (+1200)
Blaney's second place last week with a stage 2 win puts him in a good position coming into Martinsville. He has enough of a points cushion where a win isn't a necessity but wouldn't hurt his standing. He's the best driver by average finish in Martinsville among active Cup Series drivers. Though he hasn't won at the track before, he's finished in the top 10 seven times in his last nine races there.
Joey Logano (+1400)
The defending champion's eliminated from title contention, but Logano's one of the better drivers in Martinsville on the Cup Series grid. He's made the top 10 in nine of his last 10 races there. He won this event in 2018 and finished second in the spring race this year. He was eliminated after the Round of 16, but he's been a solid performer recently, with eighth in Homestead, 12th in Las Vegas, and fifth in Charlotte.
Chase Briscoe (+3300)
Briscoe's been consistent in Martinsville despite only a handful of races. He finished fifth from fourth on the grid earlier this season and led 109 laps. In this event last year, he qualified third and led 25 laps before finishing ninth. He could be just the second winner from outside the top eight in the playoffs.
Alex Bowman (+4000)
Hendrick Motorsports has won three of the last five races at Martinsville, including Bowman's victory in this event in 2021. He finished 11th in the spring race here and has had an up-and-down playoff with a pair of top-10 finishes. It'd be a surprise to see him take his first win of 2023 here, but not impossible.
2023 Xfinity 500 picks
Martinsville's a unique short track. Its demanding nature makes it a challenge, unlike many others on the Cup Series schedule. It's a fitting track to determine who will fight for the title in Phoenix next weekend.
Of the favorites, Hamlin and Truex Jr. look like good bets. Both need a win here, and Joe Gibbs Racing thrives on short, flat tracks. Between the two, Truex Jr. gets the nod for a better payout. Among the sleepers, Blaney's a solid choice for a significant payout that's a bit less risky. If you're looking for an even bigger payout, go with Briscoe.
For NASCAR betting news, odds analysis, and more, visit Point Spreads Sports Magazine.
---
Can't get enough? Here's more!