NBA Southwest Division Preview: Memphis Favored
Mavericks, Pelicans Loom as Biggest Threats to Grizzlies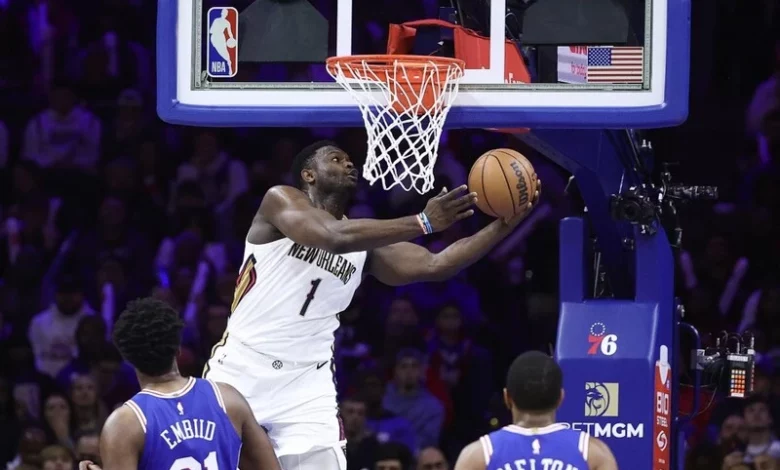 A new NBA season is just around the corner, and the Memphis Grizzlies are favored to win the Western Conference's Southwest Division. But Memphis should see plenty of competition, primarily from the Dallas Mavericks.
Is anyone else capable of playing its way into the mix? Let's break down the odds in our NBA Southwest Division Preview.
The Favorite
Memphis Grizzlies (+160)
The Grizzlies won 51 games last season but flamed out in the Western Conference playoffs, losing in the first round for the second time in three years. Although Ja Morant will miss the first 25 NBA games of the season while serving his suspension, the Grizzlies remain slightly favored in our NBA Southwest Division preview.
Once Morant returns, the Grizzlies will have one of the formidable lineups in the NBA. Last season with Morant, Desmond Bane, Dillon Brooks, Jaren Jackson Jr. and Steven Adams, the Grizzlies registered a net rating of plus-10.5 per NBA scores. Morant averaged 26.2 points and a career-high 8.1 assists, while Bane is consistently among the NBA 3-point leaders.
Moving forward, Marcus Smart should be a significant upgrade over Brooks, who seemed to wear out his welcome with his postseason antics.
Top Contenders
Dallas Mavericks (+180)
A hugely disappointing 2022-23 season culminated with the Dallas Mavericks openly tanking down the stretch to avoid the play-in tournament. The Mavericks wound up going from 52 wins to 38, missing the NBA playoffs for the first time since 2018-19.
Despite that, Dallas is an obvious candidate to contend in 2023-24. It starts with Luka Doncic, who averaged a career-best 32.4 points (second in the NBA behind Philadelphia's Joel Embiid), 8.6 rebounds and 8.0 assists. The four-time NBA All-Star is among the MVP favorites at +550.
Dallas went just 5-11 in games Doncic and Kyrie Irving played together. Although Irving's been an occasional headache for teams, his talent is undeniable. The Mavericks also added Grant Williams, whose selfless play should fit in seamlessly alongside a pair of ball-dominant stars.
It's no wonder they're the biggest threat to Memphis in the division.
New Orleans Pelicans (+225)
The Pelicans were among the biggest underachievers last season, going 42-40 and losing in the play-in tournament. Whether they can take the next step will largely depend on Zion Williamson, who remains one of the biggest enigmas in the NBA. The former No. 1 overall pick averaged 26.0 points but played in just 29 games last season due to injuries.
Can Williamson stay healthy for a change? If so, New Orleans will be in good hands. The Pelicans have two other 20-plus point scorers in Brandon Ingram and CJ McCollum, in addition to a dominant rim protector in Jonas Valanciunas. But again, that's a big if.
Williamson has appeared in only 37% of the Pelicans' games since being drafted in 2019, including missing the entire 2021-22 NBA season. It's not a stretch to say their season depends on his availability.
Next in Line
Houston Rockets (+4000)
The Rockets had an active offseason, signing Fred VanVleet and Brooks to complement their young core. On top of that, Houston drafted Amen Thompson, a standout combo guard from Overtime Elite, with the fourth overall pick. They also brought in a new head coach in Ime Udoka.
Houston is still likely a year or two away from returning to the Western Conference playoffs, but it's poised to take a big step forward after a 22-60 finish. The Rockets are projected for 31.5 wins (-120 Over, -110 Under) in our NBA Southwest Division preview.
San Antonio Spurs (+5000)
All eyes will be on No. 1 overall pick Victor Wembanyama, an even money favorite to win NBA Rookie of the Year. The 7-foot-4 center from France is the most-hyped rookie to enter the league since LeBron James. He doesn't turn 20 until Jan. 4.
The Spurs may continue to struggle — they're projected for only 29.5 wins — but they'll at least be entertaining to watch thanks to Wembanyama. Remember that when making your NBA picks today.
For NBA betting news, odds, analysis and more, visit Point Spreads Sports Magazine.
---
Get the feel of sports & betting with these other articles: