Mavericks vs Nuggets Odds: Dallas Pits Perfect Record Against Champs
Mavericks vs Nuggets Score Predictions Have Denver Favored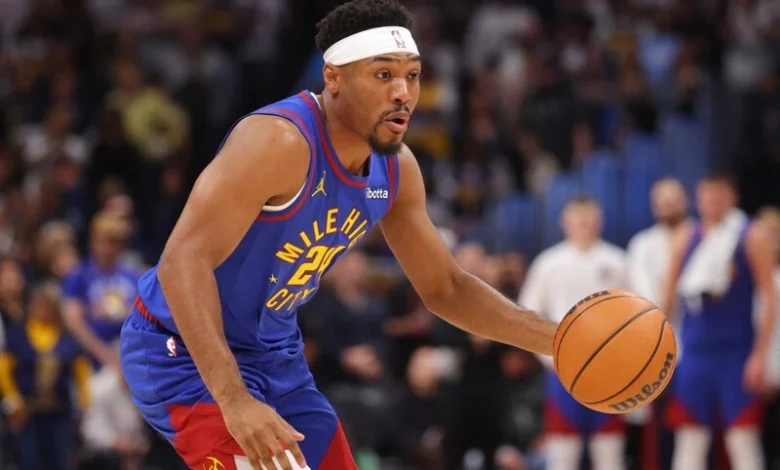 Mavericks and Nuggets to Light Up ESPN
At 4-0 for the season, the Dallas Mavericks are the only unbeaten Western team remaining. The Denver Nuggets just got shut down by the Timberwolves to snap their undefeated record. Still, the NBA odds have Denver, the hosts, favored. Given the totals (n) and Mavericks vs Nuggets score predictions, this one could be a high-scoring blockbuster as ESPN hopes it would be.
Day/Time: Location: Ball Arena, Denver, CO
Streaming: ESPN
Can Dallas Keep Winning Games With Offense?
With a 121.0 offensive rating, Dallas is behind only Boston in the NBA. Uncoincidentally, they are the only two teams without a loss. But while the Celtics remain a top-10 defense, Dallas is ranked 19th: 111.5. That means this team needs to maintain a scoring pace of 112+ points on the NBA scores today. But that may be more challenging without Kyrie Irving.
The eight-time All-Star missed the last two contests because of a foot injury. Dallas still won these games. Luka Doncic posted his 58th career triple-double against Brooklyn while Grant Williams and Tim Hardaway Jr. combined to score 49 points against Chicago. The team will still need Irving to sustain its red-hot pace.
"[I'm] doing everything possible to be smart about where my body is," Irving said in regard to his foot injury. "Just taking the necessary steps with our training staff to ensure I stay in shape. One of the worst things is to deal with injuries in preseason, but it's all part of the game."
Irving is listed as questionable in this matchup against Denver. But even if he plays, he may not be at 100% so his production could be limited. That's why the Mavericks vs Nuggets score predictions have Denver listed as a five-point favorite. This spread might change once there is confirmation of Irving's availability.
Dallas will need its role players to keep stepping up. But it's unlikely that Williams or Hardaway score that many points again. As for Doncic, the Slovenian sensation has struggled in 15 career games against Denver. He's averaged 25.5 points and 10.4 assists but is shooting just 43% from the field and 27.7% from deep. That may not cut it if he does not get enough help.
Nuggets' Home Court Advantage is Real
Playing in Denver, which has the added advantage of being in elevation, is often overstated. But not with the Nuggets. Denver has won 14 of its last 15 home games and has covered 57.1% of its spreads as a home favorite since last season. The Nuggets' defense gets a bit better at home at 110.3, which ranked sixth last season.
Folks should also peep the first-half spread for Denver. The Nuggets tend to start strong, especially in the first half. Their average first-half margin at home in 2022-23 was +5.7, which ranked third. It's a lot better than their second-half margin: -1.0. Even Nikola Jokic tends to fade down the stretch.
That's the potential for a visitor to get a backdoor cover. However, Denver could also be ticked after getting embarrassed by Minnesota. The typically stoic Nikola Jokic may not mind. But Minnesota's young stars have been talking a lot of smack lately.
Denver, which leads most futures including the In Season Basketball Tournament odds, could be more dangerous with an extra incentive. Jamal Murray and Michael Porter Jr., Denver's next-best scorers, also combined to go 7-of-27 from the field. The odds of that happening with the team back at home seem low if we were to line it.
So, regardless of the Mavericks vs Nuggets score predictions, Denver should be favored. It will just depend on how long it will be. But as far as being an NBA picks tonight, Denver looks solid.
For NBA news, odds analysis, and more, visit Point Spreads Sports Magazine.
---
Can't get enough? Here's more!