WNBA Semifinals: Sun vs Sky Semifinal Odds
Familiar Foes Meet Again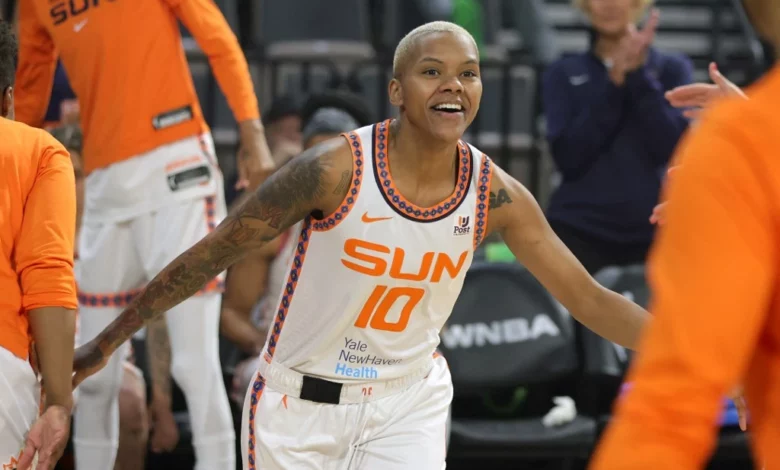 Sun vs Sky Semifinal Odds: The No. 2 Chicago Sky (26-10, 2-1) take on the No. 3 Connecticut Sun (25-1, 2-1) in a best-of-five semifinals series.
Chicago beat the No. 7 New York Liberty (16-20, 1-2), 2-1. While the Sun traveled to Dallas, Texas to beat the No. 6 Wings (18-18,1-2). Read on to hear our Sun vs Sky semifinals odds and analysis.
Head-to-Head
One major factor in the Sun vs Sky semifinal odds is the head-to-head results. The Sun and Sky will face in their third straight year in the playoffs. During the 2020 season, it was Connecticut who upset Chicago in the first round, 94-81, as the seven seed which allowed them to advance to the semifinals.
The rivalry continued as the two teams met in the 2021 semifinals. Chicago beat Dallas (81-64) and Minnesota (89-76) where the Sun had a double-round bye. Connecticut was the number one overall seed and had a record-breaking season finishing 26-6 whereas the Sky finished 16-16; however, this did not stop them from taking the series 3-1. Chicago took game one in a double-overtime thriller, 101-95.
Connecticut outscored the Sky 79-68. The Sky bounced back and won at home to move on to the finals, 86-83 and 79-69. This led Chicago to move on to the finals and took home the 2021 title against Phoenix Mercury, 3-1.
Flash forward to the 2022 season where Chicago took all four wins during their meetups this season. Yet the average margin of victory was 4.5 points. Game one was led by forwarding Emma Meesseman finishing with 26 points. Forward Candace Parker added 18 and guard Rebekah Gardner added 14 of her own.
Brionna Jones came off the bench scoring 20 points with forwarding DeWanna Bonner adding 18 and Alyssa Thomas finishing with 11. Jonquel Jones collected 14 rebounds for the Sun. Chicago took the victory, 83-79.
During game two, J. Jones finished with a double-double ending the night with 24 points and 11 rebounds. Thomas added 23 and B. Jones added 18. Parker earned a double-double with 25 points and 11 rebounds. Guards Allie Quigley and Kahleah Copper added 13 and 15 points respectively. The Sky beat the Sun, 91-83.
Game 3 of this series went into overtime where it was Chicago once again who came out on top, 95-92. All five of the Chicago starter scored in double-figures with Copper leading the way with 27. Forward Azurá Stevens earned herself a double-double ending with 16 points and 12 boards. Five Sun players also scored double-figures with two being shy of double-doubles. Bonner finished with 23 points and 9 rebounds and B. Jones came off the bench scoring 13 and pulling down 9. Thomas added 22 of her own.
Chicago shot 56.9% from the field in the 94-91 victory over Connecticut in the fourth matchup this series. Six of the Sun players scored in six figures compared to Chicago's five. J. Jones added another double-double to her total finishing with 17 and 10.
B. Jones once again came off the bench adding 10. Guard Courtney Vandersloot led the way, ending the night with 20 points and shooting 53.8% from the field. Parker earned another double-double to her collection too, ending with 18 points and 12 rebounds.
How Connecticut Wins
Connecticut has 2021 J. Jones, 2021 Most Improved Player in B. Jones and 2021 Coach of the year Curt Miller. Currently, they have players who are also in the running with B. Jones for Sixth Player of the Year and A. Thomas with Comeback and Defensive Player of the Year.
Five Sun players are averaging in double figures every night. J. Jones leads the way with 14.6, B. Jones follows with 13.8, Bonner with 13.5, Thomas with 13.4, and Courtney Williams with 11.1. J. Jones was fourth in the league during the regular season with 8.6 and teammate Thomas was fifth with 8.6 RPG.
Thomas is a player who shows up in multiple different areas on the stat sheet. She earned two career triple-doubles this season. Her first happened in the 94-84 win against the Minnesota Lynx on July 22.
Thomas ended with 15 points, 10 rebounds, and 12 assists. The second occurred in her team's victory over Phoenix on July 22 ending the night with 10 points, 12 rebounds, and 10 assists.
Connecticut had three players named as 2022 All-Stars which was held in Chicago. They were J. Jones with her fourth appearance.
Teammates Thomas and B. Jones was selected as an All-Star reserve. DiJonai Carrington has been a huge spark coming off the bench for Connecticut. During the series against Dallas, she came off the bench averaging 9.7 ppg, 4.7 rpg, and 2.0 steals per game.
Connecticut only has one player with championship experience in Bonner, but this Sun team is hungry for another final run as they did back in 2019. The Sun is third in the league with a defensive rating of 94.7. This Connecticut team allows 13.3 points off turnovers and 11.3 second-chance points.
How Chicago Wins
Chicago won the 2021 WNBA  odds to win championship and is looking to go back-to-back. Copper was named the Finals MVP. Copper ended the regular season by averaging 15.7 ppg. Parker was third in the regular season with 8.6 rebounds per game. She also averaged 13.2 ppg. Guard Vandersloot averaged 11.8 and Quigley with 11.4.
Sharing is nothing new for Vandersloot as she dishes out 6.5 assists per game. In her 11th season, the guard is fourth on the all-time assists leader list with 278. Parker is fourth on the list in total points with 1074. She is just three shy of passing No.3 Maya Moore (1077).
The Chicago Sky only allows 10.3 points off turnovers and only gives one up 5.3 second-chance points. Chicago averages 40.3 rebounds per game with 31.7 coming on the defensive end.
Ulterior Motives
The playoffs series is tied at 1-1 and Chicago has the series win this season, 4-0. They have stopped this Connecticut Sun team and have won their last six meetings and they want to keep it going.
However, Connecticut is playing with a chip on its shoulder, says Thomas. Coming off her Achilles injury and being out for most of the 2021 season she is ready. Nicknamed the Engine, she is seen as the spark that the Connecticut Sun needs to get going.
As of late, Carrington has brought a lot of energy and strong defense to the Sun and we want that to keep going. However, Chicago is looking to become back-to-back champions, the first time since the Los Angeles Sparks did it in 2001 and 2002.
Parker signed with the Sky in 2021 after spending 13 seasons with the Sparks and is ready to bring another title back to her hometown. Connecticut on the other hand is looking to bring back its first franchise title.
WNBA Semifinals Betting Odds
In the Sun vs Sky semifinal odds, Chicago is a -135 favorite, but don't be surprised if the series goes at least four.  This Connecticut Sun team has grit as they showed it already. This series is likely to be very close, evident by the small line between them from the oddsmakers. Chicago has had Connecticut's number as of late, but with the talent the Sun has, this is destined to be a great series.
The WNBA over-under for Game 1 of the series is 165.5. The over is 3-1 in games between these two teams this season.
Follow us on Twitter